A Merchant of Venice, Playground Theatre review - Shylock supreme in a pared-down production |

reviews, news & interviews
A Merchant of Venice, Playground Theatre review - Shylock supreme in a pared-down production
A Merchant of Venice, Playground Theatre review - Shylock supreme in a pared-down production
The intensity of studio theatre only fitful in Bill Alexander's updated adaptation
Thursday, 18 November 2021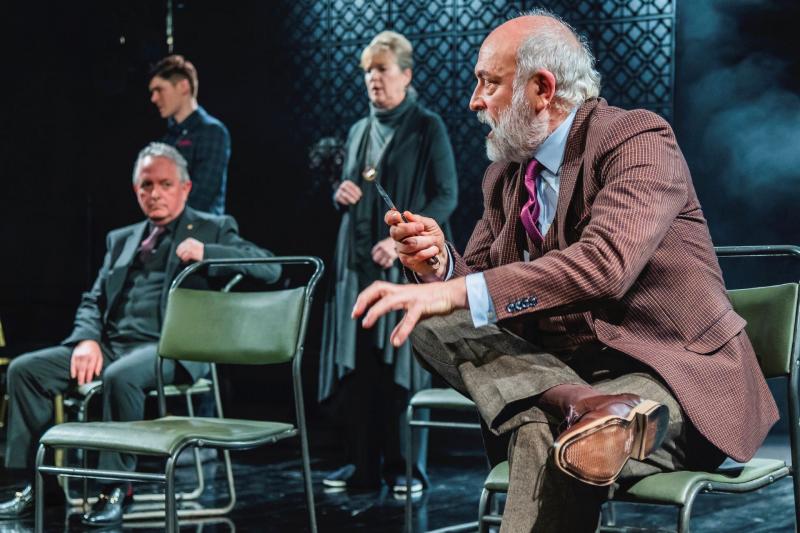 Moment of judgment: from left, John McAndrew, Alexander Knox, Mary Chater, Peter Tate
What's in an article? Director Bill Alexander has titled his new production A Merchant of Venice, leaving us to ponder the implications that arise from his avoidance of the standard "the"? Is it a hint towards generality, broadening the focus of Shakespeare's story of the treatment of a single character, Shylock, within his community, towards something more representative?
Perhaps. The anti-Semitism of the Venetian bourse is certainly pronounced in Alexander's updating of the action to a contemporary Rialto, in which the mobile phone has taken on plenty of the lifting in terms of dramatic development. But Alexander's refashioning of the title pales into insignificance compared to what he has done with the text itself. This is a Merchant pared down to a cast of six, the five principle players and a composite, Solania (Mary Chater), who collects the various supporting (all male) roles. Running at around the two-hour mark, with interval, it's a dramatic foreshortening that cuts away a great deal of chaff, often in a very welcome way.
Gone is the repeated business with the caskets: Portia shows us her range of suitors on her phone, where just a single Instagram image is enough to flesh out the variety of this loose Eurotrash contingent nicely (some things never change). Gone too, and little missed, is the laboured comedy of the Gobbos. Various elements of story development are telescoped into two-character interchanges, like a kind of chorus, presented in spotlight across the Playground Theatre's studio space, its black box square defined by Ryan Day's lighting and Sara Perks's design, a fretwork back wall that suggests Islamic motifs.
That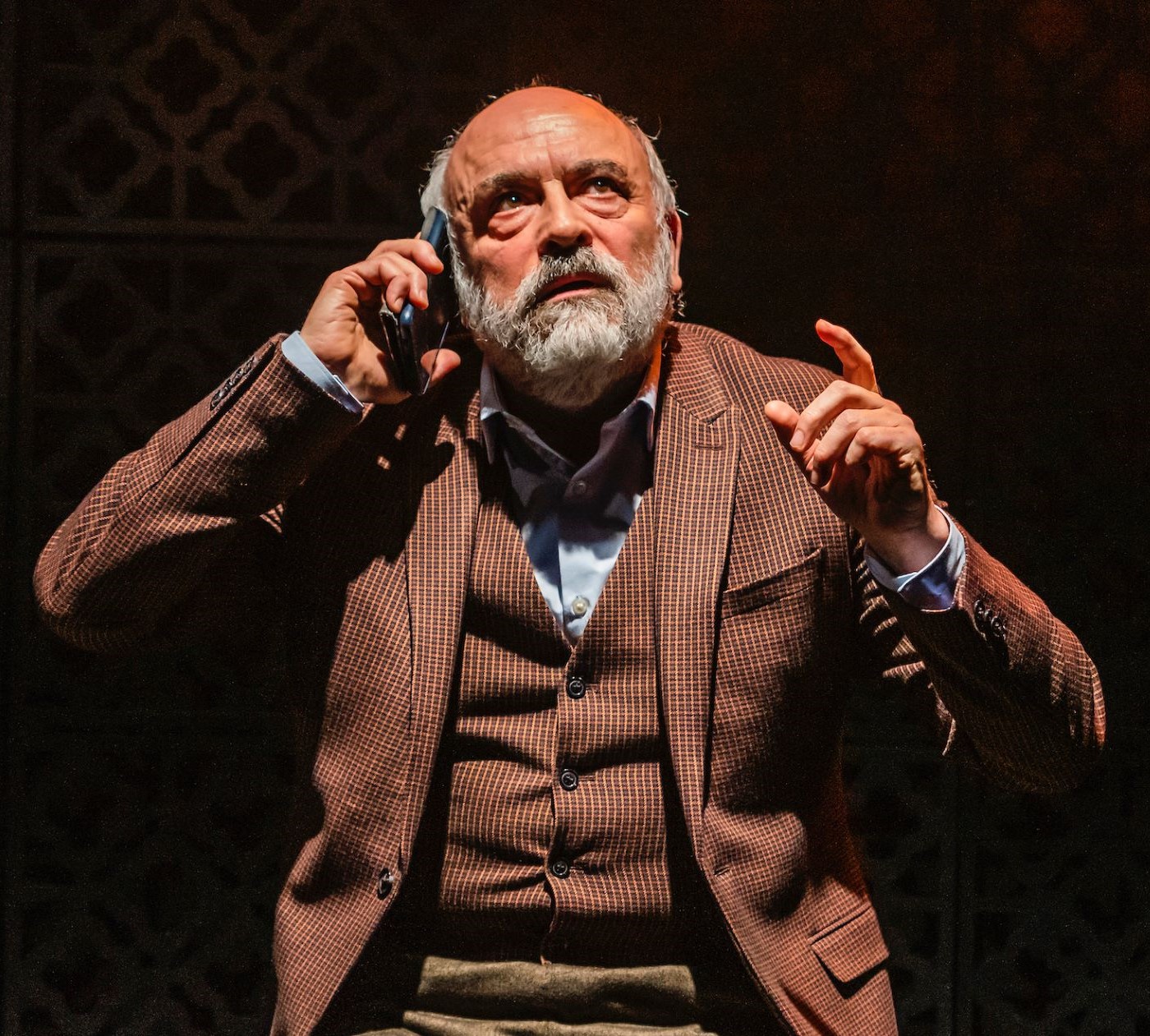 leaves the question of where Alexander's pruning runs up against character, where such shortenings accord less well with the dramatic opportunities of the original – or where, correspondingly, they add impact. The trio of relationships around Antonio (John McAndrew), Bassanio (Alexander Knox) and the latter's servant Gratiano (Alex Wilson) seems least affected. The carefree interaction between the last two plays well, with Bassanio confident in such moments, but the balance between the first two feels underdeveloped.
McAndrew's Antonio has such a monotone "want-wit sadness" to him throughout that he barely registers emotions, certainly not any suggesting hidden depths in his attachment to his younger protégé: that interpolation features only in a single moment, a protracted pause in Portia's response, "Oh! Love", after her betrothal, hinting that she understands there may have been more to the two men's closeness. Lena Robin's Portia seems to have lost a degree of self-confidence from the fact that her maid, Nerissa, who's as much a confidant as a servant, has been cut. The naif element to the character is pronounced, a quality emphasised by Robin's French accent, which deals with the verse rhythms with additional hesitancy.
All of which draws our attention squarely to Shylock, and Peter Tate's performance meets such expectations. There's an agility to his delivery, a dynamism of emotion, a tragic grandeur that he convinces could look forward to Lear, however different the circumstances. He's adept at dealing with the challenges of the pared-down text, the scene in which Shylock hears from Tubal of Jessica's extravagance in Genoa adapted into a one-way conversation by mobile (pictured above). If anything Tate draws greater sympathy from the fact that he's moderating the cadences into a monologue (perhaps there's a nod towards a televisual format there, too, and if you're looking for a hint at what happened to Shylock once the play is over, Alexander provides a convincing glimpse). There's something missing, nevertheless, in the fact that his daughter Jessica is reduced to a voice stage-off, making her elopement less tangible a blow. If Alexander could have stretched his cast to seven, another female player making the briefest appearance as Jessica, then doubling with Portia's maid Nerissa to flesh out that dynamic, it might have made a difference.
In the court scene, with its office chairs and briefcases and Portia's QC-style wig, Tate's presence is all the more commanding for the fact that he's up against an Antonio who betrays ne'er a hint of emotion about what's going on around him, and a Portia whose delivery never rises to the occasion, certainly never relishing the full richness of the speeches. Alexander has updated elements of the text, but to end up mangling perhaps the most celebrated speech of all, Portia's "The quality of mercy is not strained", really misses something – the original's language is every bit as alive, as literally effective today as the day it was written. Perhaps confidence will grow in places as the run progresses. The Playground's space feels ideal for this kind of intimate production, but the inherent greater concentration of the studio format brings our attention back to the playing. It's only Tate's Shylock who rises to the challenge – regardless of exactly how Alexander's adapted title has chosen to define him – and the othering of this "alien" is excruciating in its contemporary context.
There's an agility to Peter Tate's delivery as Shylock, a dynamism of emotion, a tragic grandeur
rating
Explore topics
Share this article