A Midsummer Night's Dream, Young Vic |

reviews, news & interviews
A Midsummer Night's Dream, Young Vic
A Midsummer Night's Dream, Young Vic
Shakespeare's comedy gets bogged down in this messy production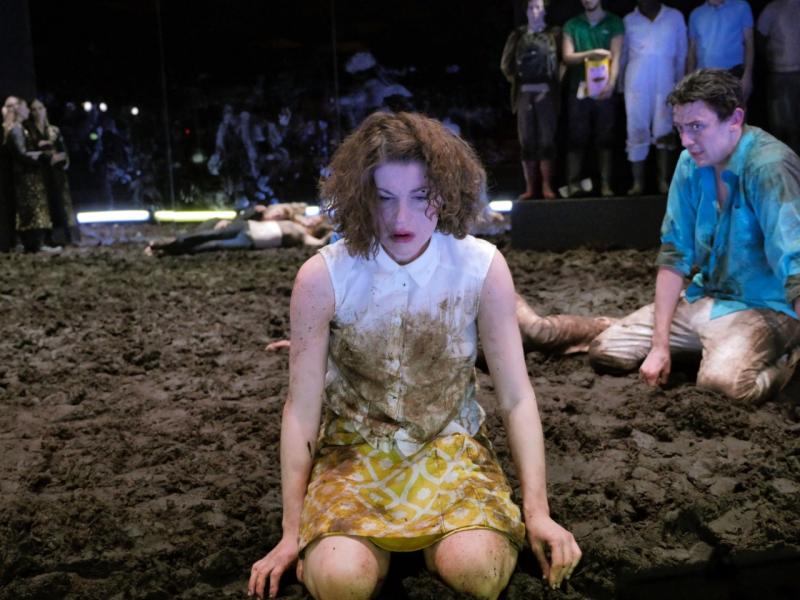 Hermia (Jemima Rooper) struggles to make a heaven of hell in Hill-Gibbins's muddy midsummer nightmare
"The nine men's morris is filled up with mud, and the quaint mazes in the wanton green for lack of tread are undistinguishable." Titania may mourn the landscape withered by her conflict with Oberon, but games and mazes hold no interest for director Joe Hill-Gibbins.
His
A Midsummer Night's
Dream
has put aside such childish things (along with fairies and clean trousers), burying them deep in a pit of mud that spans the entire breadth of the
Young Vic
– a slippery stage for a very messy exploration of love.
After the jelly smearing of The Changeling and the sex dolls that dominated Measure for Measure, no one was expecting a starlight-and-pixies Midsummer from Hill-Gibbins. The trouble here is not the darkness or the dirt, it's the emotional clarity that gets lost in the mire along with the characters.
Concept is king in this bleak vision. On the back wall hangs a giant mirror – an emphatic nod to the doubles and duplicates, echoes and shadow-selves that people Shakespeare's play, but which here remain perpetually out of reach, emphatically painted over in the final scene (just in case you were struggling with the metaphor). With transformation and release denied them, the lovers must wade, crawl, fight and struggle their way around the mud-pit for a two-hour span that requires almost as much effort from audience as cast.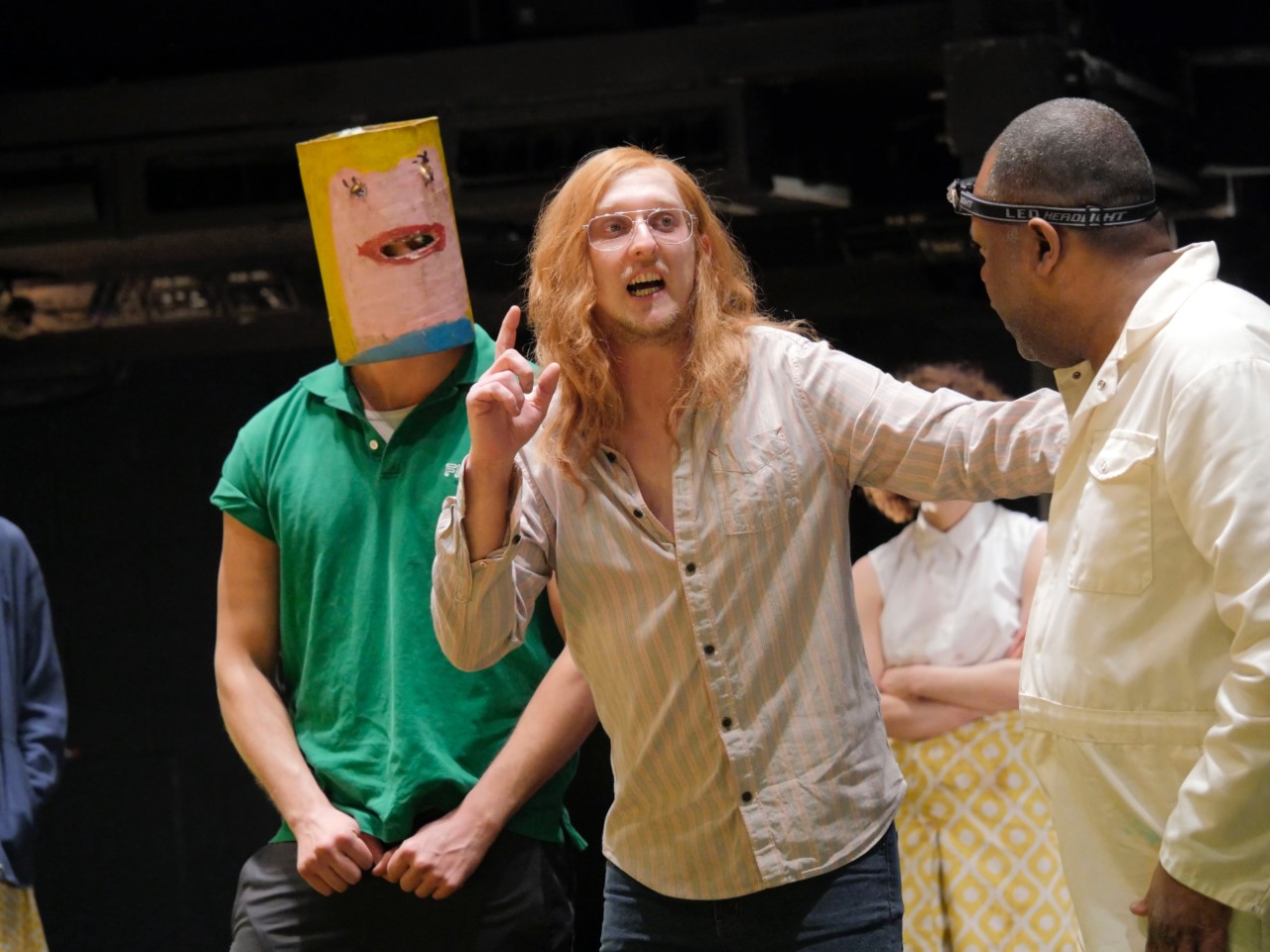 A sense of threat is pervasive. No sooner has Jemima Rooper's Hermia escaped her father's anger with Lysander than he himself turns aggressor, coming close to rape in his urgent desire for her. Michael Gould's Oberon too, far from a sardonic mischief-maker, is erratic and bursting with rage, lashing out at Titania (Anastasia Hille) when not deploying Lloyd Hutchinson's ghastly, slob-in-a-string-vest of a Puck to do his bidding. Even the Mechanicals have lost their innocence, with Bottom's exuberance reimagined by the wonderful Leo Bill (pictured above) as manic, traumatised acting-out.Yet despite this prickly sense of unease, this is a show that's surprisingly inert. Such is the physical struggle and strain – the endless running, wrestling and romping in the mud – that it leaves little energy or time for the interior wrestling of these relationships. Why does Rooper's Hermia feel so strongly for John Dalgleish's preppy, petulant Lysander (pictured below)? What has caused her father to turn tyrant? Not only does Hill-Gibbins not seem to know, less forgiveably he seems not to care either.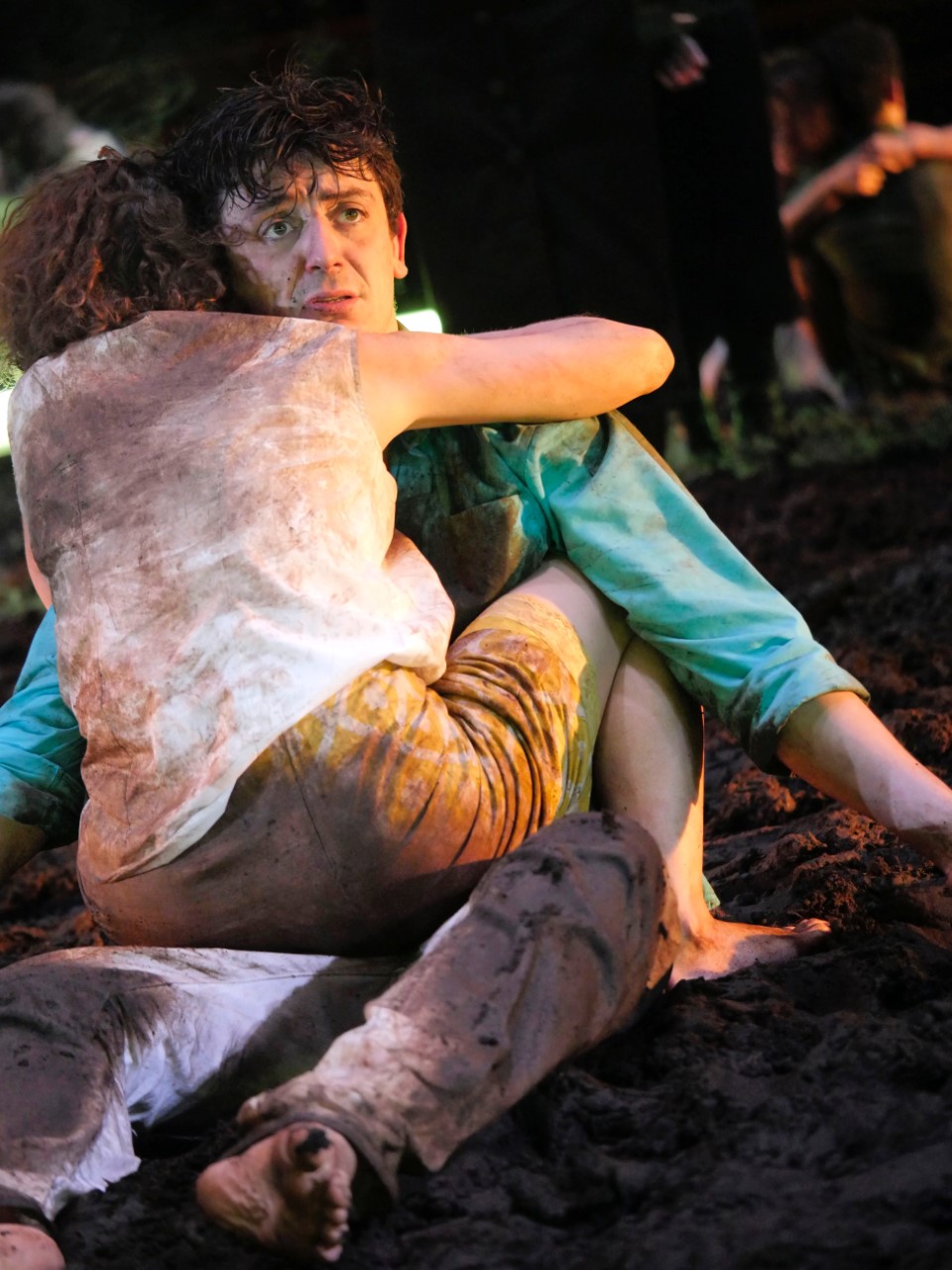 Quite literally bogged down, individual performances struggle to take flight. Hille's Titania/Hippolyta finds some precious whimsy in this joyless landscape, and Dougie McMeekin's gentle Snug offers a less forbidding portrait of trauma than his colleagues. It's good to see the radiant Melanie Pappenheim appearing as one of Titania's fairies, but her musical skills are deployed awkwardly, offering ill-judged comedy rather than a more thoughtful comment on ritual and folklore.
If Hill-Gibbins set out to make a joyless Midsummer then has succeeded. Having stripped it of comedy he refuses to clothe it in anything but anxiety. The result has all the provocations of his other productions but few of their insights. Darkness is everywhere in Shakespeare's play, but through it all we glimpse the stars, smell the thyme and the violets, feel the pangs of love and jealousy. Blot all that out and what are you left with? Mud.
Anastasia Hille's Titania/Hippolyta finds some precious whimsy in this joyless landscape
rating
Explore topics
Share this article