The Changeling, Young Vic |

reviews, news & interviews
The Changeling, Young Vic
The Changeling, Young Vic
A revenge tragedy steeped in blood and brutal authenticity
Beatrice-Joanna (Jessica Raine): more sinned against than sinning
The murder drama is a staple of television schedules. And for every Miss Marple or Rosemary and Thyme there are many more trickling from the Lynda La Plante vein, whose currency of gore, horror and perversion seem to suffer permanently from inflation. Yet there's little even in the grim likes of Messiah to equal the Jacobean capacity for horror, for incestuous, libidinous, blood-lusting violence and moral decay – T.S. Eliot's "skull beneath the skin".
Middleton's
The Changeling
spreads its fleshy veneer thinly indeed, and in Joe Hill-Gibbins' new production the grinning death-mask beneath is all too clearly visible.
The London stage is suffering from a touch of the Jekyll and Hydes at present; in one corner, with the kindly bedside manner and respectable cravat, are the farces – One Man, Two Guv'nors, Noises Off, A Flea in Her Ear – while brandishing a murderous cane in the other are the revenge tragedies – A Woman Killed with Kindness, Women Beware Women, and shortly both The Duchess of Malfi and Tis Pity She's A Whore. It's a striking divide, but while farce may smile and revenge tragedy may stab, both genres are surely driven by a common anarchic energy, subverting authority and order even as they appear to uphold it.
Alex Beckett's grinning, gurning Lollio is a thing of glorious horror
Although lacking the inadvertent cannibalism or incest that headline other Jacobean tragedies, The Changeling has its own particularly sinister brand of violence. Middleton and Rowley lovingly trace the progress of Beatrice-Joanna (Jessica Raine, pictured below) from innocent to "a woman dipped in blood", faking her virginity, seducing a man who repulses her and murdering her would-be husband Alonzo along the way. Yet it's the subplot involving a jealous husband, a young wife and an asylum that provides the touchstone for Hill-Gibbins's production.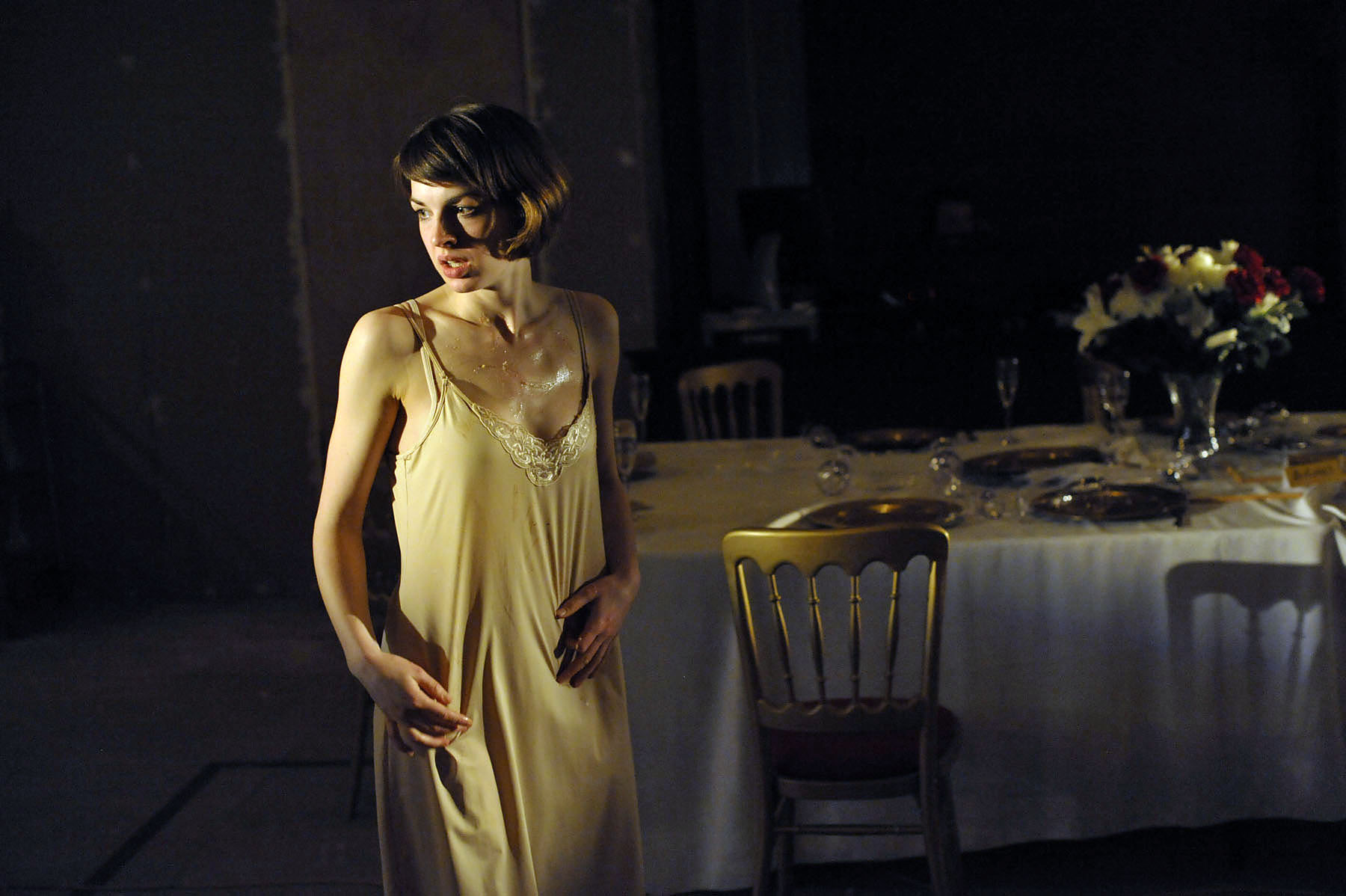 Arranged in three-sided viewing galleries, the audience look down upon an all-purpose institutional space – folding chairs, a serving hatch and even some gym mats strewn around – our seats shaking to the rattling and shrieking of the incarcerated "madmen and fools" of this particular bedlam. Madness is all-pervasive here, and the divide between sanity and insanity is a predictably porous one. Uniting the worlds of the castle
and the asylum (and conflating the dancing fools demanded as entertainment for the wedding feast and the wedding party's own masque sequence), Hill-Gibbins further turns the screw on this particular psychological rack.
It's a production that is good with anarchy, nurturing the play's urge to "blast beauty to deformity". Nothing here is pure (or simple); all plots and plottings bleed and ooze into one another; voices are distorted into a babel. Beatrice's beloved Alsemero (rather under-realised by Kobna Holdbrook-Smith) pops Viagra from a disturbingly well-stocked cabinet on his wedding night after first chemically testing his wife's virginity. Beatrice's loyal maidservant Diaphanta (Charlotte Lucas) relishes (in a scene whose lavish use of jelly and cream could have turned any stomach – not since the Young Vic's The Return of Ulysses has so much food been thrown) her illicit time in Alsemero's bed.
Blurted snatches of La bohème (and latterly pop music, including a starring absurdist turn for Beyoncé's "Single Ladies", conceived by Punchdrunk choreographer Maxine Doyle) speak of sweeter loves, while Isabella (Lucas again) is caged by her husband's gross assistant Lollio. Alex Beckett's grinning, gurning Lollio is a thing of glorious horror, out-doing even the convulsions of Henry Lloyd-Hughes as Antonio, and almost unbalancing the bloody equation in which De Flores (Daniel Cerqueira) must dominate.
Skin peeling and pustulating with gothic vigour, Cerqueira (pictured above) makes for an unusual aggressor in the abusive central relationship. His is sadism born of neglect – a twisted way of reaching out and touching, and Cerqueira's rueful way with comedy ("I could not get the ring without the finger") plays havoc with his villainy. Jessica Raine (most recently seen as the fragrant nurse Jenny Lee in the BBC's Call the Midwife) is a Beatrice more sinned against than sinning – tense and desperate rather than consciously manipulative. There's little poetry in Middleton's language here which is as clubbed in its flowerings as the action itself, but while it may be unbeautiful it is often essential in this swift-moving play, and Raine's pushed tone means we lose many of her more impassioned speeches and with them her character's human core.
A theatrical coup sees Alsemero's gauzy bandage of a closing ("All griefs are reconciled") barely heard over the chatter and noise of our madhouse, cementing a reading that refuses to buy into any kind of redemption. It's powerful stuff, as well as being great fun, but it misses a trick when it corrupts so entirely. The arc of Middleton's drama is one of "beauty changed to ugly whoredom". If all is ugliness before we begin then we lose our only stake in the unfolding tragedy. Perhaps a more humane Raine, or less boisterous direction might have pulled this off, perhaps not. What we get however is undeniably authentic in its horror: Jacobean revenge tragedy red in tooth and claw.
The Changeling at the Young Vic until 25 February
Madness is all-pervasive here, and the divide between sanity and insanity a porous one indeed
rating
Share this article