The Mighty Walzer: ping-pong in the round |

reviews, news & interviews
The Mighty Walzer: ping-pong in the round
The Mighty Walzer: ping-pong in the round
Howard Jacobson's much-loved novel is coming to the stage. Simon Bent explains how he adapted it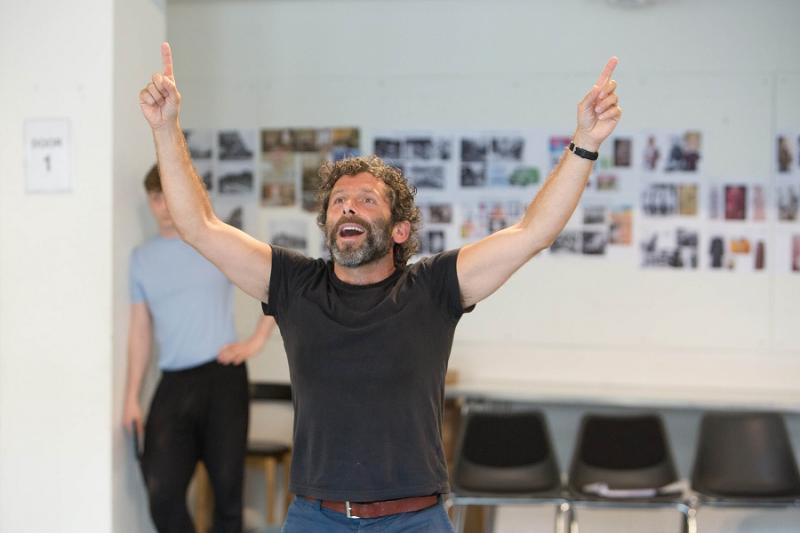 Mighty: Elliot Levey rehearses as Oliver Walzer
It's a little over two years since I was approached to adapt The Mighty Walzer by Howard Jacobson for Manchester Royal Exchange. I was living in Liverpool at the time and had recently seen That Day We Sang by Victoria Wood at the Exchange. It was terrific, wonderfully directed by Sarah Frankcom. I had never seen a musical in the round before, it was so dynamic. There's nowhere to hide in the round, you can't get away with anything, you're totally exposed, and I remember thinking how great it would be to write for such a space.
I read Walzer in one sitting and couldn't put it down. It's a coming-of-age story following the journey of Oliver Walzer who becomes obsessed with table tennis and dreams of fame and fortune. Howard is such a nimble writer and can turn on a sixpence from high comedy to tragedy in an instant. He has a mighty arsenal of literary tools at his disposal. I was instantly drawn to the characters and their milieu, they jumped off the page and the world he was describing – a second/third generation Jewish immigrant community in Manchester – seemed very exotic to me. Here was a writer not only attempting but brilliantly succeeding in getting a world down on paper before the memory of it got lost.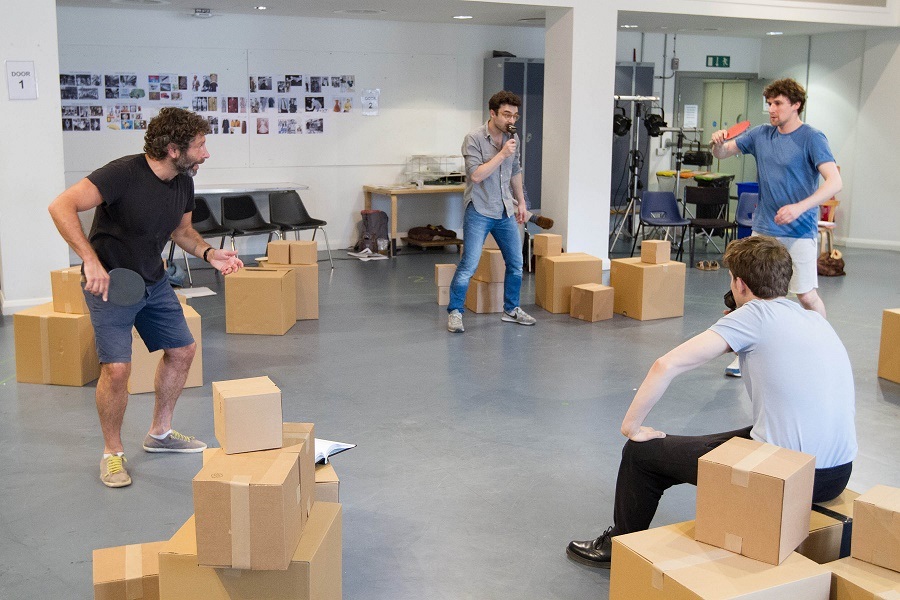 How could I refuse? How was I going to do it? I had no idea. The theatre initially commissioned me to do a month's work on it to see if I could find a way in. After spending a fortnight scratching my head I decided there was only one way forward – to start at the beginning, to jump on board and see where it took me. So I let the book lead me and since then the process of adapting it has been a joyful journey of discovery. Howard has been generous and supportive from the beginning, understanding that the play is a different beast from the book. A major consideration in the staging of this play has been how to do the table tennis. The playing of it is so intrinsic to the story that you can't place it as an offstage action. Hopefully, we have come up with a simple and effective mechanism that gets inside the excitement of the players' experience and allows the audience to use its imagination (pictured above).
There was no way I could put the whole of Walzer onstage. In a novel you can jump between past and present, segue into seemingly random scenes, take time out to reflect, suddenly be poetic and then return to the narrative and not lose the reader. The stage is a very different creature: deviate from the narrative too much and you lose your audience – it's like a continuous present rolling on inevitably to its conclusion. This has necessarily meant cutting a lot of very rich material. Thus, in the book we follow Oliver on to Cambridge, his marriage and later life, which I just couldn't do. In the play we follow Oliver through adolescence and finish with him leaving for university.
I did not meet with Howard until after I'd got a first draft down. I'm glad I didn't as he is utterly charming, very persuasive, a great raconteur and I would have got lost in the romance of his story. I would have lost the necessary objectivity to turn the book into a play and tried to get it all in. But Howard has taken great care not to be intrusive, and has always been very respectful of the work that I have done on his work, to turn his great novel into a play.
Howard is such a nimble writer and can turn on a sixpence from high comedy to tragedy in an instant
Share this article