Miss Atomic Bomb, St James Theatre |

reviews, news & interviews
Miss Atomic Bomb, St James Theatre
Miss Atomic Bomb, St James Theatre
New musical set in nuclear-mad Las Vegas fails to detonate
Sheep joke: Catherine Tate as Myrna with the cast of 'Miss Atomic Bomb'
As settings for musical comedy go, this one promised some boom for your buck. Las Vegas in the early 1950s was just emerging as a magnet not only for hedonists and gamblers, mobsters and showgirls, but also for the personnel of America's Atomic Energy Commission, engaged in fortnightly A-bomb tests over the Nevada desert.
Too bad that this fascinating scenario should be squandered on a run-of-the-mill show that scurries frantically from one well-worn musical-comedy trope to another without once pausing to reflect on the wider issues. In 1952 the words "mutually assured destruction" hadn't yet entered the lexicon of the Cold War. Americans were thrilled to think that their scientists were leading the way in nuclear science and flocked to the Las Vegas hotels that offered the best view on test days. Servicemen were marched close to the blast site and told that to protect themselves from the effects of radiation dust they need only take a shower and an aspirin.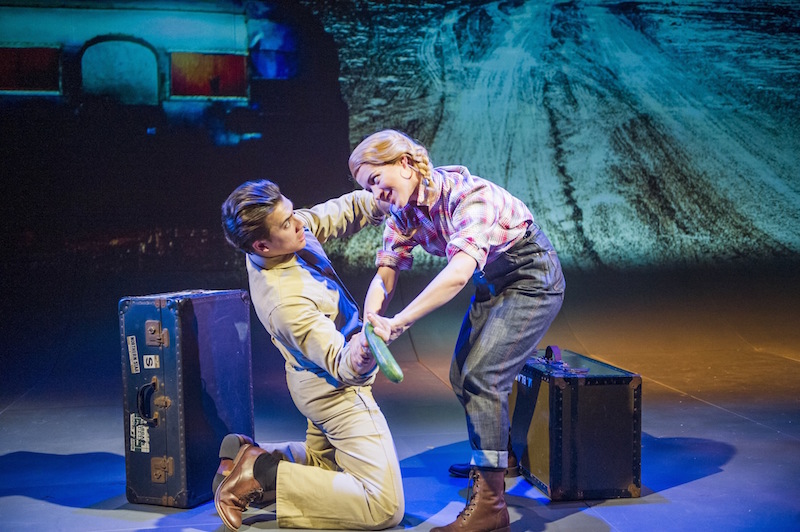 But this is mere background colour in Adam Long, Gabriel Vick and Alex Jackson-Long's tawdry little show which climaxes in the titular beauty pageant. Foregrounding serious stuff with silly stuff could perhaps have worked if the tone were right, but Bill Deamer and Adam Long's production doesn't seem to know what it wants to be.
The story follows the fortunes of two brothers – hotel manager Lou (Simon Lipkin) and army deserter Joey (Dean John-Wilson) – who get mixed up with two women – nightmare fashionista Myrna (Catherine Tate, woefully miscast) and her best friend Candy (Florence Andrews, pictured above right with John-Wilson), a dungarees-wearing sheep farmer. This last detail is plainly to justify a sight gag featuring a dead sheep, which gets one of the best laughs of the night. Andrews herself, though, goes some way to salvaging some fairly forgettable songs. She alone among the cast comes across as a real person.
All the minor characters are cut-outs and caricatures. The barking army General is straight out of M.A.S.H. The scientist Professor Schmul is Woody Allen in a white coat. The ridiculously trigger happy Mafia mobsters have stepped from Some Like it Hot. Even the finalists of the beauty pageant include a dead ringer for Grayson Perry. It's as if the audience can't be trusted to understand anything they don't already know.
Catherine Tate looks uncomfortable throughout, and not only because she's corseted to within an inch of her life. She is miscast on every level. Her Utah accent goes walkabout; she isn't much of a singer and can't hold a harmony line; she can't walk in heels and looks, frankly, a fright in fashion designer Myrna's self-sewn tight frocks. A better ploy would have been to do a Priscilla, Queen of the Desert on her. Then Tate might have pulled it off, sartorially at least.
Casting blunders apart, there is some sharply written material amid the same-old same-old. A couple of the songs might find an afterlife in some off-off-Broadway cabaret club (or the open-mic night in a cellar near Leicester Square I discovered recently that featured some distinctly post-watershed numbers). But my guess is that Miss Atomic Bomb will struggle to fill its short, four-week commitment. This is a show that will take more than a shower and an aspirin to put to rights.