The Moderate Soprano, Duke of York's Theatre review - love and opera with a flinty edge |

reviews, news & interviews
The Moderate Soprano, Duke of York's Theatre review - love and opera with a flinty edge
The Moderate Soprano, Duke of York's Theatre review - love and opera with a flinty edge
Roger Allam and Nancy Carroll serve David Hare's iron fist in velvet glove to perfection
Nancy Carroll as Audrey Mildmay and Roger Allam as John Christie
"What could be more serious than married life?" asked Richard Strauss, whose operas became a surprising pillar of Glyndebourne's repertoire some time after the early days dramatised in David Hare's play.
"Honour" might have been the answer of conductor Fritz Busch, who unlike Strauss never made accommodations with the Nazi regime. The two ingredients, personal devotion and public integrity, are interlaced with surprising shafts of depth as well as elegance in the artistic context of
The Moderate Soprano
. This reviewer certainly didn't leave the
Duke of York's Theatre
at the end of Jeremy Herrin's production, as our previous writer did the original Hampstead Theatre incarnation, asking "So what?"
In a programme note as pithy as the lines he gives his characters, Hare points out that when he wrote the play in 2015, he had "no idea that a narrow vote in favour of Brexit was around the corner. But even then I wanted to celebrate a time when our country openly welcomed a migrant group, not just because of what we could give them, but because of what they might give us." The answer, in the case of Glyndebourne, is international opera at the very highest level, with superlative artists working in ideal circumstances (ask anyone who's performed there).
We see the slowness of privileged Brits to work out what's wrong in Nazi Germany, the time it takes World War One veteran Captain George Christie and his wife, the former Carl Rosa Opera Company soprano Audrey Mildmay, to be educated by the three great movers and shakers they welcome to their country house – conductor Busch, director (or "opera producer" as he was then known) Carl Ebert, and Ebert's Jewish Austrian assistant Rudolf Bing, who went on to run the Edinburgh Festival (Mildmay's idea, apparently) and the Met.
More rapidly established is the complex, loving relationship of Mildmay, the diplomatic power behind the Glyndebourne idea, and Christie, a seemingly confirmed bachelor of 48 when he met her and fell in love. So truly, deeply and beautifully do Nancy Carroll and Roger Allam nuance every line that it's hard to tell if the real magic comes from their performances or from what Hare gives them. He zigzags effectively through time, deftly sketching the disillusionments, compromises and pain, not least the devastating scenes in which the dying Audrey lashes out in agony at the ever-patient "Jack" – Carroll's greatest achievement lies here – as well as her crisp, patient younger self urging moderation from the impatient would-be impresario as they get to know the proponents of serious art.
The accents of the "Germans" vary. It's true that Ebert was born of Polish and Irish-American parents - out of wedlock, as they say, just like Mildmay - but since he was brought up in Germany he should speak the language more idiomatically than the otherwise persuasive Anthony Calf does. Nor does Paul Jesson inflect his English as Jacob Fortune-Lloyd, a dashing young Bing (pictured below), does most successfully; but that hardly matters when the character is so strongly drawn. The scene of an incredulous but gentlemanly Busch's first meeting with Christie, who doesn't really grasp his stature, is deliciously done. It seems incredible that Christie really wanted a Festspielhaus for Wagner – to perform Parsifal with a string quartet and organ – rather than the jewel-box for Mozart the artistic team persuaded him was necessary; yet his naive enthusiasm for all things Germanic is charmingly etched. It's a nice touch, incidentally, that the very name of Mozart is postponed to dramatic effect until some way into the second act.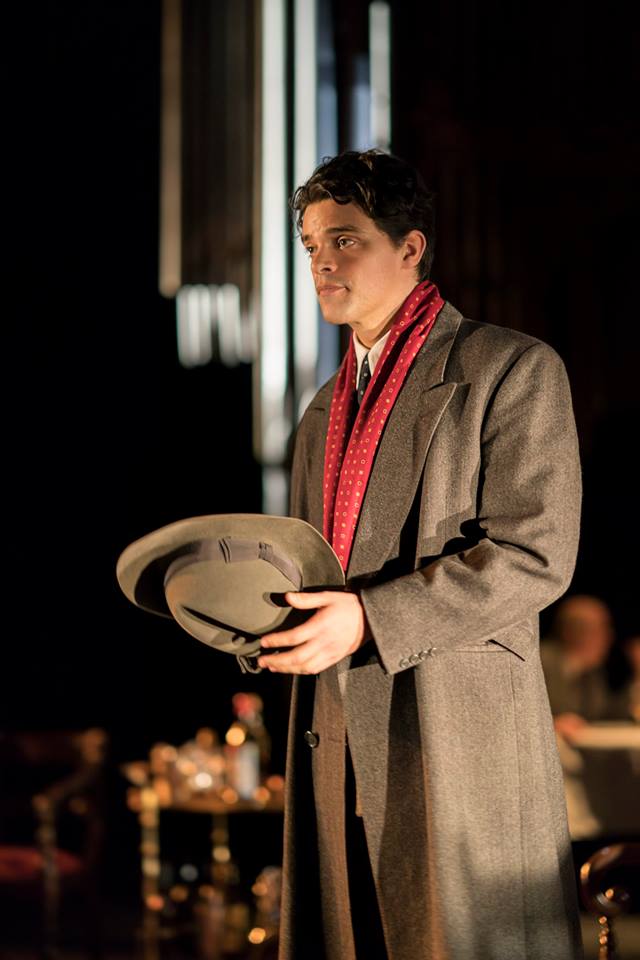 It's a long path from the figurative and literal Lederhosen-wearer to the bleak, bereft Christie Allam conveys equally brilliantly towards the end of the play. The man's faults aren't avoided – the lord of the manor who wanted democracy, but only at his command; the taking-for-granted of his privilege (when telling his colleagues that a visa is being quickly sorted, Ebert announces "they all went to school together, they look after each other"); the bursts of inspiration that aren't backed up by hard graft. The point is that Christie needed Mildmay to plant his feet firmly on the ground, and his artistic triumvirate to work without compromise. Nor are the issues of opera for the privileged few sidestepped; it would be anachronistic to look forward to a time of easier access for everyone.
When it comes to the "let's make an artwork" aspect, Hare does it better, and his team of actors execute it as a result more assuredly, less archly, than in any other play I've encountered grappling with such an issue. The Moderate Soprano is infinitely better than Farinelli and the King, Ronald Harwood's Furtwängler and Strauss plays, or Alan Bennett's The Habit of Art. True, there's a lot of back narrative to tell us what the exiles had faced in Germany, but Jesson has our hearts in our mouths when his Busch describes facing a jeering Dresden audience of Nazi officials and a silent orchestra with swastikas in their buttonholes. (I can't find that detail in Busch's excellent memoir, by the way, but it's the point at which the drama freezes us.)
I liked, too, the low and not too persistent level of music until the unfortunate end – a tinny blast of Mozart's Marriage of Figaro Overture with a huge cut in the middle – as well as Hare's lack of condescension in setting up the essentials. Would non-aficionados get it? I hope so, and cultural-capitalists may appreciate the gentler, more nostalgic aspects. Some have found the play too open-ended, but why not? The adventure of a bold beginning is what we always come back to here, for all the individual human failings and unhappinesses which followed. And under the pretty skin of Bob Crowley's handsome designs, beautifully lit as always by Paule Constable, there's a drama as tough and sometimes as cruel as the demands of the art-form it defines.
So truly, deeply and beautifully do Carroll and Allam nuance every line that it's hard to tell if the real magic comes from them or from what Hare provides
rating
Share this article