From Morning to Midnight, National Theatre |

reviews, news & interviews
From Morning to Midnight, National Theatre
From Morning to Midnight, National Theatre
Adam Godley goes bonkers in Expressionist drama adapted by Dennis Kelly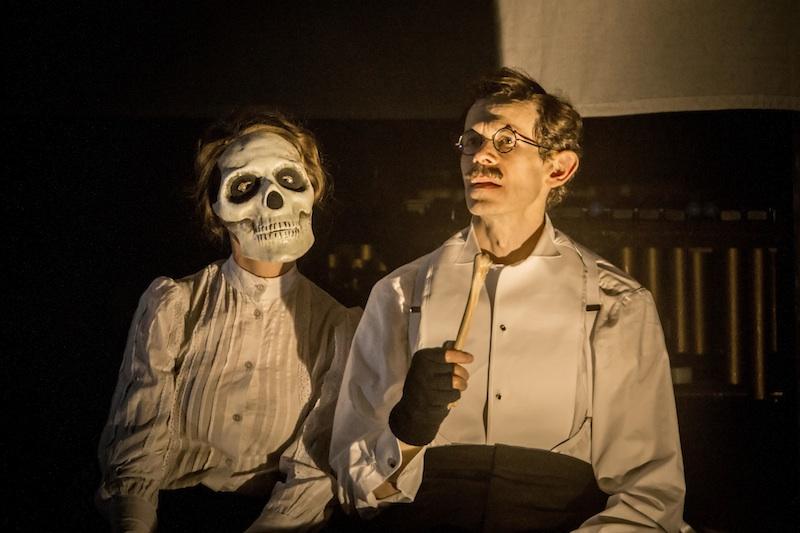 He may have got rich quick but that produces only lean pickings for the bank clerk (Adam Godley, right)
We first see the bank clerk, who can't bear his dull life, serving behind the cashier's till, like an automaton. In Melly Still's hugely inventive, visually stunning multimedia production of From Morning to Midnight – Georg Kaiser's fearlessly weird German Expressionist drama from 1912 – Adam Godley's Clerk starts out as a desiccated nonentity, nose to the grindstone.
A huge, ticking clock hangs above him, cogs whirring, bells chiming. Shrill whistles blow as customers whirl in and out through brass turnstiles. Godley remains stiff as a corpse, except for his hands darting out to take deposits, flicking through wads of mimed cash. The sound of his scrabbling fingers is surreally amplified over the banter exchanged between his smug manager (Dan Milne) and a filthy-rich businessman (Jason Thorpe, chortling in a fat suit).
This revival touches a nerve regarding our contemporary culture too
Out of the blue, an elegant beauty from more exotic climes (Gina Bellman) makes the Clerk's heart pound with desire, and he goes wild. Absconding with pockets full of stolen lucre, he wrongly presumes she'll run away with him. Thereafter, he has morbid fantasies veering towards mental breakdown, and embarks on a feverish quest for a more fulfilling existence.
Abandoning his mundane wife and family, we find him dressed as a Society gent and donating vast amounts of prize money to a velodrome race at a packed stadium (pictured below right). He briefly gets a kick out of seeing the competitors and crowd become savagely excited, only for pomp and ceremony to be reinstituted.
Next, frequenting the underground world of peep shows and cabaret artistes, he's riled to discover that buckets of money and champagne can't buy sexual liaisons or beauty of real note. Finally he turns to religion, hurling his money at a Salvation Army gathering of reformed sinners, with less than beatific results.
It has to be said this serio-comic play isn't an entirely easy ride. The script, to which Dennis Kelly's new English version sticks relatively faithfully, can seem thin. Kaiser wasn't interested in portraying deepening relationships between three-dimensional characters. The Clerk is, essentially, an Everyman in an episodic, avant-garde variation on medieval morality plays.
It is rather fascinating, nonetheless, to see this curious Expressionist piece adventurously staged by the NT. Not only does Kaiser's struggling protagonist connect with radical Nietzschean ideas about casting off accepted codes of behaviour; this revival touches a nerve regarding our contemporary culture too, focusing on an overworked underdog who has been indoctrinated with the idea that affluence and hedonism will make him feel less spiritually atrophied.
Melly Still's creative team go all out to enrich the script with imaginative flair in their staging, and they succeed. The results are often dazzling with epic sets by Soutra Gilmour and multilayered sound designs by Christopher Shutt. The video projections are slightly hit-and-miss and the play's tragic climax is puzzlingly scrambled. But many scenes are wittily playful and hauntingly beautiful. The velodrome cyclists mesmerisingly suggest a furious race, by simply leaning their bikes in slow motion as the Lyttelton stage revolves and roars fill the air. And Godley, on the run, finds himself marooned in snowdrifts – a sea of white silk stretching out to the crack of doom.
The script of From Morning to Midnight by George Kaiser, in this new version by Dennis Kelly, is available from Oberon Books
Follow Kate Bassett on Twitter
Melly Still's creative team go all out to enrich the script with imaginative flair in their staging
rating
Share this article