Now This Is Not the End, Arcola Theatre |

reviews, news & interviews
Now This Is Not the End, Arcola Theatre
Now This Is Not the End, Arcola Theatre
New play about an old Berliner and her family is consistently interesting and moving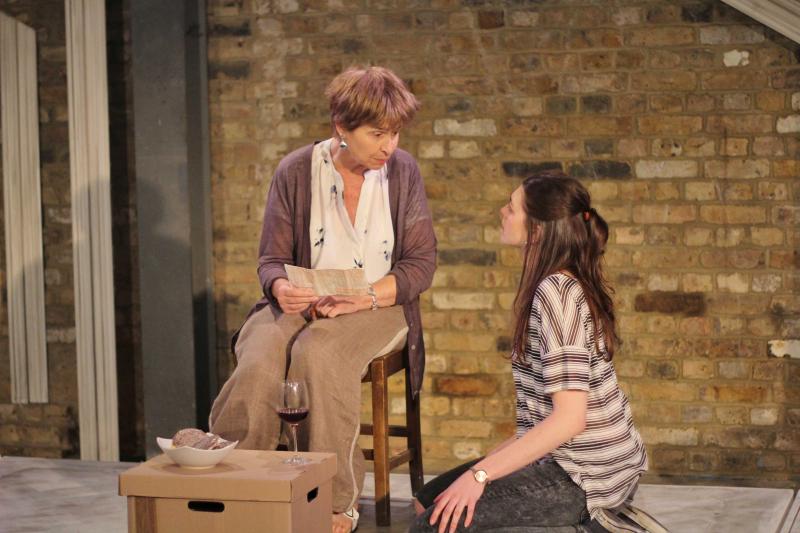 Past in the present: Brigit Forsyth and Jasmine Blackborow in 'Now This Is Not the End'.
Few cities have been so central to the European imagination as Berlin in the 20th century. At the centre of imperial power, then of Weimar, next the hub of Nazi Germany, then for some 50 years a symbol of a divided Cold War world. In Rose Lewenstein's new play, Now This Is Not the End, the city is remembered with a touch of nostalgia by Eva, an old German lady living in London.
But these memories are under threat: she is beginning to suffer from dementia so her vivid recollections are becoming cloudy – can anyone help her preserve her past?
Living with her second husband Arnold, Eva has sold her house and is about to move into a home. When her daughter, Susan, visits her, along with her current partner, Paul, and 18-year-old daughter Rosie, she finds that Eva has piled up some boxes of junk for throwing out. As Susan looks though this, she remembers a taped interview that she once made with her mother some 10 years previously. In this recording, Eva's memory is perfectly clear and she tells the story of growing up in Nazi Germany, as well as the fate of her Jewish father.
Nazi genocide affected Jewish families in many different ways
In this tale of three generations, Lewenstein writes with a mixture of remarkable economy, acute observation and passionate intensity. She is good on the everyday habits of families, the niggling antagonisms, the recurring attitudes and the seething resentments. Some of this is comic; some annoying; all of it is instantly recognisable. She also suggests that some structures of feeling – the ability to love, to express love, or not – can run in families, almost like a genetic signature. So young Rosie's attraction to Berlin, where she goes to study, and her troubles with her German boyfriend, Sebastian, subtly echoes both her mother's emotional experiences, and those of her grandmother.
At the same time, Eva's gradual descent into dementia is portrayed as a loss of identity as well as memories, some of which are painful, some of which are more optimistic. In this portrait of an otherwise sprightly woman Lewenstein convincingly shows that the history of European Jewry in the Hitler era was sometimes more varied, and more complex, than the usual story of victimhood. The Nazi genocide affected Jewish families in many different ways. But memory can be a curse as well as a blessing, and the play shows how, although Eva loses her memory, the tape she made with Susan retains the power to shock.
Although this short, 70-minute family drama is quite slight, it contains moments of deep observation, perception and insight. With its flashbacks and leaps forward, it has a tricksy feel which never overwhelms the seriousness of its central themes of loss, memory and history. Katie Lewis's careful and sympathetic production is consistently interesting, with a convincing cast (pictured above) led by Brigit Forsyth (Eva), Wendy Nottingham (Susan) and Jasmine Blackborow (Rosie), with excellent support from Daniel Donskoy (Sebastian), Andrew Whipp (Paul) and Bernard Lloyd (Arnold). In one scene when emotions get frayed, one character giggles while another cries. This blend of tears perfectly encapsulates the quality of this powerful play.
The playwright suggests that some structures of feeling can run in families almost like a genetic signature
rating
Share this article