Once in a Lifetime, Young Vic |

reviews, news & interviews
Once in a Lifetime, Young Vic
Once in a Lifetime, Young Vic
Moving pictures and crisp talk as Richard Jones tackles a Broadway comedy
Wednesday, 07 December 2016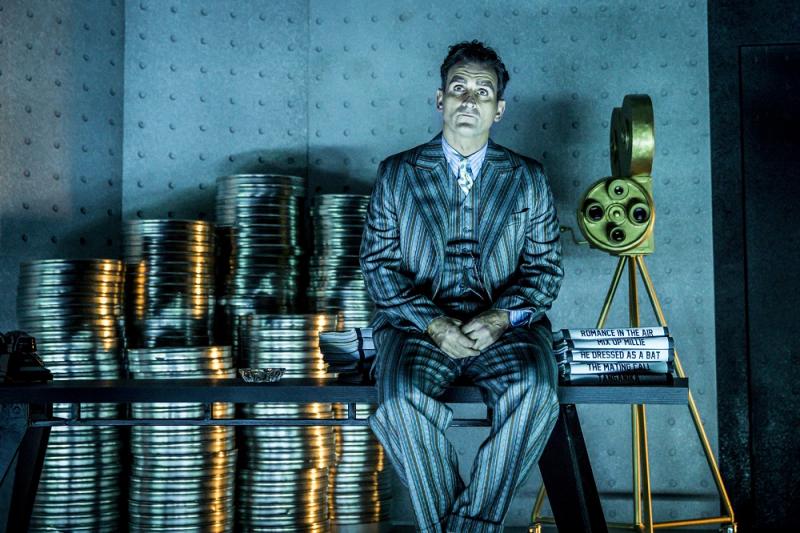 John Marquez as lucky straight man George Lewis
An amplified crunch in the dark, sound without vision, kicks off this take on Moss Hart and George S Kaufman's light comedy about the advent of the talking pictures. It's a typical Richard Jones leitmotif, not as fraught with horror as the baked beans of his Wozzeck or the spinning top in his Royal Opera Boris Godunov.
This, bathetically, is merely the noise of "Indian" nuts being consumed by the play's holy fool George Lewis, an
idiot
everyone thinks is
savant
. The effect is sparely operated thereafter. But then nothing needs overegging in this piece of perfectly-executed seasonal froth. Two-thirds of the way towards screwball, the ephemeral text, adapted by Hart's son Christopher, gives birth to an exercise in style.
What style, though. While all that remains in my memory is a vague warmth about Frasier's John Mahoney in the same authors' The Man Who Came to Dinner, or Olympia Dukakis in a San Francisco production of Kaufman and Ferber's The Royal Family, Jones's sharp extravaganza will surely be remembered for its various looks. Costumes by the wondrous Nicky Gillibrand, a regular Jones collaborator, with hairdos and wigs styled by no less than five "technicians", parade before us in gasp-worthy fashion. Hyemi Shin's designs, crisply lit by Jon Clark, include a train journey to Hollywood with a moving panorama of black-and-white desert beyond the windows that never palls. How much it all cost I can't imagine, but if it looks a million dollars, the artistry probably means it was nowhere near as expensive.
The ensemble delivers most of the pace and humour to be found in the piece, though occasionally there seems an obligation to fall into shouty stereotypes. No such qualms with the central trio, adventurer vaudevillians who desperately need to make money and find it by offering speech classes in LA following the sound-hit of The Jazz Singer. Kevin Bishop has little to do other than look handsome and deliver sassily as lead man Jerry, but Claudie Blakley (pictured above second from left with Bishop, Lizzy Connolly as starlet Susan Walker and Buffy Davis as Mrs Walker) is a lynchpin as the resourceful, witty and common-sensical May (only a sideways move from her interestingly nice role in BBC's best classic serial Cranford). She looks the essence of the late 1920s girl next door, too.
Scene-stealing comes from John Marquez as the straight man of the three, who has success-by-accident tattooed on his forehead from the deadpan start. Jones's trademark precision with every hand gesture is funny enough when a smart writer driven mad by being a nobody in Hollywood with nothing to do goes crisply berserk – a superb turn from Daniel Abelson – but Marquez trumps it as human sponge George, having picked up the routine by osmosis and virtually sleepwalking his way through all the same motions to impress big shot producer Glogauer.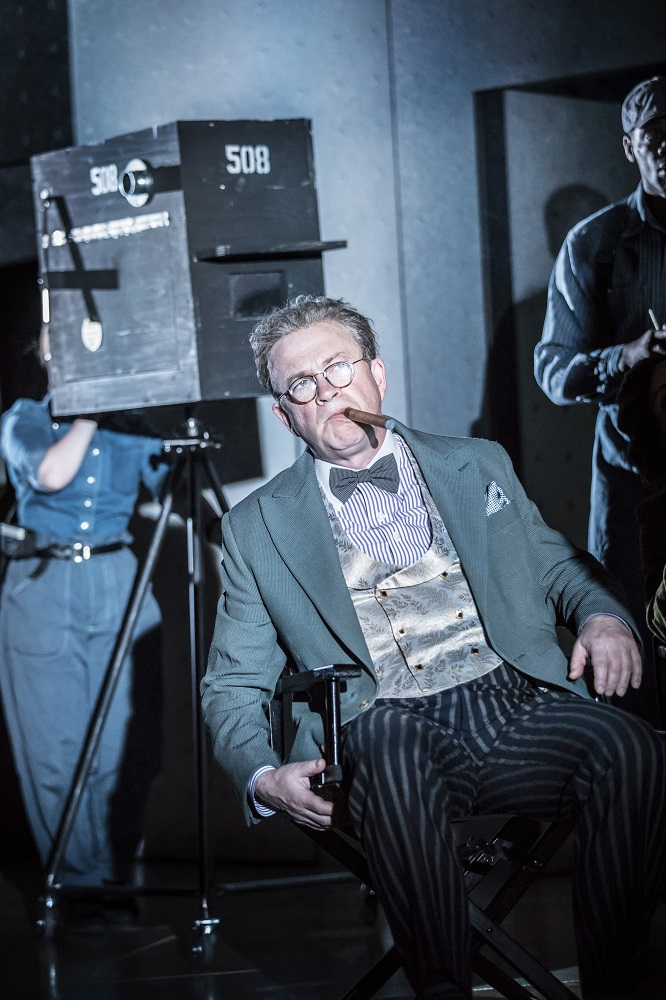 He's played by Harry Enfield (pictured left), nominally the star, but in effect he only has to growl his way through the great dictator's speeches and execute a delightful shuffling walk. The second wave of hilarity comes after the interval, when Glogauer finds out at the final shoot that the film he's entrusted to George has been made to the wrong "script" (a silent scenario from 1910). Jones has set himself the problem of how to manoeuvre anything up to 12 people in a deliberately restricted stage space – the studio is surrealistically tiny – but he gets his actors to move with virtuoso aplomb.
There are no weak links in the cast, but Lucy Cohu's Helen Hobart, aka Hedda Hopper and attired in a series of swooningly spangly dresses, can be hard to make out at times as she rattles along. There's classical precision from young Otto Farrant as both an ambitious waiter, discreetly tugging at his crotch when he talks about the prospect of Paramount stars arriving at the party, and a German import, the lines superbly timed. Equal to Marquez for comic deftness, albeit with broader brushstrokes, is Amanda Lawrence as Glogauer's hapless, stressed PA, pure Cloris Leachman in the looks and just as bizarrely good at comedy.
There's enough here to keep the audience in a constant state of grinning benignity which occasionally erupts into near-hysterical delight. But of course – despite the handsome sounding recorded interludes – there's no song and little dance. If only young Hart hadn't turned his nose up at Irving Berlin's proposal to write a score. A musical Once in a Lifetime could have been a rival to Annie Get Your Gun, Jones's Young Vic production of which will live in the memory for ever. This choice, not so much, but it's good for a fun evening out done at the highest level – and the curtain is vintage Jones.