One Man, Two Guvnors, Theatre Royal Haymarket |

reviews, news & interviews
One Man, Two Guvnors, Theatre Royal Haymarket
One Man, Two Guvnors, Theatre Royal Haymarket
The hilarious Owain Arthur gives a Welsh flavour to Richard Bean's recast Goldoni update
Owain Arthur as Francis Henshall: rather less ovoid than James Corden and even more prone to head-slapping incredulity
Was it the players, or the play, that has made a phenomenon out of One Man, Two Guvnors, the prize-winning comedy now on its third London theatre and preparing to hop the pond to Broadway next month? Well, bacon and eggs(!), it turns out there's life aplenty in Richard Bean's Goldoni rewrite yet, even without the star wattage of James Corden and the insanely arched eyebrows of Oliver Chris.
Recast (for the most part) in its move from the Adelphi to the Theatre Royal, Haymarket, a fresh company allows for a fresh perspective on Bean's Brighton-set narrative, which displaces commedia dell' arte to a 1963 landscape of murder, mistaken identity and skiffle bands. Amid the gathering mayhem, which includes a first-act climax involving some peerless waiter-related bedlam, Bean has fashioned a narrative eventuating in a triptych of couplings that would do Shakespeare proud. Indeed, Nicholas Hytner's production even ends with an equivalent to the jigs that accompany the curtain calls at Shakespeare's Globe. Beneath the show's apparently freeform chaos beats a classicist's heart.
Forgoing the star route to give Corden's understudy pride of place, the Haymarket troupe heralds the arrival of a singular talent in Owain Arthur, whose Francis Henshall is rather less ovoid and even more prone to head-slapping incredulity. What's more, Arthur's purposefully deployed Welshness lends a winning musicality to events already shot through with music, courtesy of composer Grant Olding and his invaluable band, The Craze. Arthur is very funny indeed.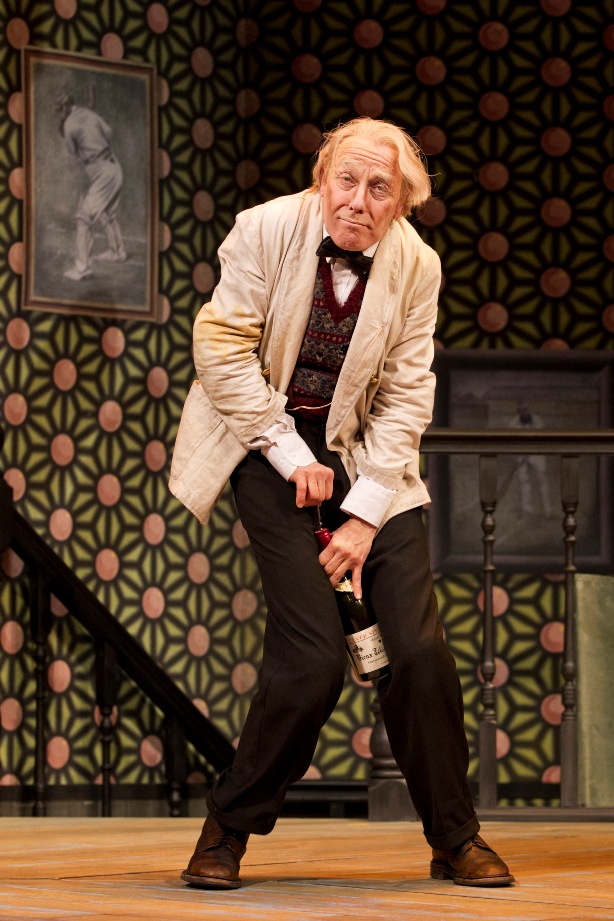 Among the rest, a particular shout-out goes to Daniel Ings, who captures the ludicrous bravura of the black-clad Alan, the sort of ceaselessly posturing Ac-tor who would be right at home with the Bliss family in Hay Fever. And inheriting the role of the 87-year-old waiter that made a sensation out of Tom Edden, Martin Barras (pictured right) is scarcely less rickety in his tendencies toward collapse. Bean's script rewrites have given that character a reason for being after the interval that works to the benefit of the whole. Who doesn't love a running gag about the hard-of-hearing (which may, in turn, hit Broadway's ever-ageing public right where they live)?
Ben Mansfield has the unenviable task of following on from Oliver Chris as the exuberantly dim Stanley Stubbers, the exclamation-prone toff. Mansfield comes into his own in his second-act protestations of grief and then ardour as the romantic dénouement gathers pace, and he'll be even better once he tones down a tendency to squint that makes it look as if an oenophile with a third-class zoology degree has for some reason been staring continually into the sun.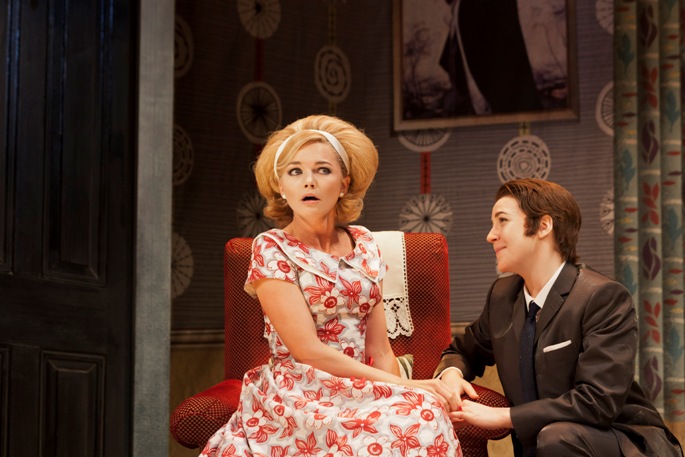 In her non-musical debut as Francis's Majorca-minded squeeze, Dolly, Jodie Prenger appears to relish her interplay with the audience just as the gimlet-eyed Suzie Toase did before her. The fast-rising comedian Gemma Whelan now plays the cross-dressing Rachel, who is seen for most of the play in the male guise of her (dead) brother Roscoe and is given over at one point to a discourse on the nature of twins that Hannah Spearritt's endearingly clueless Pauline, Alan's beloved, is doomed never to understand (pictured left, Spearritt as Pauline and Whelan as cross-dressing Rachel).
As for what explains this play's enduring appeal? It could be that its hilarity is infused at nearly every turn with heart. Or that One Man, Two Guvnors is as sophisticated as it is innocent, which in a play obsessed with duality may be the smartest doubling of all.
One Man, Two Guvnors continues at the Theatre Royal, Haymarket until 1 September and opens at the Music Box Theatre in New York on 6 April