Only Fools and Horses, Theatre Royal Haymarket review - rollicking remake of much-loved TV sitcom |

reviews, news & interviews
Only Fools and Horses, Theatre Royal Haymarket review - rollicking remake of much-loved TV sitcom
Only Fools and Horses, Theatre Royal Haymarket review - rollicking remake of much-loved TV sitcom
Lovely jubbly! The Trotters return to Peckham
Wednesday, 20 February 2019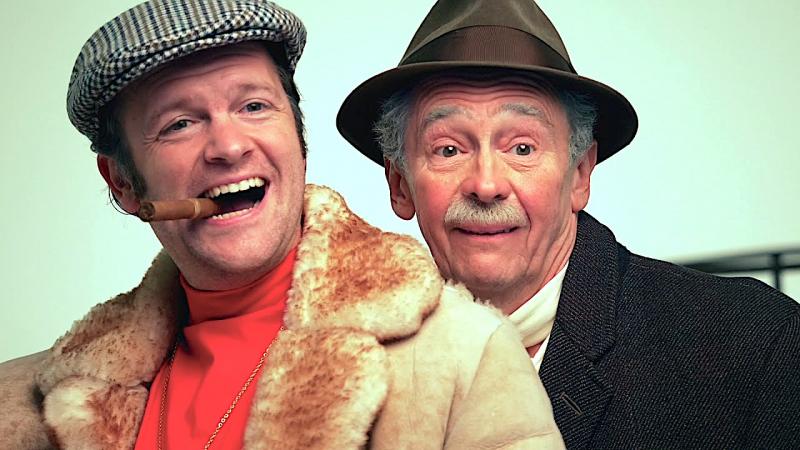 Pukka: Tom Bennett as Del Boy with Paul Whitehouse as Grandad
It was TV gold-dust. The original seven series of Only Fools and Horses were broadcast on BBC One from 1981-1991, and a string of Christmas specials kept the show running until 2003. It was showered with awards and critical acclaim, and in 1996 the episode "Time on Our Hands" drew a record-breaking 24.3 million viewers.
This musical version at the Theatre Royal Haymarket, authored by Paul Whitehouse and Jim Sullivan (son of the show's creator John Sullivan, who died in 2011), whisks us back to 1989, and deftly recreates the dodgy Peckham milieu of the Trotter family. This consists largely of the Nag's Head pub, over which nondescript council flats loom drably. Somebody remarks that "last year Peckham was officially twinned with Chernobyl."
Translating a long-running sitcom which became as much a part of the national fabric as the PG Tips chimps or Harry Carpenter into a single stage show must have been a bit of a brain-teaser, and a swarm of familiar faces turned out for opening night to see how well they'd managed – Harry Enfield, Jools Holland, Bill Bailey and Jo Brand, to name but several. Obviously the larcenous Del Boy will always be David Jason for many, and for a while my brain simply wouldn't accept that he's played here by Tom Bennett, but gradually it became possible to appreciate his performance as something new and a bit different.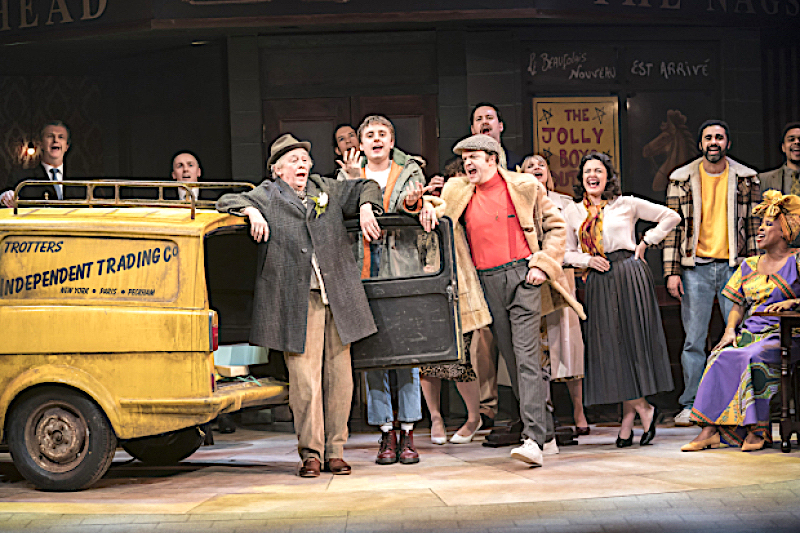 Bennett brings a veneer of borrowed swagger to the part – nowhere better than in his song and dance routine with cane and bowler hat to sell himself on Peckham's new computerised dating agency, as a couple of posh onlookers chorus "he's a sophisticated geezer". His malapropisms and multilingual patois are a continual source of wonder ("dos spaghetti carbonara por favor, danke schön").
Casting was all, and they got most of it right. Ryan Hutton reincarnates young Rodney Trotter's naive haplessness with a delicate touch, while Pippa Duffy is the very model of his wife-to-be Cassandra (Gwyneth Strong on the telly). Jeff Nicholson takes the measure of the ponderous and pontifical Boycie, sparkily counterpointed by his wife Marlene (Samantha Seager). As Raquel, Del's on-again-off-again lover, Dianne Pilkington manages to smuggle a dash of pathos into the slapstick, and she gets one of the best musical solos in "The Girl", a song about dreams that never worked out. But she doesn't ask for much. "I don't want someone sensitive and intelligent, I want you," she tells Del (pictured below, Rodney and Cassandra).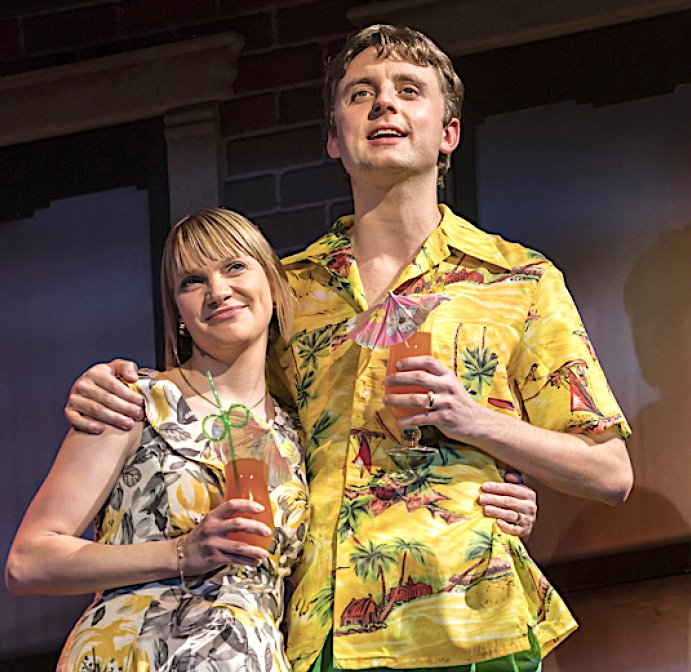 But big kudos to Paul Whitehouse, who quietly oversees proceedings from his old armchair as Grandad, dispensing nuggets of dubious folk wisdom or mere idiocy. He leaps into action to lead the ensemble through the rumbustious "Where Have All the Cockneys Gone?", one of several songs co-written with the now-late Chas Hodges. All the market locals and pub regulars romp around the stage like the chimney sweeps in Mary Poppins, ending up with a chorus or two of "Any Old Iron".
Grandad's rummage through his box of memorabilia, wondering whether his old pocket watch or his failing ticker will be the first to conk out, could bring a tear to your eye. Whitehouse's late reappearance as white-bearded Uncle Albert, burbling a stream of interminable nonsense, almost stopped the show.
Nostalgia for a dingy, down-at-heel yet somehow much-missed past runs through it, expressed brilliantly in a scene where Trigger (an undertakerish Peter Baker, an amazing match for TV's Roger Lloyd Pack) foresees the future. Peckham suddenly becomes a garish menagerie of artisan bakeries, soaring property prices and excitable South American baristas proffering infinite varieties of overpriced coffee, while the Shard looms threateningly overhead. "Magnifique Hooky Street" – those were the days, eh?