Our Town, Regent's Park Open Air Theatre review – small-town tale that raises profound existential questions |

reviews, news & interviews
Our Town, Regent's Park Open Air Theatre review – small-town tale that raises profound existential questions
Our Town, Regent's Park Open Air Theatre review – small-town tale that raises profound existential questions
A moving antidote to fast-paced narratives and rampant individualism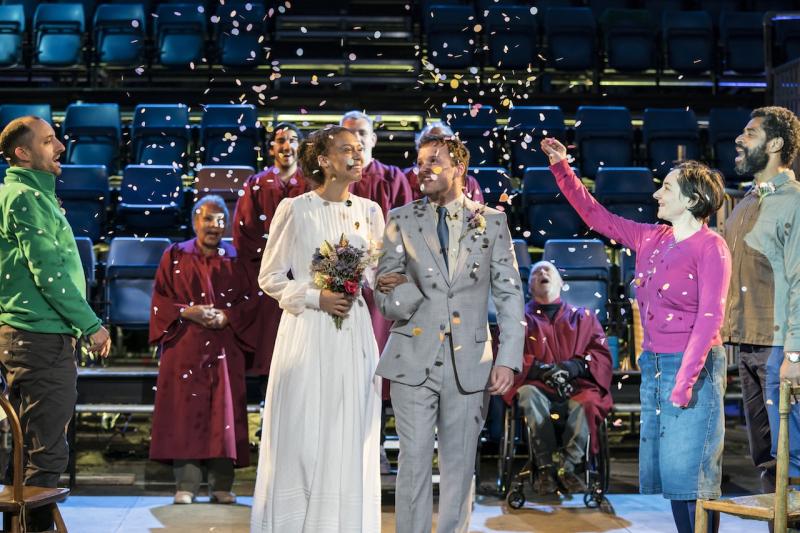 'We're in the hands of a playwright who knows precisely what he's doing'
Our Town was written shortly before World War Two about a small town in America in the years leading up to World War One, yet it makes its extraordinary impact by focusing its lens on details as apparently unexciting as pond-water.
Just as a microscope reveals a universe within a drop of liquid, this happy-as-apple-pie portrait of a simple community shows how every life – no matter how seemingly ordinary – is conducted against the unforgiving backdrop of eternity.
In the nature of the questions it raises about human existence the play anticipates It's A Wonderful Life (1946), though its experimental form would eventually inspire Lars von Trier's far more disturbing film about mob-violence, Dogville (2003). A meta-theatrical framing device means that the fictional New Hampshire town of Grover's Corners is introduced as if on the bare boards of a theatre: Laura Rogers (pictured below) as the wryly philosophical Stage Manager gives the tour, introducing us to inhabitants both living and dead.
For the first two acts Ellen McDougall's production presents the characters – in modern casual-wear – on the treadmills of their daily routines: people get up, have breakfast, go to school or work, gossip, and fret gently about the future. This is a tale with no sound or fury in a place where culture begins with Robinson Crusoe and ends with Whistler's Mother, but it picks up pace as the precocious Emily reveals she is in love with her high-school friend, George.
The writer Thornton Wilder won a Pulitzer Prize for Our Town (one of three that he would be awarded in his lifetime), which was partly inspired by The Making of Americans, written by his friend and mentor Gertrude Stein. Here, as there, the focus is the joining of two quintessentially American families through marriage – though the tone shifts substantially when Emily dies in childbirth, and over the course of the third act, reflects on her existence from the graveyard.
It must be confessed, it initially feels like a curious choice to stage this in the Arcadian surroundings of Regent's Park Open Air Theatre: both the narrative style and stark modernist aesthetic would seem more fitting in a studio theatre. Deliberate though it is, the slow-burn pace of the action can feel challenging, even if the performances are filled with wit and charm, not least from Francesca Henry as Emily and Pandora Colin as the long-suffering doctor's wife.
Yet we are in the hands of a playwright who knows precisely what he is doing. (For those tempted to write Wilder off as a slouch in the suspense department, it should be remembered that he wrote the first draft of the screenplay for Hitchcock's highly successful Shadow of a Doubt.) That moment when we see Grover's Corners from the perspective of the now dead Emily, a 26-year-old mother desperate to recapture each moment of joy she experienced there, is an existential jolt that prompts profound questions about what's really important.
In a time that fetishises fast-paced narratives and rampant individualism, Our Town represents a moving and thought-provoking antidote. The sense, however, is that this is a production that still has room to grow. If the choral numbers, sung by the whole community, were stronger and the individual performances more assertive, the evening could pack a considerable punch. For when the sun eventually goes down, and the stars wink in the darkness as Emily asks us to contemplate our mortality, this setting finally comes into its own. Go with an open mind – and, this being a British summer, several layers of clothing – and you never know how your priorities will be affected.