Peter Pan, Troubadour White City review - off to a flying start |

reviews, news & interviews
Peter Pan, Troubadour White City review - off to a flying start
Peter Pan, Troubadour White City review - off to a flying start
New West London venue opens with a zestful spectacular to suit all ages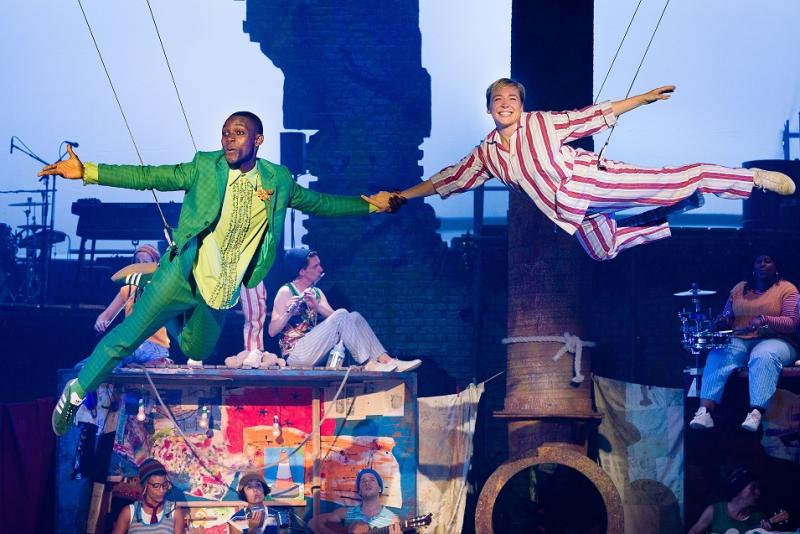 Fly-away fun: John Pfumojena as Peter Pan with Daisy Maywood as Wendy
London's Troubadour White City theatre has got off to a, literally, flying start.
Sally Cookson's
National Theatre
-Bristol Old Vic
adaptation
of JM Barrie's classic makes an exuberant comeback at this new venue, whose technical possibilities allow for some genuine thrills, not least when its hero soars high over the auditorium. Such standout moments of spectacle are backed up by a bravado performance that overflows with energy, keeping a youthful ensemble of some two dozen nimble from start to finish. With a completely new cast, led by the phenomenal John Pfumojena, who fizzes on his feet with leprechaun-like mischief (he's all in green, too), the excitement level feels if anything higher than when the show played on the South Bank at Christmas 2016.
Let's start with the location. Troubadour White City is a black box venue, nicely raked and very contemporary in feel with its exposed technical rig, which feels more spacious even than its 1,200 capacity suggests; the foyer may not be quite ready yet, but the overall effect is smart and comfortable. Inside the auditorium, Michael Vale's set plays out the introductory nursery scene, complete with the show's first flying moments, before a front curtain, until the story's arrival in Neverland opens the action out spectacularly to reveal what feels like a huge stage which, even with the production's frenetic ensemble action (pictured below), never feels crowded. Dan Canham's movement work is a joy in itself, every bit of its choreography managed to the standards of a top musical, while Benji Bower's fun original score, played by a four-piece live band, rounds out the song-and-dance excitement.
The opening, as the Darling children settle down for bed, feels the tiniest bit fusty, the only time that the piece's Edwardian origins come through, down to the striped pyjamas of Katie Sykes's costumes (everything that she follows with will be much, much zanier). There's some gentle family comedy – particularly David Langham as the pernickety Mr Darling, precarious in some of the ladder work – and Daisy Maywood's Wendy is brightly engaging, but it's only with the appearance of Pfumojena that the temperature starts to rise. (The actor was last seen in the Old Vic's The Jungle, which gives the building of the Wendy House here all sorts of new associations.) There's some nice opening banter between the two, setting up that relationship, as Wendy fixes Peter's shadow – "surgical reattachment", as the script has it – before the wonders of the flying kick in (aerial direction, Gwen Hales). It's not just technical wizardry, though, as the procedure is endearingly preluded by the process of getting the "fairy strings" attached, while Cookson's busy stagecraft contributes plentiful visual effects, like rising rooftops and passing clouds, to complete the picture.
Such an intentionally conventional first stretch makes Neverland feel positively rambunctious – it's a place of counter-culture, occasionally Rocky Horror excitement, leavened with a sense of lurking chaos and darkness. We've already had a whiff of that in Shiv Rabheru's Tinkerbell, a wonderfully stroppy concoction in tutu and fairy-light headgear gabbling away in the private language she shares with Peter: she's a dark charmer, but you wouldn't want to find yourself one-to-one with this fairy in any dark alleyway.
It's Kelly Price's stupendous Captain Hook who takes the gothic laurels for gender-crossing deviance This is a Peter Pan that revels in its extravagant fatale femmes, among them Jessica Murrain's Tiger Lily, who runs with her wolves like a quintessential adolescent tearaway. But it's Kelly Price's stupendous Captain Hook (pictured below) who takes the gothic laurels for gender-crossing deviance: the doubling of the role here with Mrs Darling, rather than her husband, may be an initial surprise, but Barrie had actually originally toyed with that idea, considering Peter Pan or the Boy Who Hated Mothers as a title. How well it works! With David Langham, her silly spouse back in the Kensington nursery, playing Smee – surely an element of Fagin there, for the relish with which he commands his pirate crew – there's a glorious getting-ready scene between the two that reverses the play's opening, as Hook is helped into her finery, the final touch the screwing-on of the artificial arm.
As the second half proceeds, Cookson piles on the tableaux, the effect becoming more and more visually luxurious even as they (possibly) hold back the narrative just a little: she manages the space as ably as her cast speed through their costume changes, rotating between lost boy camaraderie and pirate furore. The chorus of mermaids, real sirens of the sea these, has a Busby Berkeley gloriousness that rightly earns a special round of applause, though its associated darkness, the fact that John Darling nearly drowns, rightly checks the elation. Weaving agilely throughout the action, Toby Olié's puppetry hits a highpoint with its crocodile antics, Hook's departure into those gaping jaws something of a show-stealer.
There's splash-out charm, as when Peter and Wendy dance to "Close to You", not to mention thrills, like the closing fight sequences: this Peter Pan has the kind of zest that's infectious. Troubadour White City is the work of the outfit that brought us The Railway Children (and then so much more) at the King's Cross Theatre, and it's working in tandem with a sister venue in Wembley, where another National Theatre offshoot, War Horse, opens in the autumn. On the strength of this opener, the Troubadour style looks set to mean energetically staged family shows – "event theatre", if you will – that embrace the opportunities that such new-build (though not necessarily permanent) venues offer, while keeping an old-fashioned grasp on the excitement of the theatrical experience itself.
Cookson piles on the tableaux, the effect more and more visually luxurious even as they (possibly) hold back the narrative just a little
rating
Share this article