Pinters Three and Four, Harold Pinter Theatre review - double bill boasts double acts to treasure |

reviews, news & interviews
Pinters Three and Four, Harold Pinter Theatre review - double bill boasts double acts to treasure
Pinters Three and Four, Harold Pinter Theatre review - double bill boasts double acts to treasure
The Pinter season continues, this time in largely comic form
Tuesday, 13 November 2018
Priceless pairing: Janie Dee and Brid Brennan in 'Night School'
The West End is specialising in two-parters of late. To Imperium and The Inheritance we can add the latest duo of Harold Pinter one-acts that has opened in time to spread ripples of delight even as the nights draw in.
"Delight", you may well ask
–
from this of all sombre and murky dramatists? To be sure, that more spectral Pinter is on view, too, at no point more memorably than when a bedridden Tamsin Greig wakes from a woundingly long sleep in
A Kind of Alaska
, with which
Pinter Three
(★★★★)
–
the superior of the two double-bills
–
concludes.
But I'd be surprised if you didn't leave both theatrical amalgams continuing to chuckle at the unexpected, and priceless, partnerings of, amongst others, Tom Edden and Lee Evans in Pinter Three and Janie Dee and Bride Brennan in Pinter Four (★★★): if there are any TV comedy producers in the house, snap up these double-acts, and pronto! Evans, in particular, is to be welcomed back to the stage, having impressed over the years in Endgame and The Producers, not to mention in Pinter's own The Dumb Waiter in 2007. Pinter Three finds Evans going it alone in the correspondingly titled Monologue, in which his unbridled direct address to an unseen auditor put me in mind of Clint Eastwood famously talking to that empty chair in 2012. As with Clint, in fact, the comedy contains within it an element of barely concealed tragedy: a reminder that the two are Janus-faced sides of the same coin.
The comedian is even better in partnership after the interval with the wonderful Edden (late of One Man, Two Guvnors), the two having previously joined Keith Allen and donned beards and wigs for a slice of little-known late-1950s folderol called That's All as if to pave the way for further mirth to come. An extended sketch here raised to the level of the sublime, the subsequent That's Your Trouble finds the two men (pictured above) competitively nursing a pint and escalating an argument about physiological strain on the body: the more serious-minded the men, the giddier their effect on a rapt audience. Nor can one omit from discussion Trouble in the Works, where Evans tries to bring his boss (Edden) round to the enraged factory worker's point of view. "Nothing is funnier than unhappiness," Beckett famously wrote in Endgame, and one finds that maxim borne out here.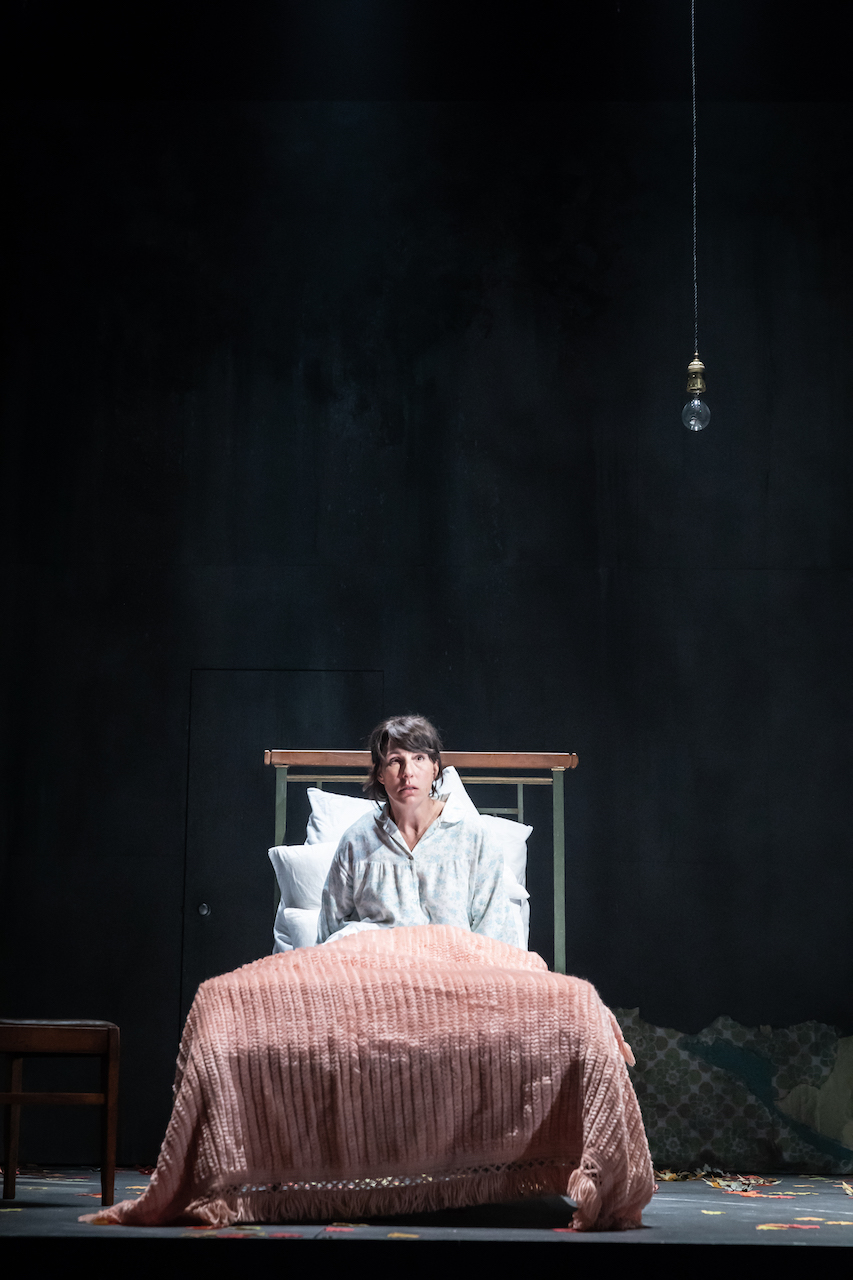 In context, then, it's perhaps surprising to find as bracing a comic talent as Greig here used for her power to communicate mental ellipses and the unmooring of the mind. The opening duologue, Landscape, finds Greig speaking into a stage mic and looking away and upwards from her scene partner, Keith Allen, who becomes pricklier and more sweary the more Greig's character seems to retreat into a willed isolation that is left to us to make sense of as we will. Closing out Pinter Three as the long-comatose Deborah in Pinter's Oliver Sacks adaptation, Greig makes something alternately querulous and coquettish out of a role originated in 1982 by Judi Dench. As it happens, Greig (pictured above) is beginning to recall Dame Judi in her apparent ability to navigate many a mood, tone, and theatrical genre without once sacrificing an iota of truth. Jamie Lloyd, overseer of the lengthy season of which these are the latest instalments, accomplishes his own deft shifts in gear, tellingly allowing the slow fall of a curtain to signal not just a new play but perhaps a psychic sea change, too.
Pinter Four boasts a blissful post-interval offering of its own in a piece new to me, Night School, in which ex-con Walter (Al Weaver, terrific) readjusts to life outside prison in the company of two dotty aunts played by a bespectacled, and padded, Janie Dee and an endearingly fussy Brid Brennan, forever plying chocolates to all and sundry. Is this onetime forger good news? Very possibly not, just as the young woman, Sally (Jessica Barden), who has taken up residence in his room may do rather more with her days (and nights) than simply teach school. Ed Stambollouian's adroit production comes with live accompaniment by Abbie Finn on drums, an addition nowhere indicated in Pinter's text. Think of it as so much aural thunder to complement the barely suppressed windstorms that sweep just beneath Pinter's compact, compressed speech.
But I think I'm beginning to tire of his 1993 Moonlight, a play that moved me upon its premiere, not least as performed by Ian Holm, but has felt bitty and self-satiric in my various encounters with it since. Lyndsey Turner, its director here, squanders a good cast (Weaver and Dee included) on a stolid interpretation of a teasing portrait of incipient mortality that finds Robert Glenister raging against the dying of the light – as Pinter so remarkably did later on when he performed Krapp's Last Tape not long before his death. As elsewhere in these two assemblages of work, portraits of love and loss jostle against memory and the depredations of time. In this instance, though, do you care? I'm not entirely sure, even as I look forward immeasurably to wherever Lloyd's foray into a rarely-glimpsed canon will take us next.
Tamsin Greig is beginning to recall Judi Dench in her apparent ability to navigate many a mood, tone, and theatrical genre without once sacrificing an iota of truth
Explore topics
Share this article