Present Laughter, Old Vic review - Andrew Scott continues his rise and rise |

reviews, news & interviews
Present Laughter, Old Vic review - Andrew Scott continues his rise and rise
Present Laughter, Old Vic review - Andrew Scott continues his rise and rise
The Irish star is sublimely funny - and moving, too - in Noël Coward classic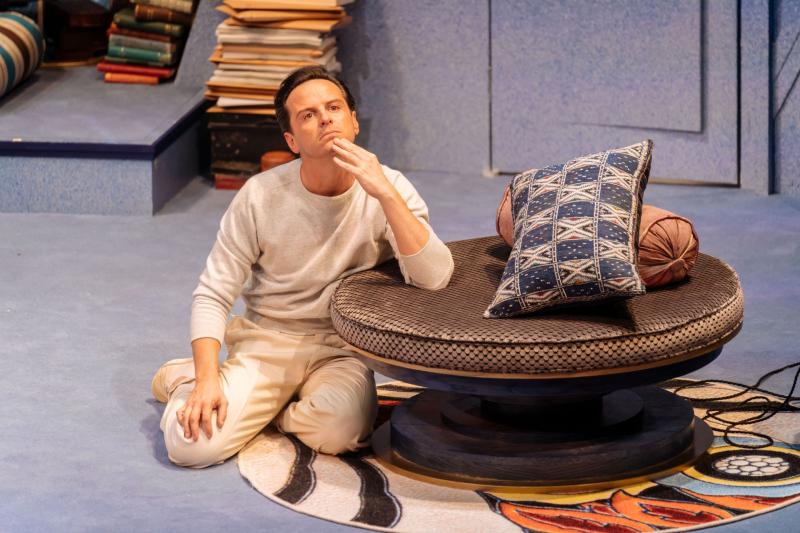 Neediness: Andrew Scott as Garry Essendine in 'Present Laughter'
"Will You Still Love Me Tomorrow?" can be heard pulsating through the Old Vic auditorium as the curtain rises on its wondrous revival of Present Laughter: a decisive feather in the cap of artistic director Matthew Warchus's regime. But all Garry Essendine, the vainglorious actor at the whirling centre of Noël Coward's 1942 play, really wants is to make it through the day (and night) intact.
Possessing 18 dressing gowns but at odds with that ever-elusive entity known as happiness, Garry has men and women alike in thrall, and so
–
and how!
–
does its stratospherically gifted leading man, Andrew Scott.
In the hands of the breakout star of Fleabag, a role that can amount to so much posturing is seen to contain a delicacy beneath the dazzle. There's no shortage of hilarity mined from Garry's attempts to achieve equilibrium amid events that spiral off into chaos. (I'll long relish the bit where he dips his hand into a finger bowl after a particularly unwelcome handshake). But one never loses sight of the "lost boy" (that's his phrase) for whom all the attention in the world isn't enough when confronted with an absence where one's real sense of self might be. Never before in my half-dozen or so experiences of this play has Coward's Shakespeare-inflected title – Present Laughter – seemed so fully and satisfyingly ironic. (The play, we're reminded, was originally titled Sweet Sorrow, another Shakespearean phrase whose self-contradictions are on abundant display here.)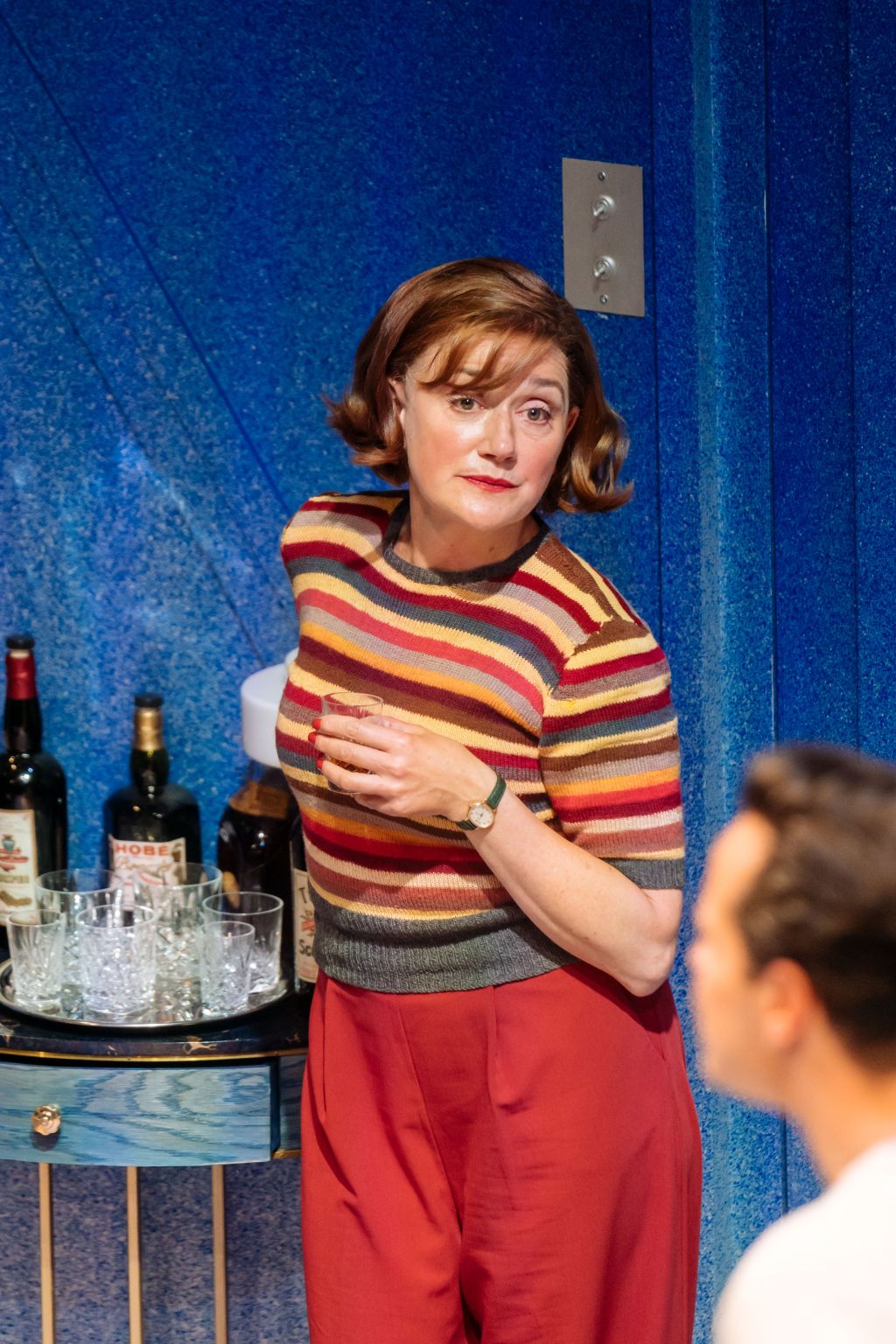 We first meet Garry awakening after an, um, busy night, but not before encountering the latest of his assignations: a 24-year-old called Daphne (Kitty Archer, dressed in Rob Howell's witty parade of costumes like a fairy from A Midsummer Night's Dream). Bold enough to enquire after Garry's happiness, she is met with the unexpected reply that there is "something sad" about that very word. And so the tone is set for a propane-fuelled evening that Warchus takes at breakneck speed, throwing in a significant gender reversal that, far from seeming gimmicky, makes precise psychological sense. But pay heed to the moments when the top stops spinning and Garry is allowed a moment of rest and you'll find a manchild preparing for a theatrical tour to Africa for whom home, one feels, would truly be where the heart is – if, that is, he ever allowed himself to go there.
Quickly dispatched offstage, in keeping with the farcical machinery of a narrative whose capacity for feeling transcends that genre, Kitty is soon followed into the fan-shaped Art Deco environs of Howell's set by a sequence of visitors, some welcome and others not. While Garry's longtime secretary, Monica (Sophie Thompson, pictured above) fields Garry's diary as best she can, no layer of human defence can keep out the likes of Roland Maule (Luke Thallon). A budding writer in full-throttle advocacy of the "theatre of tomorrow", this choice part is brilliantly taken by Thallon, who gives us a hyper-adrenalised version of one of those young visionaries one finds in Chekhov. (On that front, this production gets more comic mileage than one would have thought possible out of Peer Gynt, of all titles.)
Adding to the human menagerie is the corrective, calming presence of Liz, the wife whom Garry has never quite got round to divorcing, and for good reason. Drily referring to Garry in passing as "god", Liz is an anchoring force amid the accelerating chaos that Garry can't help but leave in his wake. Sweetly attentive but also authoritative as required, Indira Varma's Liz proves the perfect complement to Thompson's bustling Monica, a part made to order for her signature vocal swoops: neither actress could be bettered. Their ad hoc stage "family" is completed by Joshua Hill in terrific form as a valet who, presumably, has seen it all, and Liza Sadovy as a cleaner who turns out to be a Scandinavian spiritualist because – well, why not?
Elsewhere, the production departs from convention by shifting the crucial supporting role of the adulterous and sultry Joanna into the admiring Joe, with whom Garry shares a (literally) darkening seduction scene accompanied by a debate over preferred symphonies. The gender flip makes perfect sense, accounting (but never hamfistedly) for the psychic unease that courses beneath Garry's preening pyrotechnics. It's only a shame that Enzo Cilenti isn't quite as alluring as the role would seem to demand: completing that subsidiary menage are Suzie Toase and Abdul Salis, both of whom seem to be trying a bit too hard in marked contrast to the ease that prevails elsewhere.
And yet, expanding upon a comic landscape he last addressed in his bravura resuscitation of Boeing Boeing (also designed in corresponding door-intensive mode by Howell), Warchus keeps enough plates spinning to silence a few casting cavils and is blessed with that rare leading man of whom one simply cannot get enough. Whether dismissing Uckfield as a place because it "sounds far" or talking of allaying madness like some sort of manic variant on this actor's recent Hamlet, Scott locates the substance within Coward's theatrical soufflé and manages something quite astonishing: amidst the fusillade of laughs, he opens a window on to this play's fretful heart.
Present Laughter at the Old Vic until 10 August; NT Live screening on 28 November