Purple Heart, Gate Theatre |

reviews, news & interviews
Purple Heart, Gate Theatre
Purple Heart, Gate Theatre
Bruce Norris's early anti-war play isn't quite in the same ballpark as Clybourne Park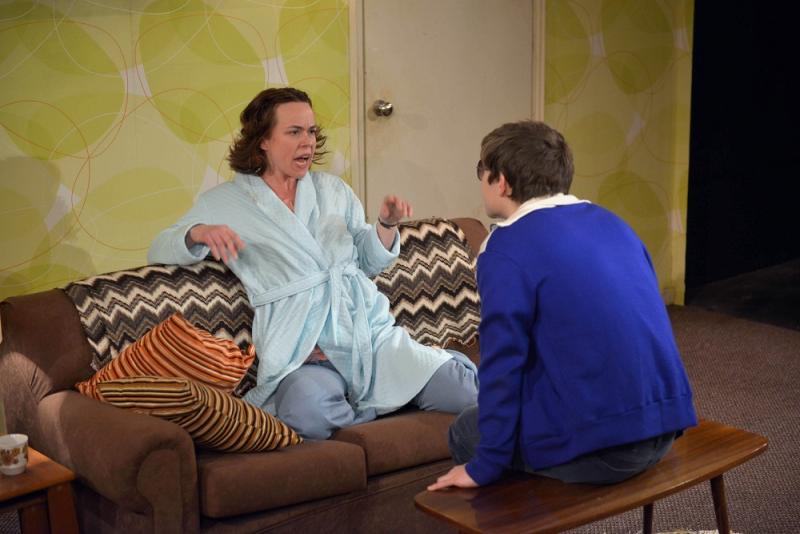 Racked with grief: Amelia Lowdell and Oliver Coopersmith in 'Purple Heart'
Clybourne Park won Bruce Norris a slew of awards on both sides of the Atlantic a couple of years ago. His fearless, shocking, very funny response to Lorraine Hansbury's classic A Raisin in the Sun tackled hypocrisy in racial matters brilliantly and in language blithely free of political correctness. It is not surprising that Purple Heart, written eight years earlier, in 2002, falls somewhat short of the later play.
Where Clybourne Park has a clear social and political target, Purple Heart's subject is less well-defined: the nature of love, kindness and grief. Norris indicates in a programme note that his own emotional turmoil at the time of writing - to which the destruction of the World Trade Center and the American invasion of Iraq contributed - underlies this piece. There is clearly a political dimension in that it is set at the time of an earlier example of imperialistic US foreign policy: Vietnam in 1972. But the effects of the war Norris chooses to deal with are mainly domestic and personal, specifically the grief of a young service widow and her relationship with her mother-in-law, her 14-year-old son and a young soldier who seeks her out.
Carla is a drinker racked with grief for a husband who seems to have been both mentally and physically abusive. There is no accounting for love. Having spent time tranquillised in hospital, where her hands were tied for her own protection, she is now at home, sparring with her managing mother-in-law, expressing her agony in viciously angry language. This study of the rawness of feeling, which leads not to self-indulgent tears but to an inability to find a place again in a newly organised emotional landscape, is the heart of the play and its strongest component. Amelia Lowdell endows Carla with a fierce, furious honesty combined with sad, guilty vulnerability. Other characters are satellites around her pain.
Her mother-in-law, full of churchy certainty, is infuriating, intervening in Carla's life at all points, metaphorically tying her hands as surely as she had been restrained previously. Yet in a way Grace (Linda Broughton) does live up to her name, needing to know for more than intrusive reasons whether Carla is hitting the bottle or is pregnant. Norris investigates the point where being cruel to be kind can turn inadvertently into simple bullying and where lashing out can be merely a sign of dependence. But Grace is a bereaved mother and there is no scrutiny of her feelings, which are kept firmly under control. Carla's son, ominously named Thor (played by Oliver Coopersmith), has a passion for practical jokes and novelties, but nothing at all to say about his father.
Purdy - Trevor White (pictured with Linda Broughton) successfully mixing the clean-cut and creepy) is the mysterious stranger who doesn't so much change the situation as lead to some explanations. His artificial hand presumably gained him the gong won by all wounded US servicemen, the Purple Heart, but he remains little more than a plot device.
If Christopher Haydon's traverse production, appropriately placed in Simon Kenny's evocative Seventies sitting room, seems contrived and the cut-and-thrust less satisfying than in Clybourne Park, that is at least partly the fault of the play. It gives a fascinating glimpse, though, of what was to come, especially in the coruscating language. And anyone who wants to know what Norris did after Clybourne Park hasn't long to wait: The Low Road opens at the Royal Court later this month.
Purple Heart at the Gate Theatre, London W11 until 6 April
It gives a fascinating glimpse of what was to come, especially in the coruscating language
rating
Explore topics
Share this article