Road, Royal Court review - poetry amidst the pain |

reviews, news & interviews
Road, Royal Court review - poetry amidst the pain
Road, Royal Court review - poetry amidst the pain
John Tiffany leads Jim Cartwright's debut play towards the sublime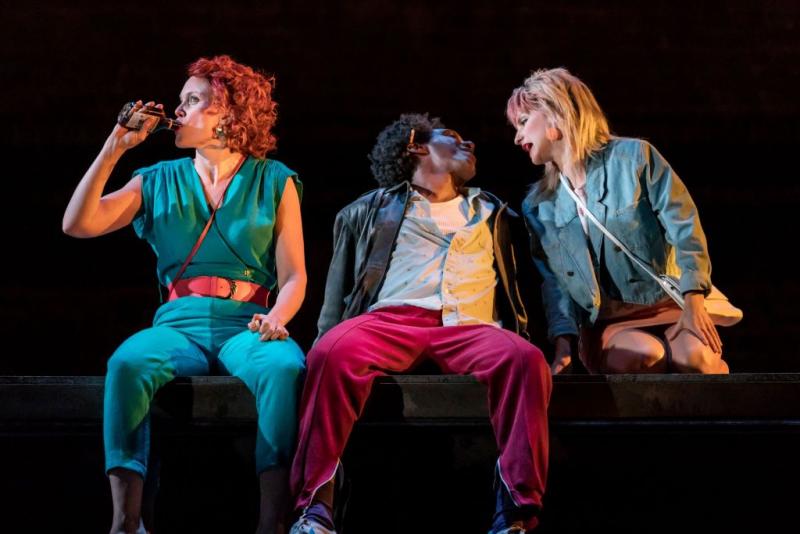 Revolutionary 'Road': Lemn Sissay (centre) as Scullery, flanked by Liz White and Faye Marsay
Who'd have guessed that the London theatre scene at present would be so devoted to the numinous? Hard on the heels of Girl from the North Country, which locates moments of transcendence in hard-scrabble Depression-era lives, along comes John Tiffany's deeply tender revival of Jim Cartwright's vaunted 1986 play Road, which tempers its landscape of pain with an abundance of poetry.
As it happens, one has to wait till after the interval to feel the gathering force of Harry Potter and the Cursed Child director Tiffany's approach here. But come the climactic scene in which a mismatched Lancashire quartet of would-be lovers find release in Otis Redding, and you've got as viscerally affecting an experience as anyone could wish. That sequence, in turn, is capped by an extended (and wordless) dance-theatre illustration of the communal as its own best antidote to life's abrasions: a state of grace that gives the lie to those who think of Road merely as a report from the Thatcher-era frontline of the gritty and the grim.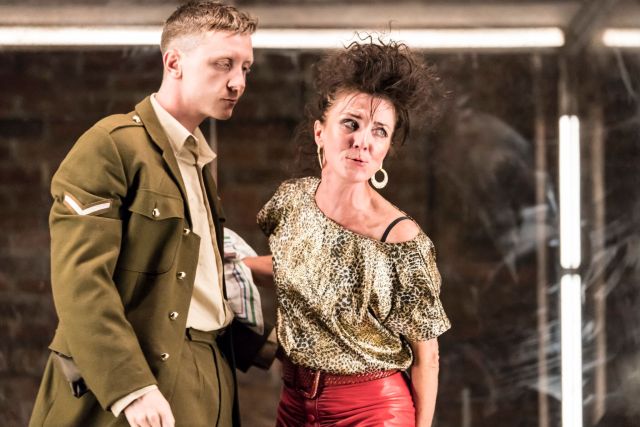 I was around for this play's premiere in the Royal Court Theatre Upstairs all those years ago, which led to a further life on the Court mainstage; at that point the since-deceased Ian Dury joined the cast as Scullery, our rough-and-ready tour guide to the unfolding patchwork quilt of dispossession and deprivation. But performed promenade-style so that the actors and the audience folded in upon one another. the play didn't seem as shot through with romanticism as it does this time around. From the soaring tones of Judy Garland (a crucial figure, of course, in Cartwright's later play and film about the freakishly gifted Little Voice) onwards, this is a portrait of existence lived on the margins that nonetheless knows its musical theatre.
That's to say, Cartwright offers up drunkenness aplenty, not to mention fumbled sexual encounters guaranteed to make one squirm: Game of Thrones alumna Michelle Fairley (pictured above with Mike Noble) fields the most extreme of those with gusto. (Her hair is a scenic effect in itself.)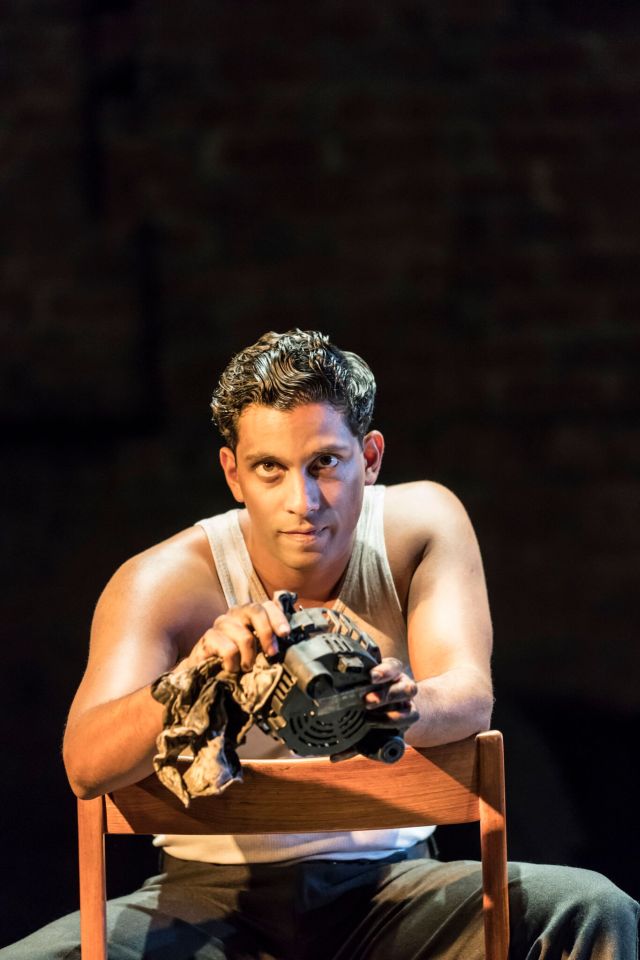 But for all the bluntly articulated despair ("why is the world so tough?" is a representative rhetorical question), these people nonetheless exist a song lyric away from salvation. Lemn Sissay's large-eyed, cajoling Scullery functions as Road's very own Emcee, presiding over an unnamed street that talks one moment of "England in pieces" and quotes "I Got Rhythm" the next. Passing references elsewhere to "a can-can", and a cribbed lyric from Annie Get Your Gun, make one wonder what might happen were this clearly expressive assemblage to form their own am-dram society. Swan Lake gets a workout, as well, Tchaikovsky accompanied this time out by Scullery twirling a shopping trolley with unbridled abandon.
The first half has a surprisingly presentational feel, amplified by a striking design from Chloe Lamford that encloses numerous scenes within a begrimed cube that rises up through the stage floor. In contrast with steps that lead from the stage into the audience so that Scullery can scuttle amongst playgoers at will, the scenic conceit (deliberately, one assumes) emphasises solitude and isolation, so that the final coming together via movement – these disparate souls a community at last – achieves a redoubled force. Elbow's "Lippy Kids", a song clearly unavailable to Cartwright way back when, ramps up the pathos, its talk of golden days a modern-day complement to that place "over the rainbow" that cascades through the auditorium at the start.
The parade of personages allows for multiple set pieces which Tiffany's cast bat out of the park, whether one is admiring Mark Hadfield's Alan Bennett-esque portrait of alone-ness or the ever-welcome Shane Zaza (pictured above) pondering "death with a big D" as he shfts this way and that in bed. (Cartwright wrote his own play called Bed in 1994.) The redoubtable June Watson juggles multiple roles, at no point more startlingly than when she trills "alley oop" while powdering her face.
Indeed, in contrast to so many Court signature texts, Road in this reckoning suggests a way forward from the depths of despondency, however little things may have changed in our austerity-plagued land today. Just watch as those bodies at the end form and re-form, this lippy, drink-sodden set of individuals newly reassembled as one. From mining corridors of blight and hopelessness that owe more than a passing nod to Beckett, the production's lasting proviso would appear to be the need to connect. These characters aren't the only ones, I imagine, who would drink to that.