The Rolling Stone, Orange Tree Theatre |

reviews, news & interviews
The Rolling Stone, Orange Tree Theatre
The Rolling Stone, Orange Tree Theatre
Nicely textured family drama centred on homosexuality and the Church in Uganda
Thursday, 21 January 2016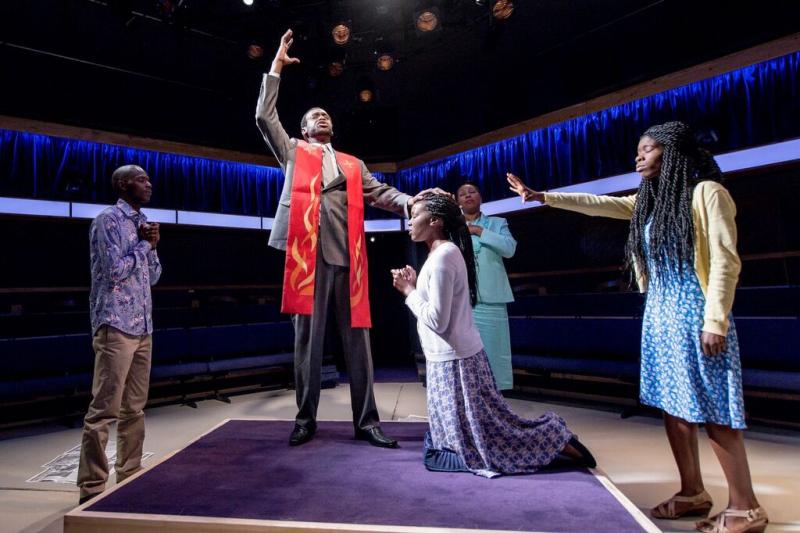 Religious ritual at the backbone of 'The Rolling Stone'
I'm still pondering the title of Chris Urch's new play. On the surface it's clear enough: The Rolling Stone is a weekly newspaper in Uganda that has been notorious for pursuing that country's anti-gay agenda. In particular, at the beginning of the decade, it started a campaign of publishing the photographs and addresses of those it believed to be homosexual.
That precipitated a witch-hunt, forcing those accused to flee their families and homes. They suffered violence: so great was the sense of public anger inspired by made-up equations of homosexuality with paedophilia that a number of people were murdered. Such actions put Uganda on the map in all the wrong ways: Stephen Fry's documentary from three years ago, Out There, about how gay people fared in various countries around the world, was one of the first to pay attention.
There's brewing conflict, but it only once spills over into an accusatory hysteria
But is Urch alluding to anything else in his title? Another association would surely be that of "the rolling stone that gathers no moss", about drifting characters who go through life without putting down roots. Perhaps there's a hint of that in his protagonist Dembe (Fiston Barek), who lives in the moment without thinking about consequences – but then he's still a teenager, and a degree of carefree behaviour at that age is hardly surprising. Or is Urch referring to the speed and force with which the titular newspaper's accusations are taken up by the public: rather than a rolling stone, more a stone of violence which, once cast, gathers momentum with frightening speed?
One surprise may be that Dembe hasn't been through any anguished path towards accepting he's gay – he seems to have grown up completely easy in himself, although he's not yet out to his family, which will bring on the play's second-half drama. The opening scene has little urgency as it gives context to Dembe's relationship with boyfriend Sam (Julian Moore-Cooke). Already a doctor, and a decade older, Sam's come back to Uganda from a childhood in Derry: half-Ugandan, half-Irish, he's a partial outsider in Kampala, one who, having grown up in a place of conflict, is perhaps attuned to how it germinates.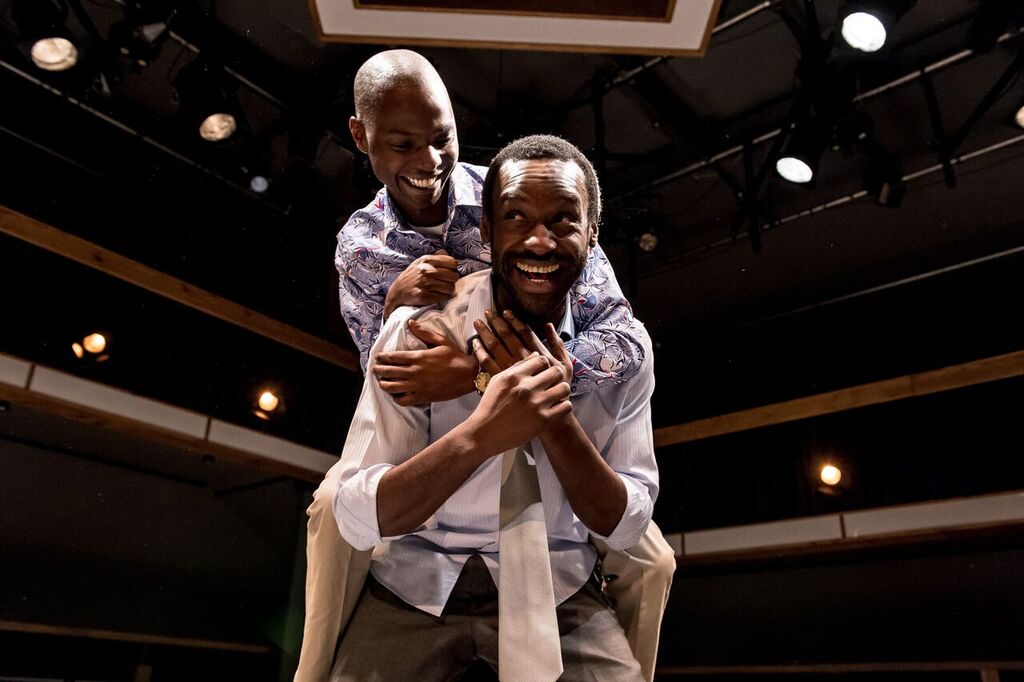 There's a naturalness to their relationship, and a lovely soft sense of language, a mix of African lilts with Sam's bantering Irish intonations, that's relaxing in itself: if they're facing anything, it looks more likely deciding whether they're committed for the long run. Their intimate quietness somehow stands out against the raised voices in Dembe's family. His older brother, Joe, is a pastor newly confirmed in his first ministry, and pulpit oratory is an art in itself here; but even deciding everyday church affairs, which we see through the prism of an old friend and influential parishioner Mama (Jo Martin), is noisy.
Dembe and his sister Wummie (Faith Omole, a lovely, intuitive performance) are studying for medical exams, though Wummie's ambitions are fated never be realised (there's another story waiting to be told there). The three siblings's central bond, with its well-established patterns of humour (Dembe's taste in shirts is a recurring note), will be severely tested by Uganda's new legislation which even makes it a crime not to report someone you know to be gay to the police, family members included. (Fiston Barek with Sule Rimi as Joe pictured above.)
There's brewing conflict, but it only once spills over into an accusatory hysteria that recalls Miller's The Crucible: Urch's writing doesn't overstress external drama. The polemics of the pulpit, always a surefire dramatic effect, is there, but it's the exception in a piece played on a much more reserved, even chamber note. Two long scenes, first one between Dembe and Sam, then with his sister, somehow seem to construct dialogue almost by building on extended riffs of monologue.
Fiston Barek as Dembe achieves much more than the actor's relative stage slightness might suggest: he's the only one from the cast of six to transfer from the play's opening run at Manchester's Royal Exchange, the Orange Tree's co-production partner. Barek's both physically limber and mentally agile, with a nimble lightness that's a characteristic of Urch's writing, too.
At barely over two hours, The Rolling Stone avoids an ending – instead we're left in the eye of the storm, wondering what the thunder will speak, and whether bonds of family will stand or fall. Ellen McDougall's nicely textured production makes the most of the musical and performance elements of this religion-inspired world, drawing its characters with immaculate clarity. Urch establishes his world well, and works through the preparations for drama, without quite ever taking us to its brink. Is that a shortcoming? When the result is somehow so engaging on stage, it's a redundant question.
Is Urch referring to the speed and force with which the accusations are taken up - more a stone of violence which, once cast, gathers momentum with frightening speed?
rating
Explore topics
Share this article