See Me Now, Young Vic |

reviews, news & interviews
See Me Now, Young Vic
See Me Now, Young Vic
Real sex workers take the stage for a brilliantly devised show
Saturday, 18 February 2017
In recovery: Jane in 'See Me Now'
Sex workers come in all shapes and sizes. Everyone knows that. But why do they do it? Why does anyone take the risk of being intimate with a stranger for money?
This new show, which was not only devised with the help of genuine
prostitutes
, but is also acted by them, introduces us to both the enormous variety of
sex
workers and to their wide range of motives. The play, which was created by director Mimi Poskitt and playwright Molly Taylor, takes us by the hand and gently ushers us into a darkened room, designed by Katrina Lindsay, to show us a slice of life that is mainly invisible to most of us.
The 11-strong cast is male, female and transgender. They come from all walks of life, from all parts of Britain, and beyond. Some have had other careers: they are teachers, students, actors, cleaners and musicians. There's Jane, a former sex worker who was once a drug and drink addict. There's Governess Elizabeth, a dominatrix who owns her own dungeon. There's Dee, a singer with a wonderful voice. Then there's Peter (pictured below), 67 years old and dressed in beautiful red, who specialises in having sex with straight men, and Flynt, a classy male escort who longs for monogamy. And many more...
This kind of theatre raises various ethical issues
Much of the show tells their highly individual stories, and is about their daily lives; sex is a job, with all the routine and boredom that implies. It's about sitting around, about waiting, about sending emails, about being bored. It's also dangerous: the evening begins with a list of precautions (make sure that your phone is charged, that you get money upfront, and that your mates know where you are). One of the few political points in a piece of theatre that is mainly about personal experience is the need to change the law. At the moment, you can sell sex, but if you are managing a brothel you are liable to get busted. And a criminal record.
Although most of the show is composed of sex workers telling fragments of their life stories and experiences direct to the audience, there are plenty of joyful moments: a powerful song; dressing up as Messalina, Nell Gwynn and Cynthia Payne; some contortionistic dancing. Amid the strain of selling your body there is a lot of wry humour, a lot of mockery and a fair bit of wisdom. Occasionally, a strong metaphor – uncomfortable boots, singing in the bath or running away as fast as you can – lights up the darkness of the oldest profession.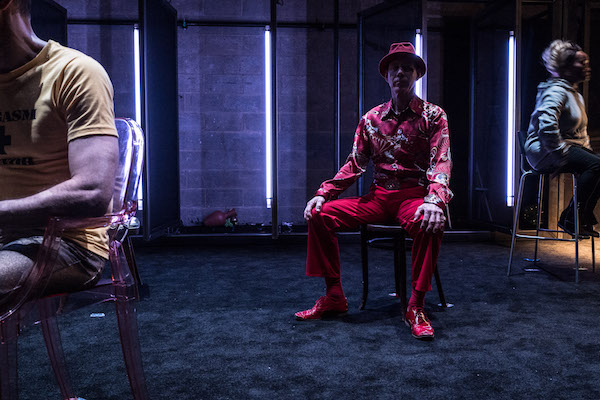 It certainly makes a nice change that the performers are not professional actors. They talk, but don't declaim. They stumble over their words; they forget their words (and it doesn't matter at all!). Their voices sometimes crack with genuine emotion – it's not fiction after all. At the same time, this kind of theatre raises various ethical issues: it occasionally feels like counselling, or social work. The authenticity of the performer disarms criticism, and imposes a dictatorship of real life over artifice. And, morally, it's uncomfortable: if these people are exploiting their life stories for our entertainment, does that make us wanking voyeurs? Not so much of their sex lives (the show is quite discreet), but of their pain. Isn't this an example of zoo theatre?
There's also something rather relentlessly upbeat about See Me Now. By the end of the 100-minute performance it feels like a cross between revivalist meeting and a therapy session where good feelings triumph over bad. Although the performers are anonymous, we begin to want to embrace them, to heal them even. (A strange feeling for theatre.) Still, there are enough examples of bad stuff to ground the piece in reality. Although the sheer awfulness of prostitution is not stressed enough, it is clear that we are watching damaged lives in recovery. More than that, it is great to hear some authentic voices testify to real-life experiences. And the T-shirt that says "Orgasm Donor" is a hoot.