The Seven Streams of the River Ota, National Theatre review - theatre at its transcendent best |

reviews, news & interviews
The Seven Streams of the River Ota, National Theatre review - theatre at its transcendent best
The Seven Streams of the River Ota, National Theatre review - theatre at its transcendent best
Robert Lepage seizes on the fragments of human lives to build an epic
Brothers at arms: Umihiko Miya and Christian Essambre
If you want to pinpoint the genius of Robert Lepage's multi-faceted seven-hour epic, that has returned to the National Theatre 26 years after it first dazzled British audiences in 1994, you might as well begin with a stethoscope.
The stethoscope is being carried by a white-coat-clad
doctor
around a café in Amsterdam, in which a bohemian cluster of cultural tourists, drug seekers, adulterers and passers-by are engaged in muttered conversation.
We cannot hear exactly what they are saying until the doctor approaches each individual table, holding the stethoscope out so that it acts as a microphone. From the snatched pieces of chatter broadcast through the microphone we are able to construct a mosaic that contains both comic and tragic elements. At one table, a Peruvian punk is declaring his rock-star ambitions, at another an ageing couple are bickering about how to pronounce Van Gogh. Most powerfully, at still another Jeffrey, a man with AIDS, is telling Ada, the woman who loves him, that he has come to Holland to commit assisted suicide.
It may sound strange to compare Canada's great, technically ingenious theatrical auteur to Bruegel the elder, but – like the sixteenth century painter – Lepage seizes on the fragments of human lives to build an epic. His Seven Streams of the River Ota is punctuated by a series of stunning visual coups de theatre, yet his games with sound are equally mesmerising. There is nothing facile about his trick with the stethoscope: right at the start, through measuring Ada's racing heartbeat, it tells us of her love for Jeffrey, while the same female doctor will use that stethoscope to confirm that the lethal drug she has administered has stopped his heart for ever. Life is an eternal combination of the incidental and the momentous, and while some storytellers choose to focus on the latter, Lepage's brilliance is to demonstrate how we are powerfully defined by both.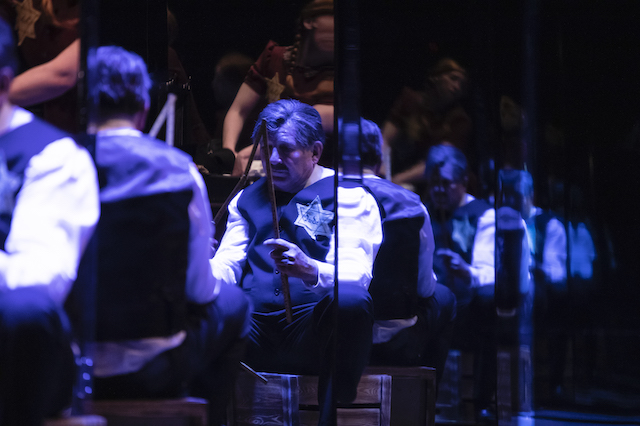 The River Ota flows through Hiroshima, and it is here that Lepage's five-decade story begins. In 1945, an American soldier called Luke, who has a wife and a five-year-old little boy (Jeffrey) at home, travels to Hiroshima with his tripod camera to document the nuclear bomb damage. This opening sequence – with its echoes of Madam Butterfly which remains a reference point throughout – is a virtuoso display of stage painting. We first see Luke as a silhouette against an image of the Torii (arch) of Miyajima, and he remains as a silhouette as the image turns into a film of the Bay of Miyajima through which his boat is travelling. The haunting two dimensional scene fleshes out into three dimensions, as Luke then walks out onto the stage to approach a simple Japanese house with seven screen-like doors, behind which he will encounter – first as a silhouette, and then in her physical entirety – the woman who will become mother to his second son called Jeffrey.
The interweaving of the American Jeffrey and Japanese Jeffrey's lives forms the backbone of a series of stories that take us from Hiroshima in the Forties to New York in the Sixties to Amsterdam in the Eighties. Then the action circles back to Hiroshima in the same decade, before rewinding to Osaka in 1970 and then leaping forward to Hiroshima in the Nineties for the two final scenes. Each scene features different theatrical devices and tempos: where the opening scene is a stunningly serene exercise in the interplay between shadow and film, the second scene – in New York – gives us a hilarious hustling Rear Window-style portrait of a hip community struggling to get by in a down-at-heel apartment block. In yet another scene we watch snippets of a Feydeau farce as if we are seated backstage, before the action is flipped round and we see the starring actress become involved in her own Feydeau-style farce when she sleeps with a dignitary who has been in the audience.
Inevitably over the course of seven hours there are some longueurs along with the many high points. The farce episode, set in Osaka, is appropriately stuffed with clever detail (Lepage's love of the comedy inherent in spoken translation features strongly here; there's also a fantastic running joke featuring images taken by different characters in a photobooth) but is perhaps the least strong emotionally. Yet more generally Lepage demonstrates his expertise in fusing deft stagecraft with profound truths. An unforgettable strand, following the story of the Czech girl Jana, is set in the Theresienstadt concentration camp whose haunting multiple images are evoked through a stage that has been turned into a box of mirrors (pictured above). It's simultaneously dazzling and disturbing and gets its full emotional kick when a Jewish magician offers to make Jana "disappear" in his own mirrored box, an illusion which we realise will save her life.
Yet the test of a "modern-era" epic forged in the Nineties is – at least in part – the degree to which its nuclear-age themes resonate with our own turbulent times. Since then the world has been turned on its head through 9/11, the financial crash, the Arab spring and subsequent winter, and the surge of populism and strongman politics. Beyond this, Seven Streams is very much pre-information revolution: though a mobile phone is featured, it's self-consciously comedically clunky, and the internet isn't mentioned. The extraordinary, profoundly moving scene where Jeffrey 1 commits assisted suicide because he has AIDS administered a real gut-punch in the mid-Nineties, yet now we watch it knowing that just years later the success of antiretroviral treatment would potentially have added decades to his life.
The fact that Seven Streams stands the test of time so triumphantly reveals that for all its sleight of hand and occasional apparent gimmickry, it is the story of humanity – with all its foibles and imperfections – that is at its heart. If nuclear war was the great threat facing humanity then, now it's climate change, if AIDS was the most feared "plague", now it's whatever mutating virus seizes headlines. Each specific situation translates into something more universal. We see how humans are still ultimately defined by the migrations they make, the risks they take, how they love, and where they eventually die.
Against Lepage's great magic box of a set – animated by Michel F Coté's superbly clever music and sound design – the multi-tasking cast members all play their part in emotionally anchoring proceedings. Not least Umihiko Miya as an intense, dynamic Jeffrey 2 and Rebecca Blankenship whose singing and acting skills bring both beauty and dignity to roles including that of the lovelorn Ada. For those of us who made the pilgrimage to see it in the Nineties, this remains a potent demonstration of theatre and storytelling at its transcendent best. Lepage's lightness of touch means that it doesn't feel like seven hours – and while it could equally be argued that it feels like a lifetime, that's in all the best ways.
Lepage demonstrates his expertise in fusing deft stagecraft with profound truths
rating
Explore topics
Share this article