Sideways, St James Theatre |

reviews, news & interviews
Sideways, St James Theatre
Sideways, St James Theatre
Stage version of trip through wine country is quaffable, but lacks acidity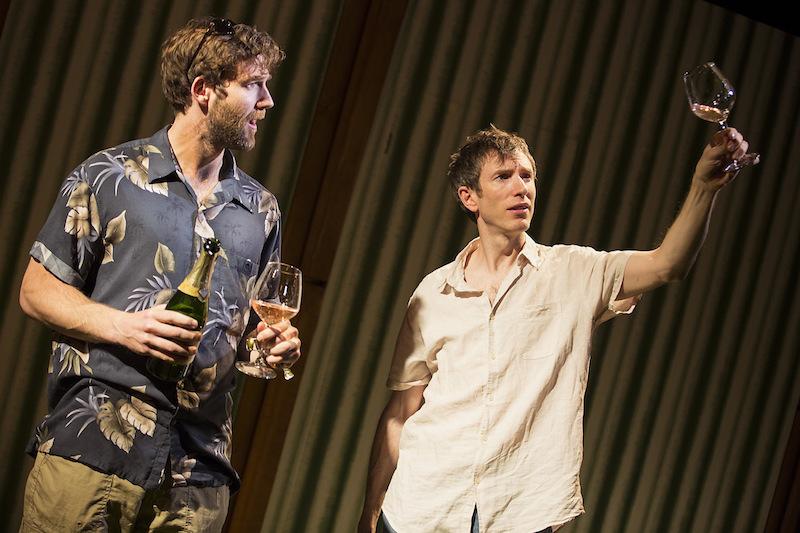 Glass half-empty? Jack (Simon Harrison) and Miles (Daniel Weyman) begin their tasting journey
Alexander Payne's adored 2004 film adaptation of Rex Pickett's semi-autobiographical novel didn't just pick up an Academy Award – it led to a plummeting in sales of Merlot, and Pinot Noir becoming the drink of choice. What might Pickett's theatrical version accomplish?
The good news is this midlife-crisis comedy will certainly encourage visits to the bar, if not to California's Santa Ynez Valley. (Canny ads and paired wine tastings stoke the flames of the latter.) Both parody of and love letter to the oenophile, it savours the rituals and jargon, as Pinot fanatic Miles (Daniel Weyman) takes soon-to-be-wed Jack (Simon Harrison) on a bachelor road trip through wine country. (The pair pictured below with Beth Cordingly and Ellie Piercy.)
How do you stage a road trip? David Grindley ditches the car, with Laura Hopkins' cumbersome revolves and folding screens – wood panelling backed onto corrugated iron – establishing multiple locations. But numerous lengthy set changes sap the play's momentum and highlight its problematically episodic structure. The result is a hefty two-and-a-half-hour run time, yet with too few scenes allowed to breathe and develop. Other than one effectively stylised montage from Grindley, it's more movie on stage than theatrical reimagining.
What does shine through is Pickett's lacerating wit. We begin with Miles drinking wine on the loo, dismissing any lingering glamour attached to the depressive, alcoholic author. Though Miles does have a genuine passion for wine ­–­ "Caramelised slow-cooked goat shanks!" he cries ecstatically of one vintage – it's also a necessary escape from his failed marriage and the universal rejection of his novel. He hits a low point when he visits his mother on her birthday and steals money from her to pay rent. And then crawls even lower during a rage-fuelled spittoon incident.
Jack, a failed actor staring down the barrel of marriage to a trust-fund princess, also wants a form of escape: one final fling. He hooks up with flirtatious Terra (Beth Cordingly), while encouraging Miles towards a kindred spirit. Maya (Ellie Piercy) is something of a male writer fantasy, donning a sexy bikini to share her boozy treasures and also earnestly appreciative of his literary genius. There's a meta thread that grates, as Miles (representing the similarly beleaguered Pickett) is repeatedly assured that he must persevere in sharing his gifts with the world.
More engaging is an intimate exchange about what Pinot means to them (pictured left). Miles identifies with the fragile grape that needs care and patience, while Maya, recalling her elitist academic ex, likes its democratic appeal. He's holding onto a special bottle because he values its promise, but Maya warns it will only decline if he doesn't open it soon.
The heavy-handed symbolism is indicative of a broad evening. Weyman's jittery neurotic spits out multisyllabic words at regular intervals to signal writerly pretension, while Harrison's Jack is a dopey surfer dude, baffled that his lothario behaviour has adverse consequences. This approach yields good comic moments: Jack and Terra's animalistic coupling and violent fallout; Kirsten Hazel Smith's small-town waitress subverting expectations; Anne Kavanagh's reggae-loving Phyllis blithely aggravating her son; and Miles wailing that he can't commit suicide like his literary heroes because he hasn't even been published yet.
But the madcap bromance also lets our men behaving badly off the hook. Though there are strong performances from the assured Piercy and Cordingly, who steer clear of frail victimhood, this is the lost boys' genial journey of self-discovery. Pickett's version buries the loneliness and quiet despair that characterised Payne's tragicomedy, giving us a fun, fruity evening lacking that counterbalancing acidity.
Miles identifies with the fragile Pinot grape that needs care and patience
rating
Explore topics
Share this article