Silent Planet, Finborough Theatre
Silent Planet, Finborough Theatre
Set in a Soviet prison, a subtle and slippery play captivates in parts but skimps on the fear
Saturday, 29 November 2014
Is there a doctor in the house? Matthew Thomas as prison psychiatrist Yurchak
Russian prisoner Gavriil is telling his psychiatrist a story about a strange and frightening dragon who demands a female sacrifice from the local townsfolk every year. When Gavriil gets to the end of his hot-breathed tale, his doctor drily remarks: "Almost hard to believe that Stalin had a problem with it." The time is 1978 and we are in the USSR, a place where fiction is censored, writers are frequently imprisoned and real life is even more fantastical than fiction.
Silent Prisoner is director-turned-writer Eve Leigh's first full-length play, and it is a subtle and slippery beast. The action is limited to an isolated psychiatric prison where writer Gavriil has been incarcerated for the ninth time in 12 years. His doctor, Yurchak, agrees to ameliorate Gavriil's prison stay, providing Gavriil recounts the banned stories that he has been reading in the prisoners' library. As this bizarre little book club progresses, the line between prisoner and captor, reality and fantasy, fiction and freedom, begins to blur.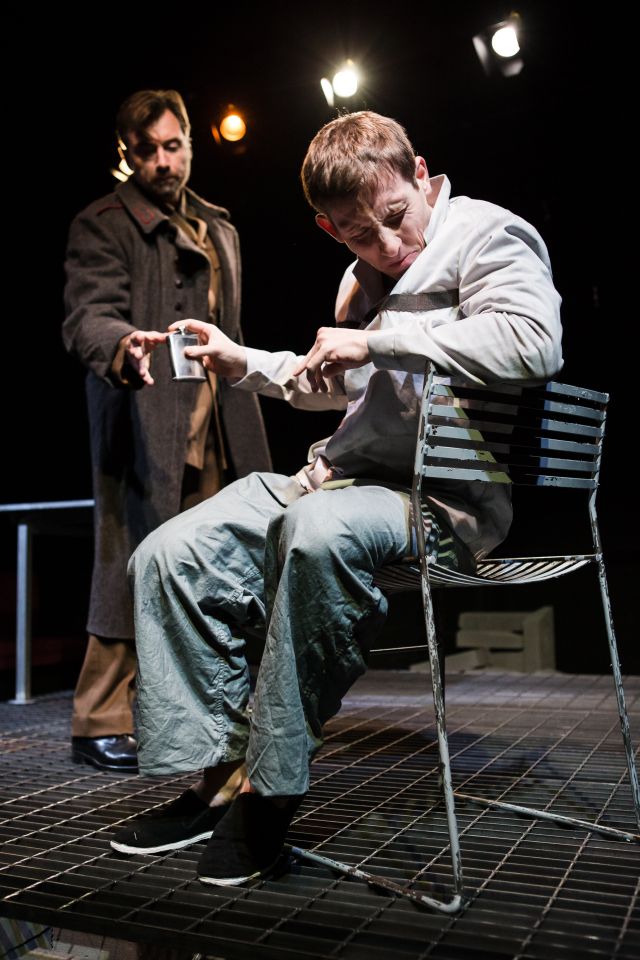 Director Tom Mansfield's low-key production gradually builds in intensity and is punctuated by haunting stories and bursts of pain. Petra Hjortsberg's set is made entirely of metal and is sparse, silvery and cool. Chairs scrape against a grated floor and every time the actors move, the cold clanging registers incarceration. Leigh is particularly good at invoking the strange power exerted by Russia's dissident writers, with Graeme McKnight captivating as the jittery and strung-out prisoner who sits hunched, arms wrapped around himself, as if attempting to hide within his body. When Gavriil re-tells the stories he has been reading, McKnight's eyes spark and his body is transported by the narrative: he becomes a dragon, a fleet of tanks, or a beautiful lady. In the process, we are reminded of literature's peculiar power and why it continues to prove such a threat to absolute rule in communist states.
These poetic passages are oddly powerful but the "real-life" sections feel less convincing. Part of this is down to the cosy dynamic between Gavriil and Yurchak (Matthew Thomas, the two pictured above). Thomas oozes compassion and isn't the last bit frightening; he sucks the threat right out of the prison environment. There isn't enough danger here and though the action occasionally cuts away to Gavriil's torture, these moments are underplayed and we never feel the prisoner's fear.
A few striking incidents capture the awful impact of Soviet misrule. In one scene, Gavriil pounces on a tiny morsel of bread as if it were a gleaming nugget of gold. In another, he is forced to eat a scrap of paper torn from a forbidden book. As Gavriil chokes on this tiny fragment of literature, the absurdity of the USSR's attempted censorship is revealed alongside the extraordinary measures some brave souls are willing to take in order to overcome it.
Silent Planet at Finborough Theatre until 20 December
Tom Mansfield's low-key production is punctuated by haunting stories and bursts of pain
rating
Explore topics
Share this article