Spring Awakening, Almeida Theatre review - must-see revival for Tony-winning musical |

reviews, news & interviews
Spring Awakening, Almeida Theatre review - must-see revival for Tony-winning musical
Spring Awakening, Almeida Theatre review - must-see revival for Tony-winning musical
A triumphant musical about teenage angst
Touching: Amara Okereke, with Catherine Cusack and Laurie Kynaston
When Berliners sat down to watch Franz Wedekind's debut play Fruhlings Erwachen – Spring Awakening – in 1906, they had little inkling of the kind of drama he had written, or how it would change theatre for the century to come, despite being banned for long periods.
Masturbation, homosexuality, underage
sex
, S&M, abortion, not to mention atheism and political radicalism had arrived onstage all at once.
Inevitably, the musical based on the play that became a Broadway hit in 2006 dialled down some of this risqué content, but not by a lot. When I saw it there, my seat neighbours, a kindly middle-aged couple and their daughter, whom they were treating to a night out at that season's big Tony winner, had no more clue what they had come to see than the Berlin playgoers a century earlier. Skirting potential spoilers, I warned them there was X-rated content to come, though still feared a walkout. But they stayed, intrigued and impressed and, ultimately, moved.
Which is the experience the Almeida's equally awards-worthy revival of the musical, directed by Rupert Goold, is offering. It has great material to work with: an impeccable score full of great songs from Duncan Sheik, who has subtly retooled it for an eight-piece band with no loss of dramatic impact; and striking lyrics by Steven Sater that move from the elevated and poetic to the blunt and demotic in a heartbeat. This is a superior coming of age piece that never loses sight of Wedekind's subtitle, A Children's Tragedy, yet is vastly entertaining and even laugh-out-loud funny at times.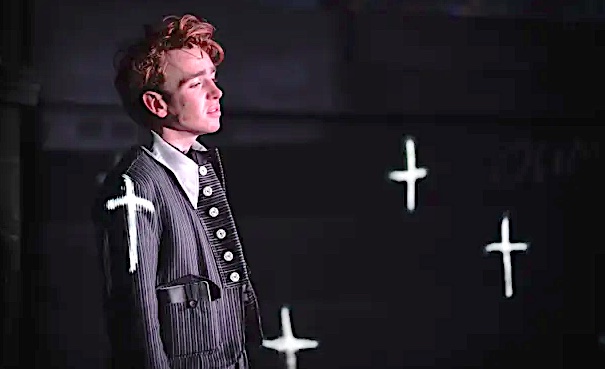 The setting is Germany in the last decade of the 19th century, where girls and boys are educated separately, and sternly: the girls in the primacy of Kinder, Kuche, Kirche (children, kitchen, church), the boys in how to become pillars of the middle classes. Learning is by rote, grown-ups are remote. Few of the teenagers have had any useful sex education to speak of, which leaves sensitive Moritz (an excellent Stuart Thompson) deeply troubled when his dreams turn ungovernably erotic. Unable to ask his buttoned-down family for help, he turns to his clever-clogs classmate Melchior (Laurie Kynaston, pictured above), son of a more liberal mother. Melchior creates a 10-page sex manual for him, fully illustrated; when it is found by a grown-up, the play's tragic plot is set in motion. Melchior, meanwhile, is getting much less theoretical experience of sex with his childhood friend Wendla (impressive Amara Okereke), whose sexual naivety is breathtaking.
Miriam Buether's clever design sets all the action on floor-to-ceiling black steps, but how versatile these steps are. Performers suddenly pop out of them, slide seductively down them head first, dance along them in a writhing group (in punchy choreography by Lynne Page). The stairs are projected upon with crosses, chalked on with slogans ("Gott is tot" "@Gretchen") and symbols (the COVID virus, the inevitable penis/testicles beloved of graffiti-ists the world over). At points when the plot turns climactic, a large glass box descends for the actors to perform in, as if a showcase for their heightened emotions.
Playing all the adults (parents, teachers), in a range of wigs and masks seemingly modelled on Otto Dix portraits, are Catherine Cusack and Mark Lockyer, but the main players are the squad of teenagers whose awakening – to all the growing pains of adulthood, the confusions over sex and sexuality, their sense of injustice, the repression of their society et al – we follow. This is a gifted ensemble: not just Kynaston and Okereke, with their strong, clear voices and finely tuned acting, but each of the other 11 members of the teenage faction. Particularly eye-catching is Nathan Armarkwei-Laryes, as the closet-gay Hanschen; and in the vocal stakes, Carly-Sophia Davies impresses as a full-throated Ilse, who has left school, embraced decadence as an artist's model and is certain she is heading for the trash heap. When the group sways as a phalanx or sings a cappella, you feel the thrill of musical theatre at its best.
It's easy to dismiss the characters' teen angst as from another, less enlightened era – but worrying yourself sick about your exam results, or your sexuality, is a perennial. And then you think of the young people who have recently been protesting against the failure of older generations to halt climate change, the teens who have argued for their rights against Islamist terrorists, the US high schoolers who marched for gun control, and you realise some things rarely change. Melchior may come across as a smart-arse, but his stance is not just teenage rebellion, any more than Greta Thunberg's is; and Moritz is the kind of teenage boy who is still breaking parents' hearts. This is a production that really deserves to be seen, so let's pray it can stay open during the latest wave of infections.