Sweet Charity, Donmar Warehouse review - Sixties style over substance |

reviews, news & interviews
Sweet Charity, Donmar Warehouse review - Sixties style over substance
Sweet Charity, Donmar Warehouse review - Sixties style over substance
Design dominates in Josie Rourke's farewell production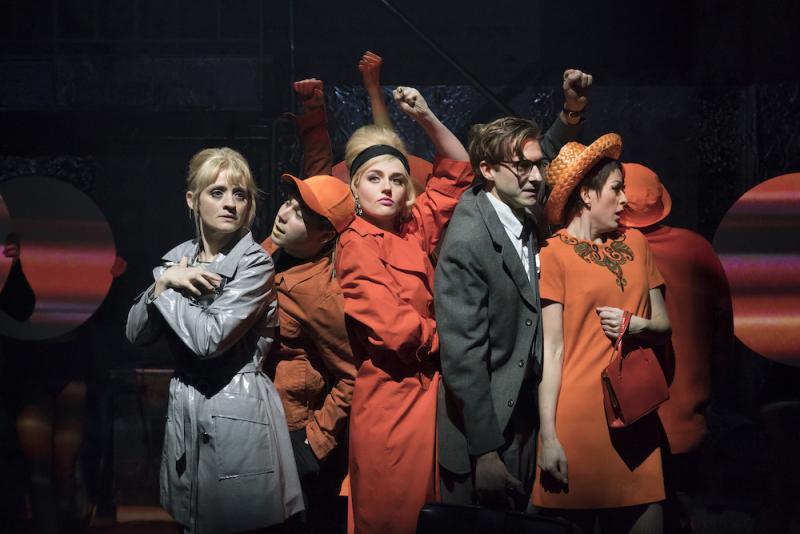 Love train: Charity (Anne-Marie Duff) and Oscar (Arthur Darvill) flirt amidst New York commuters
For her swansong, departing Donmar Artistic Director Josie Rourke goes Swinging Sixties in this stylish but flawed revival of the Cy Coleman, Dorothy Fields and Neil Simon musical.
From the numerous Andy Warhol homages to Charity's silver minidress and the cigarette haze, it's a period dream, but the production shimmers more than it grips.
Anne-Marie Duff stars as the eternally hopeful New York taxi dancer, making a pittance at her "temporary job" at the Fandango Ballroom; she's been there eight years. Too quick to trust, Charity has been let down by numerous boyfriends, but she finds a real possibility of escape and happiness with tax accountant Oscar (Arthur Darvill).
Duff provides the requisite endearing optimism, bordering on delusion, that makes Charity a compelling protagonist – covering disappointment with a too-bright smile and eagerly reshaping herself for each new opportunity, while hinting at how close Charity is to crippling despair. It's an emotionally vivid incarnation, but the other requirements of a musical theatre leading lady are unfortunately lacking. Duff's singing voice is rough-edged, which just about works in raw, confessional moments, but both pitch and projection are serious issues in the big numbers.
Wayne McGregor's new choreography is an interesting riff on the indelible Bob Fosse original, his Fandango sequences sexually aggressive rather than deliberately detached. But his work still requires precision, and Duff can't quite deliver: top hat and cane number "If My Friends Could See Me Now" – made to look deceptively effortless by original star Gwen Verdon – is particularly exposing, more gauche in delivery than in characterisation.
However, "Big Spender" uses the stage revolve cleverly, with the women freezing in suggestive poses – like mannequins in an erotic shop display – and their briskly professional attitude emphasises the transactional nature of these relationships. Charity barely reacts to her dance partner's gropes and grinds as she muses on her disastrous unions with men who (in a reversal of her job) took her money in exchange for companionship.
It's hard to top Fosse's "Rich Man's Frug", which pushes Sixties dance crazes into the surreal with its delirious lampooning of the otherworldly wealthy. Here, the emphasis is more on Robert Jones's visual flourishes, from shiny gold gloves to styling the whole group as blonde-haired, sunglass-wearing Warhols (pictured above). Similarly, "I'm A Brass Band" is pumped up by a stars-and-stripes chorus line. But the constant use of ladders is clunky – both physically and symbolically – and other quirks, like spelling out words on T-shirts, too self-conscious. More effective are theatrical solutions like the overhead projector marking the floors of an ascending elevator, or a ball pit standing in for a lake.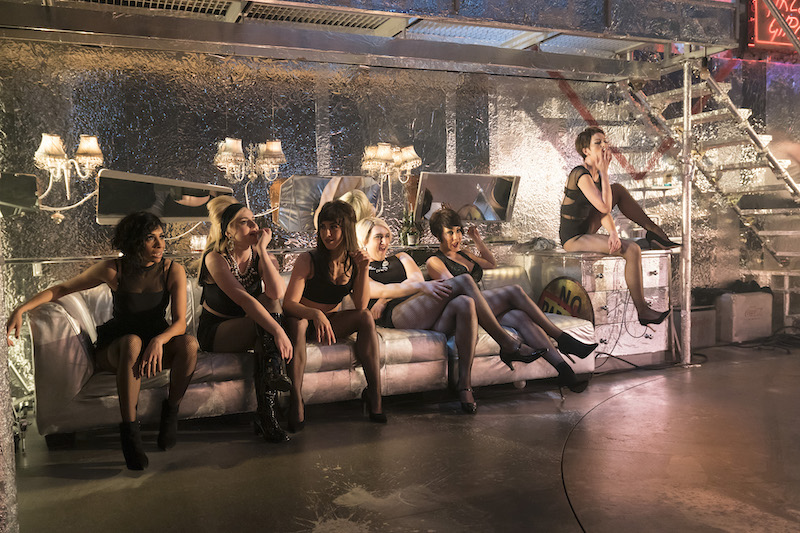 As Charity's straight-talking Fandango friends Nickie and Helene, there are dynamic performances from Lizzy Connolly and Debbie Kurup respectively (pictured above left) – both electrifying in the flamenco-inflected cry for freedom "There's Gotta Be Something Better Than This", and in wistful duet "Baby, Dream Your Dream". Their articulate vocals and movement build two distinct characters, who also combine beautifully in sure harmonies.
Anxious Oscar is introduced via a claustrophobic meltdown in a stuck elevator with some great physical comedy from Arthur Darvill. He also tempers the character's problematic preference for female "purity", emphasising that this is an agonising part of his neurosis, warring with very real affection – the latter demonstrated via a charmingly sung "Sweet Charity". And as Italian movie star Vittorio Vidal, Martin Marquez interestingly navigates the ambiguities of someone proclaiming love, but using the seduction tactics of his own film.
Daddy Brubeck, guru of the Rhythm of Life Church, is played by different actors throughout the run. The current charismatic incarnation is a snake-hipped, smooth-crooning Adrian Lester, resplendent in sequins (surely Strictly calls), majestically conducting with a giant spliff – and committing theatrical grand larceny by just about stealing the entire show. It might even convince audiences to convert from Andrew Scott's sexy Fleabag priest.
Rourke's revival has plenty of entertaining moments like this, plus fantastic support from a 10-piece band occupying the upstairs bar, but lacks a coherent overall take. Though it sometimes illustrates the grim reality of the taxi dancers' occupation – like washing underwear in a tiny sink or lining up for humiliating rejection – there's still an arty glamour to the black-clad, fishnets-flashing group. Likewise, Charity's faith in love, despite gendered double standards, is ultimately left unchallenged, part of a production that's consumed by its stylish surface.
In 'Big Spender', the women freeze in suggestive poses, like mannequins in an erotic shop display
rating
Share this article