The Sweet Science of Bruising, Southwark Playhouse review - boxing clever |

reviews, news & interviews
The Sweet Science of Bruising, Southwark Playhouse review - boxing clever
The Sweet Science of Bruising, Southwark Playhouse review - boxing clever
Victorian pugilistic drama: thoroughly heartfelt, highly original and completely timely
Saturday, 06 October 2018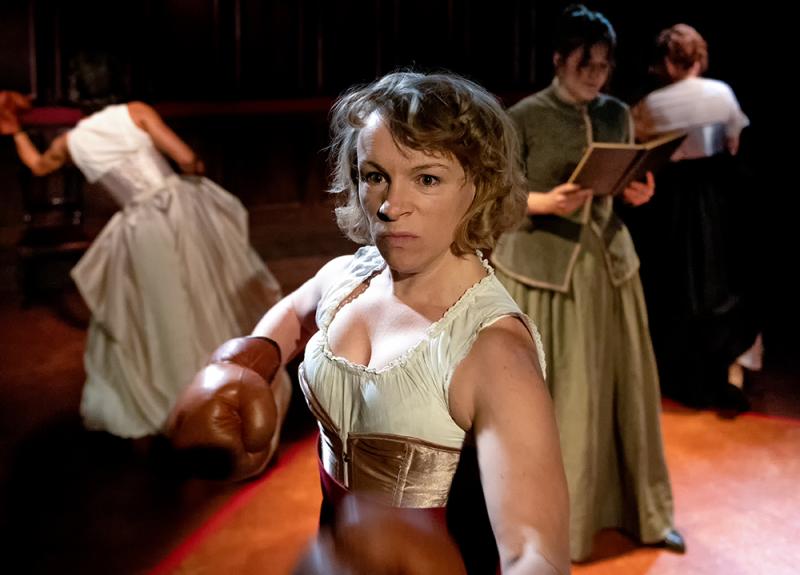 Pugnacious: Fiona Skinner in 'The Sweet Science of Bruising'.
There are not that many plays about sport, but, whether you gamble on results or not, you can bet that most of them are about boxing. And often set in the past.
Joy Wilkinson
's superb new drama,
The Sweet Science of Bruising
, comes to the
Southwark Playhouse
, a venue which regularly punches above its weight (sorry!), armed with a beautifully evocative title and plenty of theatrical energy. It is also tells a story that is both original and affecting, about the Victorian subculture of female boxing. So hold tight, leave your squeamish side at home, and roll up to the ring to watch the pugilistic ancestors of today's female champs (Nicola Adams and her sisters).
Set in 1869, the play zooms in on the lives of four Victorian women. As your referee for the evening, let me introduce them: in one corner is Violet Hunter, competent and serious, a feminist would-be doctor in an age when women had no chance of joining the profession; opposite her is Polly Stokes, a Northern lass with plenty of puglilistic guts who wants to emulate her adoptive brother, a prize fighter; then there's Matty Blackwell, an Irish streetwalker with both education and some good ideas about escaping the gutter, and, finally, Anna Lamb, an upper-middle-class lady and mother who longs to find something that compensates for her stifling family life.
An unsettling mix of self-discovery and violence
Very rapidly the stories of these four women limber up: Violet battles not only her medical employers, but also her family, who disapprove of her aspiration to travel to Paris in order to train as a doctor, while Polly journeys to London from the North in the hope of more money and some fame. She also loves to fight. Meanwhile, Matty meets Gabriel Lamb, a posh gent who has a taste for prostitutes, and she introduces him to the world of female boxing. At one of these shows, hosted by the self-styled impresario, Professor Charlie Sharp, he is spotted by his wife, Anna, who is strangely drawn to this violent sport, part competition, part entertainment.
As these contrasting women, from completely different class backgrounds, come into focus, a real emotional charge builds up in Wilkinson's heartfelt drama. Women's feelings of exclusion, oppression and desire to take control of their lives is a constant, and comes across loud and clear. There is an unsettling mix of self-discovery and violence, which challenges traditional ideas about what women should be and what they should do. In the ring the play's deeper themes square up to each other: Victorian hypocrisy, gender roles and early feminist ideals. Among these compelling ideas are symbolic images, especially the corset, which represents the physical restraint of women – an item of clothing which is shed in the climactic scene.
Wilkinson's storytelling has an attractive briskness and clarity, which builds up engrossing details about female boxing, and both its opportunities and its exploitative side. Each of the four main protagonists seek the power to have some control over their lives, and this remains a radical goal today. At one point, Polly says, "It's all about me." Yes it is; she has a point. At the same time, this is a play about violence, full of rather disturbing moments when female fury, as well as female solidarity, is articulated. There is a strong strain of ruthlessness as well as a heartening display of female strength. Memorable scenes include the choreographed boxing matches, and one barbaric instance of horrific medical intervention.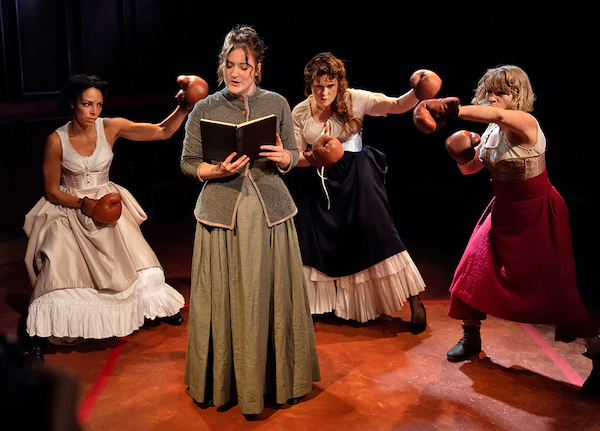 As well as gender, class and violence, The Sweet Science of Bruising has plenty to say about Victorian female boxing, which sometimes was presented as a beautifully ballet science and often involved fake contests, where women would pretend to fight, a talent which is related to their ability to please men by acting the role of submissive or available women. At several points, the sport is compared to a dance. Each of the four main women make an emotional and psychological journey, and some of the most emotive moments of the story are quietly inspiring. Moving even. I liked the brief satirical representations of Victorian melodramas, and the insights of the text into human relationships, both comic and tragic.
Kirsty Patrick Ward's production is occasionally a bit messy and unfocused, but it also has some grand moments when Alison de Burgh's fight and movement skills and Anna Reid's design come together to achieve maximum impact. A large cast (too many to name check) is impressively and unforgettably led by Sophie Bleasdale (Violet) (pictured above), Fiona Skinner (Polly), Jessica Regan (Matty) and Kemi-Bo Jacobs (Anna), with excellent contributions from, among others, Bruce Alexander (Professor Sharp) and Joe Coen (Gabriel). In the current climate this account of female empowerment is as timely as it is original. Knockout.
It is full of rather disturbing moments when female fury, as well as female solidarity, is articulated
rating
Explore topics
Share this article