Swive, Shakespeare's Globe review – pacy, dagger-sharp rewriting of history |

reviews, news & interviews
Swive, Shakespeare's Globe review – pacy, dagger-sharp rewriting of history
Swive, Shakespeare's Globe review – pacy, dagger-sharp rewriting of history
An interrogation of power, womanhood and the mythologies with which we surround ourselves
Multi-talented: Colin Tierney and Abigail Cruttenden in 'Swive'
History has corseted Elizabeth I with the title of "Virgin Queen" for centuries, but in Ella Hickson's laceratingly witty new play she is revealed as nothing less than a lioness on a hot tin roof.
History has corseted Elizabeth I with the title of "Virgin Queen" for centuries, but in Ella Hickson's laceratingly witty new play she is revealed as nothing less than a lioness on a hot tin roof. In this pacy, dagger-sharp production we watch Elizabeth asses the dangers and contradictions of her inheritance, before ruthlessly reinventing herself so that she will not fall victim to the court's deadly political undercurrents.
"My mother seduced a man so successfully that he altered the constitutional history of this country." Abigail Cruttenden's crisp enunciation cuts the air as the play opens. One of Anne Boleyn's ploys of course, was not letting Henry VIII sleep with her until he agreed to annul his marriage to Catherine of Aragon. "When she finally took her knickers off," declares Elizabeth acerbically, "she lost everything, including her head."
The pared down, self-consciously modern script is intrinsic to the wit of a production that interrogates concepts of power, womanhood, and, the mythologies with which we surround ourselves. Gesturing to the exquisite wood-carved surroundings of the Sam Wanamaker theatre, Elizabeth continues, "The cosy, candley, Elizabethan thing – it's bullshit…It's only five years old… It creates a false sense of security."
Security, of course, was something that Elizabeth entirely lacked during her formative years. That's reinforced from the moment we see Nina Cassells's empathetic and intriguing Princess Elizabeth panicking and praying frantically because of her fear of the dark. At the start of the play, her father Henry VIII is dying, but this is after he's beheaded her mother and worked his way through four more wives. Beyond this she must fight off accusations of conspiracy from both her brother and her sister when they take the throne, each accusation coming with the threat of execution (pictured below, Nina Cassells).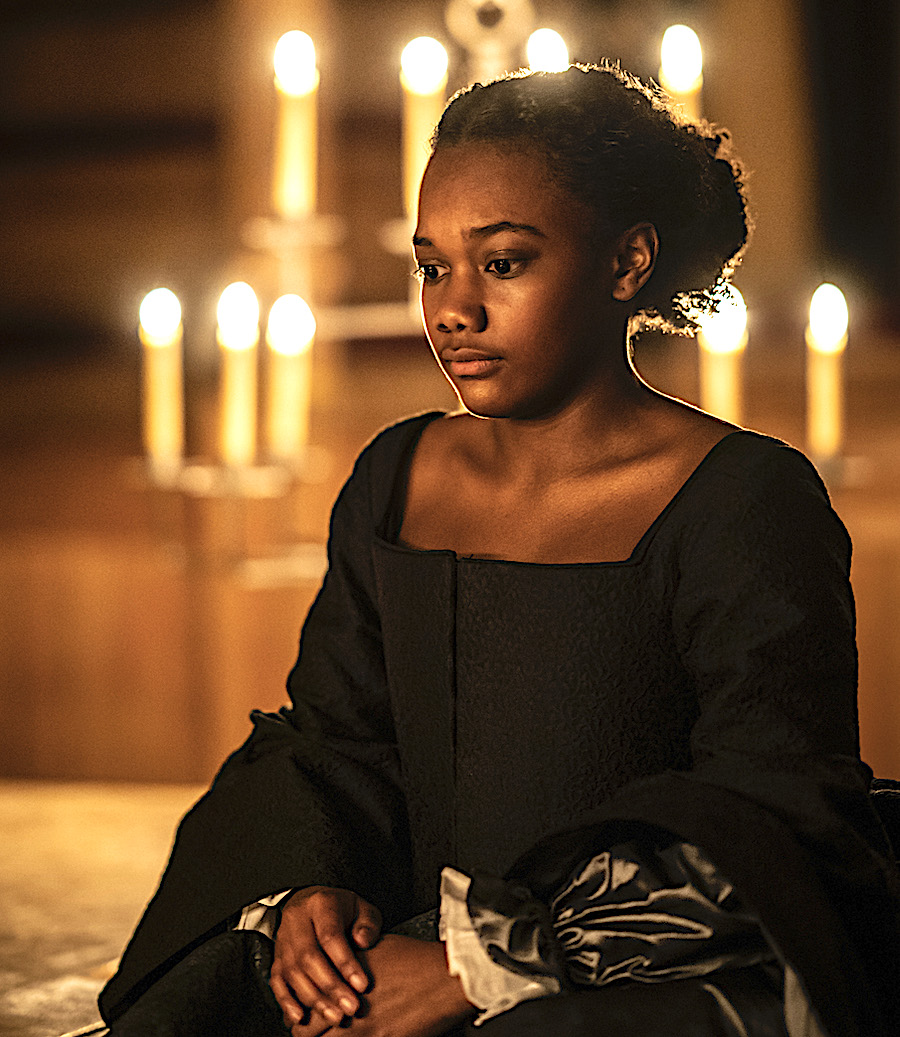 Four actors play the different roles in Natalie Abrahami's production. At the start the superb Cruttenden is a world-weary Catherine Parr, exasperated by taking orders from a much younger king and increasingly alarmed at the effect Elizabeth is having on her husband Thomas Seymour. Questions about what happened with Elizabeth and a man 25 years her elder have been raised by various historians. Here Elizabeth is shown to take charge of the situation by testifying against him when he is accused of trying to replace the king, so he is executed for treason.
Cruttenden takes on the role of Elizabeth after she becomes queen. By this point, as well as witnessing the fate of her mother, she has seen Catherine Parr betrayed by her husband and killed by childbirth, and her sister Mary betrayed by her husband Philip II of Spain and killed by the illusion of pregnancy. With an increasingly cold-eyed clarity, she is aware that both the constitution and nature are against her: one condemns her to be submissive to any man who she marries, no matter how he behaves, the other threatens to kill her in childbirth. In this stylishly streamlined rendition of events, it feels utterly clear that only a madwoman would submit to the narrative that society demands of her.
Ben Stones's highly effective design deliberately violates the cosy beauty of the Sam Wanamaker theatre by covering it with chipboard. As the play progresses, we see how this mirrors the way in which Elizabeth strips away decorative narratives which attempt to imply that women are worshipped when they are really being exploited. She may be the most powerful woman of her age, but death and humiliation lurk in every corner if she lets her guard down. "Swive" is the Elizabethan term for intercourse, yet it's the narratives of romance and motherhood that are really designed to trap her.
Angus MacRae's music subtly underscores the tension through compositions written for cello, clarinet and percussion. As, at first, her unwanted love-interest, Thomas Seymour, and then the love of her life, Robert Dudley, Colin Tierney proves skilled at evoking the mercurial emotions needed to navigate the poisoned sophistication of the court. As William Cecil, Michael Gould is convincingly slippery and cold-blooded.
Yet ultimately this production belongs to Cruttenden, who cuts through the tangled web of what it was to be Elizabeth with simultaneously anarchic and knowingly anachronistic flair. Hickson's play is a thrillingly irreverent reframing of a well-trodden past, brilliantly innovative even as it demonstrates the terrifying strength of its roots in historical fact.
Swive at the Sam Wanamaker Theatre till Feb 15