Tammy Faye, Almeida Theatre review - Elton John's often dazzling new musical
Tammy Faye, Almeida Theatre review - Elton John's often dazzling new musical
Plenty of heart and bite in a show illuminated by Katie Brayben's compelling performance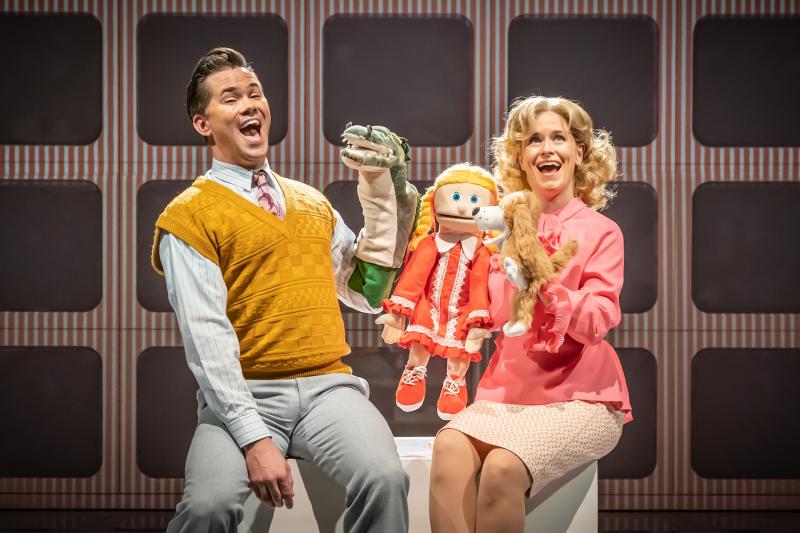 Puppeteers: Andrew Rannells and Katie Brayben in 'Tammy Faye'
I'll confess to a certain schadenfreude when the American televangelists who seemed so foreign to us Brits were led away to be papped on their perp walks, ministers in manacles: One big name after another skewered on their own hubris, gulling the gullible out of their savings and shoe-horning right-wing ideologues into political and judicial office. Thank God (ironically) that we're too smart for that kind of nonsense in Europe.
How's that turning out then?
Perhaps it was the lockdown; perhaps it was the recent excellent film, The Eyes Of Tammy Faye; or perhaps it was just getting old myself (after all, I understood teenage alienation when The Clash sang "Lost In The Supermarket") but I've softened to the "electric church" and their oleaginous collection of snake oil salesmen. If people are lonely and frightened and find communality and comfort through the homilies and sentimentality beamed from satellites to their televisions, who am I to judge? You're going to tell me they'd be better without it? Wealthier (or less poor) sure, but happier?
It helps to take something of that nuanced view (on this side of the Atlantic anyway) into the Almeida Theatre for Elton John's new musical, Tammy Faye. Pinner's most popular export does the music, Scissor Sister frontman Jake Shears provides the lyrics and James Graham the book – something of an er… holy trinity of theatrical talent. Roll in Rupert Goold's direction and Bunny Christie's remarkably effective set and how could it fail? Miraculously, if that is what it is, this one doesn't.
Much of the credit for the show's success goes to Katie Brayben (pictured above) as our eponymous heroine. She wins us over from the opening scene, joshing with her doctor even as her cancer diagnosis is delivered, characteristically displaying her wit and generosity, leavened with naivety. We're primed to see the best in her as we're taken back in time to chart the rise of the Jim and Tammy Bakkers' PTL (Praise The Lord) network, an unlikely bedfellow of CNN in the early days of cable TV.
Jim and Tammy realise two things: the power in their hands when they sit in people's living rooms 24 hours a day; and that a television network is, first and foremost, a medium to entertain. Jim may be the figurehead, but he is not the brains here – it's Tammy who sings, who smiles, who smooches the guests, an Oprah long before Oprah. Andrew Rannells brings plenty of charm to her ol' fraudster husband who is given a very sympathetic hearing despite his hypocrisy and his hubris, treated perhaps better than he deserves for all his understandable human vulnerabilities. The millions of victims of his scamming are somewhat airbrushed out of the picture and we move on.
The bite is reserved for bigger names, the Machiavellian preachers who saw a route to political power, the legacy of which is still going strong 40 years on. Zubin Varla (pictured below) gives us a Jerry Falwell who can almost taste power's tempting tang, building his Moral Majority, buttering up Ronald Reagan, ruthlessly eliminating the Bakkers when Tammy's inclusive liberalism, especially towards the AIDS ravaged gay community, threatens his desire to create a cadre of conservative stormtroopers at the ballot box. Pat Robertson and Jimmy Swaggert don't fare much better, although the daddy of them all, Billy Graham (helped by Peter Caulfield's immaculate comic timing) gets off easily.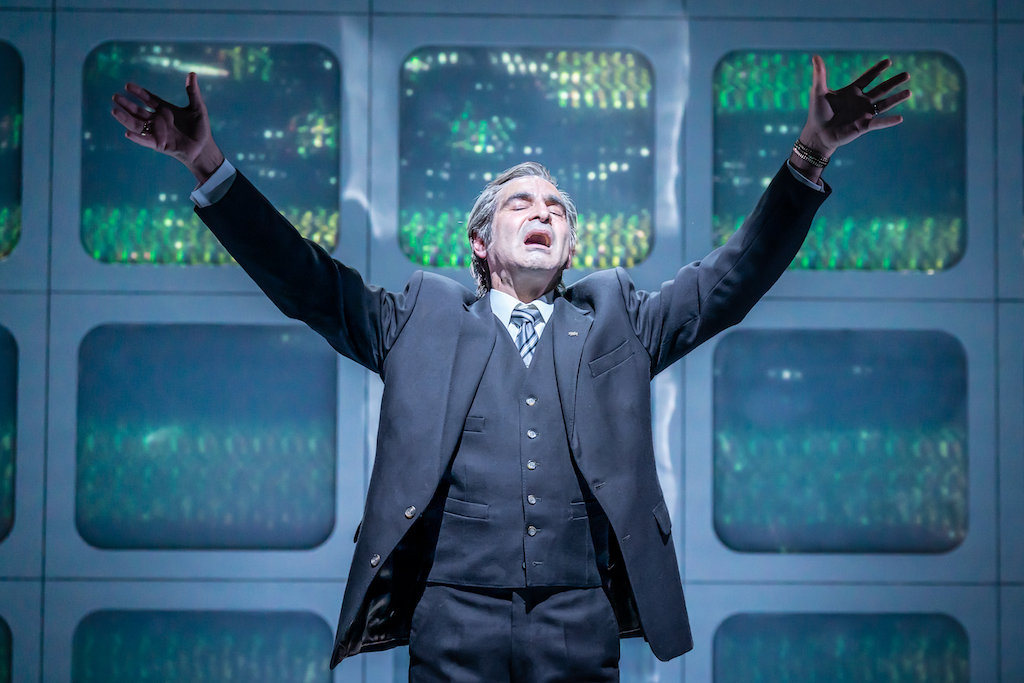 There's plenty of humour, some, but not all, as camp as a Carry-on. "He's Inside Me" may sound like a single entendre, but Jim and Tammy's paean to the power of their spirituality isn't just a cheap gag – funny though it is. Steve John Shepherd has a lot of fun with Ronald Reagan too, who, unsurprisingly but still amusingly, foreshadows another right-wing media star president, albeit with a smile rather than a snarl.
But we're back with Brayben because she doesn't just have to make us like Tammy for her decency, she has to sing some big numbers, nailing the first act closer, "Empty Hands" and then her defiant, "If You Came To See Me Cry". Both are showstopping performances. Misstep anywhere over nearly three hours and the contradictions (not least the question of why we're watching American religious fundamentalists in Islington, perhaps as secular a couple of square miles as you'll find anywhere on the planet) would overpower the always tenuous relationship between musical theatre and reality. She doesn't; like Tammy Faye herself, she implores us to believe and we do.
Years in the making (that's a new musical for you) one wonders where the show can go. For all its craft, its thematic relevance as the cynical, easy answers of 20th century televangelists are recycled by 21st century politicians to sell their views over the social media, a mechanism even more powerful than television, the subject matter feels niche. Whether it's a wise use of all that star power to create something to amuse the already amply amused North London chattering classes is not for me to say – what flies and what doesn't in musical theatre is as much a mystery as ever – but the Almeida for a seven week run feels about right. But surely, as was the case for Jim and Tammy when they built their Christian Disneyland, the ambition is for rather more?