theartsdesk Q&A: Playwright Ayub Khan Din |

reviews, news & interviews
theartsdesk Q&A: Playwright Ayub Khan Din
theartsdesk Q&A: Playwright Ayub Khan Din
The author of 'East Is East' on bringing his tyrannical father back to life onstage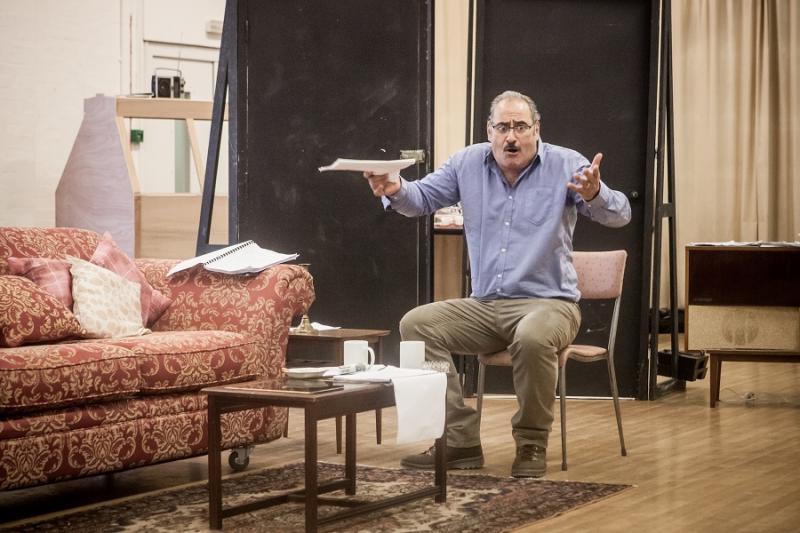 Ayub Khan Din in rehearsal to play his own father
It's been quite a journey for Ayub Khan Din. Born in 1961, the acclaimed playwright grew up in a crowded Salford household, the youngest child of a Pakistani father and a white English mother. The cultural clashes he witnessed – as his Anglicised older siblings fought against the straitjacket of Muslim tradition – were the raw material for East Is East.
His admired and important play, first performed in 1996 and soon made into a popular film, is back on tour after a run in the West End.
Khan Din's alter-ego in the play is the youngest character, a disturbed 12-year-old boy called Sajid. But the playwright has returned to acting after a long lay-off to play the overbearing father. Khan Din may not have inherited his father's values but he has his imposing bulk. When the audience sees him battering Jane Horrocks (who plays his mother), it's cruiserweight vs featherweight.
Khan Din's father is known as George Khan in the play, but his actual name was Mahtaab Ali. He left the small Kashmiri village where he was brought up in 1929, abandoning a wife and two daughters, worked his passage to the UK on the merchant navy and made his way via Birmingham to Manchester. The tour visits both cities as well as Richmond Theatre. As he follows his father's progress, Khan Din talks to theartsdesk about what remains his best-known play and a modern British classic.
JASPER REES: How did you come to return to acting?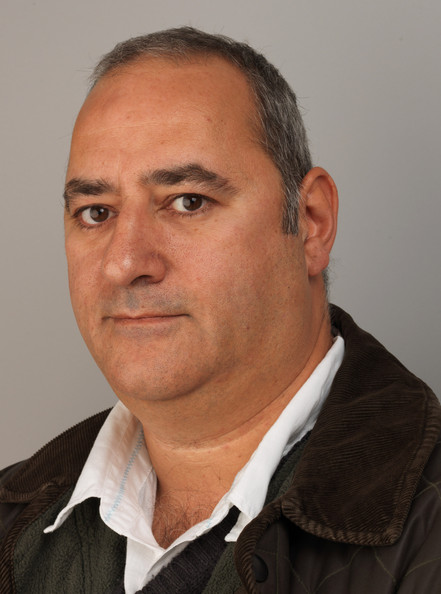 AYUB KHAN DIN (pictured): When East Is East came out I had become a really jaded actor. I was always playing doctors and accountants and lawyers. In the end I'd do it to pay the mortgage. And the writing gave me the incredible excitement that I used to get as a young actor. It fed itself. I hadn't acted for 22 years onstage but a year ago I had a musical in New York and the leading actor fell down some stairs on the third or fourth preview so it was either the producer lost a million dollars or I went on. It was called Bunty Burnham Presents. So American Equity gave us permission and I got a week's rehearsal and it reminded me how I used to feel as a young actor. So when this opportunity came I thought I'd really love to play George.
Is George to all intents and purposes your old man?
Both Ella and George are straight portrayals of my parents. My father's problem apart from being a hypocrite was that he was an uneducated villager who had come from a village in the mountains in Kashmir. He had rebelled against his own father just by the fact that he left the village and his wife and two daughters, got on a ship in Bombay, worked his passage, jumped ship in London. That was about 1929, 1930. That spark of rebelliousness that he had, he never recognised it in his own kids. And tried to squash it down. It was always "Do as I say, I'm your father. You're Pakistani. You behave like this."
Hence the key question in the play…
"If Pakistani women are so great why did you marry my mum?" You wouldn't have even dared to raise that question. You'd have got beaten up. He was a very big man. But most of these things happened with my older brothers. Whatever it was, that spark that he had, they all had as well. So when they decided that this wasn't the life for them, they left.
What did your siblings make of East Is East?
They liked the film but they didn't like it as much as the play. There was no "How dare you say that about me?" They recognised that even though it's autobiographical, all the arguments the siblings have are arguments that I developed and formulated over three years while writing the play. And being an actor. That's how I became a writer. I didn't go on any courses. It was the experience of being an actor, reading good scripts and bad scripts, learning when dialogue works or doesn't work, the balance of a scene.
It feels like a modern classic about the Asian experience in Britain.
It couldn't continue to have the success it has if it was only appealing to one audience though. It's managed to cross cultural boundaries. People see beyond the ethnicity of it and they look at the family relationships and they see their own father in George or their own mother in Ella and their own brothers and sisters as well.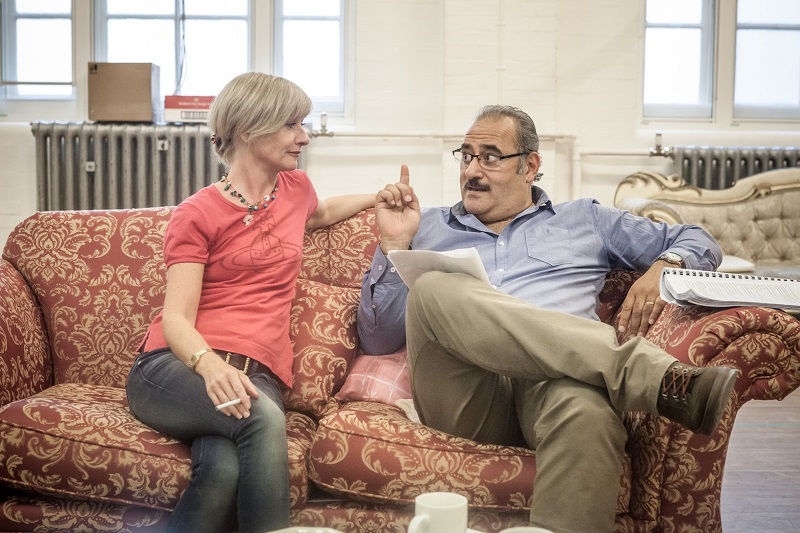 When did your mother die? (Pictured, Ayub Khan Din with Jane Horrocks)

My mum died in around '83. That was one of the spurs. Just before I came down to drama school she'd be diagnosed with Alzheimer's and she was only in her mid-fifties so very young. Every time I went home in term time there were massive losses of memory. They told us that because it was early onset Alzheimer's within three and a half years she'd be dead. He was the sole carer. It must have been very hard on him. He was old himself. He looked after her until he couldn't any more. Then he went back to Pakistan. Both my mum and his first wife died in the same year.
Had he seen his first wife much since leaving Pakistan?
He must have gone back at least once before he met my mum in around '46, '47. And then he took my two oldest brothers back to Pakistan in the early Fifties and left them there. It took my mum about two years to get them back. My oldest brother never really had a good relationship with my mum. He went when he was about two or three and my second brother was just one year old. When he came back he didn't speak a word of English and didn't know who my mum was. I think that left a big scar on both of them.
The oldest boy is the one who is most loyal to the father in the play.
In reality that went pear-shaped really quite quickly. He had polio when he was young and had a really bad limp but it never stopped girls falling in love with him. So he rebelled and that was terrible because the oldest boy is not supposed to do that. The oldest boy is the apple of his father's eye because he's going to take on the mantle of the patriarch of the family eventually. And he didn't. He got himself a blonde English girlfriend and eventually married her.
So you didn't put all the horrors into this play by any means.
It would happen every single time someone decided they wanted to do something other than work in a fish and chip shop. It was like, thrown out the house. And there would be a massive argument and he would live in the shop and we would live in the house for about four or five months and eventually he'd start coming over to the house again and everything would be normal until the next big…
How does it feel embodying this bogeyman from your childhood?
I suppose it does feel weird in a way. While I'm on stage doing it I can hear his voice in my head. I feel moments where I sit like him or walk like him. There's a couple of moments when I walk into a scene I think, God, that's my dad. Maybe I might cross my legs in a certain way or do something with my arms. The accent is very close to his. He had a very hybrid accent. It was very odd because it wasn't a typical Indian accent but it wasn't a northern accent. There were no northernisms in his accent.
What would your father have made of yours and your siblings' life choices?
He didn't get the boys who were gay or my sister. He didn't really have anything to do with them. Everyone knew Pakistani kids were always at it but he never really got on with any of my brothers who were gay. He came to accept my other brothers who had married English girls and the grandchildren. I went out with first of all a Sikh girl and that had to be a big secret because her family were attacked during partition and they hated Pakistanis. I told my dad and he said, "As long as she's Asian that's OK." Then he started having nightmares about Sikhs stabbing him in the back.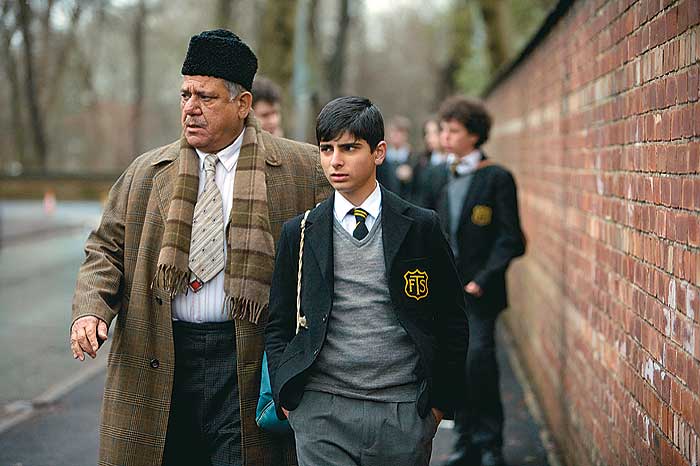 What was the impetus behind the play's sequel, the film West Is West (pictured)?
Everyone wanted to do it straight after East Is East and I just didn't want to do it. I always said it had to be a standalone movie about a part of my life that I want to write about. I wanted to set it about my experiences of going to Pakistan when I was 11, 12 years old for being an awkward brat at school and getting into trouble. There's some autobiography in there but the rest is my reaction to the rebelliousness of young Pakistanis who now find themselves in this netherworld. They don't really feel English, they don't really feel Pakistani. They call themselves British Muslims as opposed to British Pakistanis. I wanted to write about someone who discovers himself. That's what happens to Sajid. He has this initial rebelliousness about being sent there and hating it and eventually he learns how to incorporate it into his own life and realises that he doesn't have a problem with it.
When you did go there did you meet your father's family?
I was looked after by them. Even though my dad rarely visited them they were still part of our family. It's really weird to say this. It was part of that Pakistani clan-type family. My two half-sisters were both married to my dad's nephews and those nephews had come to England and settled in England but they didn't bring their wives to England funnily enough. One wife only came to England after her husband died. She's still here. So both my half-siblings came over to live in England. I think she's seen the film but she doesn't speak English. But her kids and grandchildren explain everything to her.
Were you hiding, like Sajid, hiding inside the safety blanket of a parka? (Pictured: Jordan Routledge as Sajid in the film of East Is East)

I lived in it for about a year and no one really bothered me. I smelled quite badly. I took it off to have a bath but it went straight back on afterwards. I can look back now and say, "That's exactly what that was," but at the time I found it comforting. I witnessed all the violence. The line, "I'm going to burn all your family down when you're asleep", was one of my nightmares because I heard him say it. All that impacted on me really quite strongly.
What would your father make of this play?
I don't know. I think if he'd seen it at the age he died he might kind of understand it. But the time he went back to Pakistan and I went to see him I think he was living with a lot of regrets but it was just too late for him to do anything about them. At that age he would have appreciated it and laughed with it and probably learnt something from it. But 20 years before I don't think he'd have liked it at all. At the premiere in Manchester two Pakistani guys who worked for the council came along and said, "That was fantastic, really enjoyed that, but Pakistani men don't hit women like that." I said, "Obviously I have a very different outlook on my own experiences. It was very different for me."
What have you made of Rotherham?
It's just the top of the iceberg. Again it's what happens when you deny your children having relationships with the opposite sex. There's still that attitude that white women are easy. And it's horrible. But it's true and I don't think you can hide it. All these things have to come out. On the one hand they're holding themselves up as this pure community that shouldn't mix and "our children shouldn't be influenced by the West". And their parents and grandparents are doing that. The generation who settled here would hide their heads in shame.
It couldn't continue to have the success it has if it was only appealing to one audience
Explore topics
Share this article