All in Good Time |

reviews, news & interviews
All in Good Time
All in Good Time
National Theatre play diluted in celluloid transfer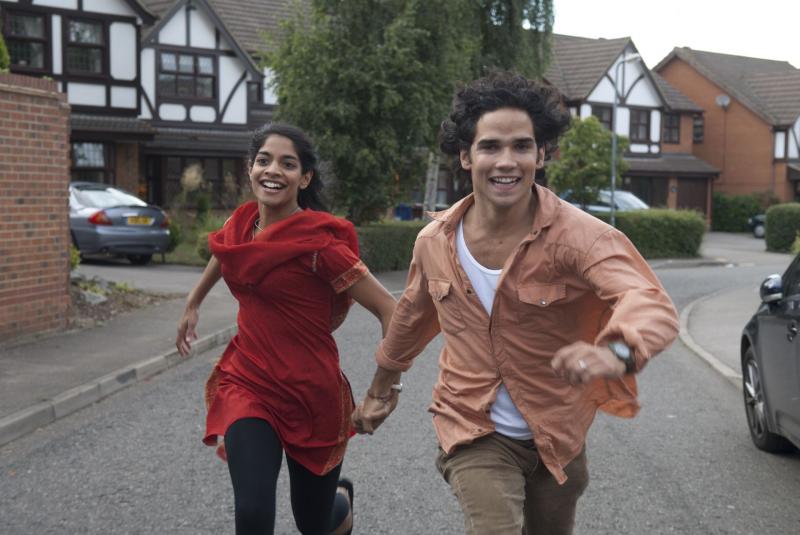 On the run: Amara Karan and Reece Ritchie play newlyweds facing an, ahem, problem
Replace the charmingly quirky with the merely cute and you have All in Good Time, Nigel Cole's film of the popular 2007 National Theatre play by Ayub Khan-Din about a British-Asian family confronted with the kind of crisis for which happy endings were invented.
Khan-Din's previous stage success,
East is East
, made it zestily to the screen in 1999, suggesting no reason why
Rafta, Rafta ...
(to lend this later play the Urdu title from its stage incarnation) couldn't follow suit. That the results are more conventional testify to the ways of the celluloid world, though at least Meera Syal and Harish Patel get their theatre performances recorded for keeps on film.
In fact, one wants more of both these parental figures in Khan-Din's own screenplay of his boisterous, bittersweet comedy, which shifts the emphasis away from the older generation and on to the young couple whose post-nuptial crisis fuels events. A couple struggling to consummate their marriage amid a busy, bustling household where intimacy is none too easily achieved, Atul Dutt (Reece Ritchie) and his bride Veena (Amara Karan) might arrive more easily at satisfaction between the sheets if, say, the walls were thicker, their bed sturdier, and Atul's parents' eyes less prying. (Oh, and if their honeymoon had not been cancelled.)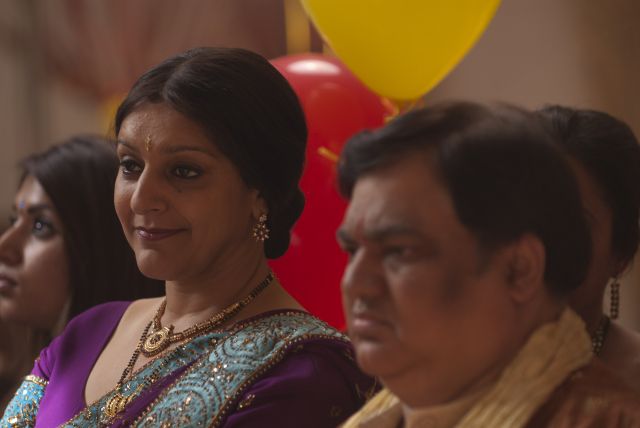 The suffocating nature of Bolton domesticity finds the twosome yearning for escape to Blackpool, which in itself might make an even punchier title for this film (Escape to Blackpool!) had its creators not gone back to the original name of the 1963 script by Bill Naughton (Alfie) that prompted Khan-Din's play. And, of course, all concerned come to realise as they did on stage that a model emblem for an enduring marriage exists directly in front of their eyes in the personages of Bollywood star Patel's (literally) outsized yet endearing Eeshwar and Syal (pictured above with Patel) as Lopa, this redoubtable paterfamilias's alternately chiding and adoring wife.
It's a particular shame, then, that Cole shifts the focus away from the mutually prickly if clearly still-besotted parents and on to a more generic younger generation, especially since rising screen star Ritchie and the attractive Karan don't do much beyond look decorative or aggrieved, as required. (Ronny Jhutti's stage Atul was more sympathetically and complexly conceived.) The movie is sweet enough but slight, even bland, and Patel seems oddly to have been sidelined given the degree to which the same actor very much dominated Nicholas Hytner's National premiere.
Still, the actor's bullish appeal works a treat as and when afforded pride of place, and Syal for her part knows how to land a double entendre. "There has been no new planting in the Shalimar Gardens," Lopa confides to Eeshwar once their son's impotence is made known, and one thing's for sure: she's referring not to a UNESCO World Heritage Site but to events happening (or not, as the case may be) far closer to home.
Watch the trailer to All in Good Time
Rising screen star Reece Ritchie and the attractive Amara Karan don't do much beyond look decorative and concerned, as required
rating
Explore topics
Share this article