Theatre Lockdown Special 9: Alan Bennett revisited, and so is Oz |

reviews, news & interviews
Theatre Lockdown Special 9: Alan Bennett revisited, and so is Oz
Theatre Lockdown Special 9: Alan Bennett revisited, and so is Oz
Some familiar titles, a 1913 rarity and a show in which the audience plays its part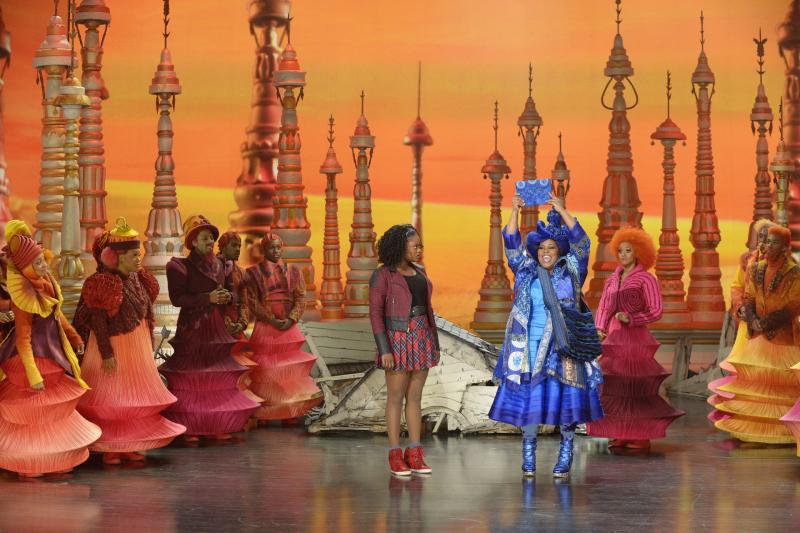 Wicked fun: Shanice Williams and Amber Riley in 'The Wiz'
The government may occupy shifting sands when it comes to handling Covid-19, but the arts thank heavens continue to step up to the plate with a dizzying array of online options.
This week's output mixes a soul
musical
from 1970s Broadway alongside a major revival of a play by
Alan Bennett
whose enquiry into the psychological well-being of those in charge will doubtless resonate anew today.
Not to be forgotten is a tiny west London venue that consistently punches above its weight, alongside a slice of something more radical coming soon to a continent near you. This quartet represents just the tip of an ever-expanding virtual iceberg until such time as the restrictions on playgoing melt away and we are allowed inside a playhouse once more.
St John Ervine was a Belfast-born jack of multiple theatrical trades. Little-known to us now, he represents just the sort of once-essential playwright whose work west London's ever-essential Finborough Theatre has long showcased to fine effect.
Now, the theatre is streaming, through August 5, the director David Gilmore's 2019 production of Ervine's 1913 play Jane Clegg, which chronicles a story of female self-reckoning that owes not a little to the prevailing influence at the time of Ibsen. Alix Dunmore (pictured below, photo c. Carla Evans) takes the title role in a play one is unlikely to encounter again any time soon.
The Madness of George III, National Theatre at Home
Alan Bennett's 1991 stage hit The Madness of George III lived on as an Oscar-nominated film starring its original leading man, Nigel Hawthorne, and directed, as it was at the National, by Nicholas Hytner. More recently, the play was revived by Adam Penford in an acclaimed Nottingham Playhouse production from 2018 that is this week's online offering from National Theatre at Home.
Olivier Award winner Mark Gatiss here takes the title role as the long-reigning king who was declared mentally unfit to rule (one can think of certain leaders to whom that judgment might apply today). His co-stars include Debra Gillett as Queen Charlotte and the ever-invaluable Adrian Scarborough as the clear-thinking Dr Willis. Streams from 7 pm BST on 11 June through to June 18.
Love Letters at Home, Uninvited Guests / Fuel
Originally titled Love Letters Straight From Your Heart, this 2007 show by the Uninvited Guests company is being performed live on zoom as part of an international digital "tour" through June 26. This online iteration of the show began in Brighton late last month and can still be seen at numerous destinations around the UK and as far afield as Dublin and New York, Arizona and Australia.
Produced by Fuel, the show invites up to 90 people each night to send across their own declarations of love, which then get folded into a performance that varies with each audience and each location. That evening's public thereby share in the authorship of that particular show, in turn facilitating a sense of community amidst isolating times.
Last week's transmission of Peter Pan for The Shows Must Go On was postponed in favour of a message of support for Black Lives Matter. How fitting, then, that this week finds the same series of stage-to-screen transfers streaming The Wiz, the much-loved, all-black soul music treatment of The Wizard of Oz that first stormed Broadway in 1975, winning seven Tony Awards. (Diana Ross later led a less-admired film version.) Fittingly, viewers will have a chance to donate to the NAACP, the civil rights organisation devoted to ending race-based discrimination.
Shanice Williams, not yet 20 when this TV adaptation was first aired in the US in 2015, plays the young, adventure-prone Dorothy, alongside a Who's Who of talent that includes Mary J Blige, Amber Riley, Queen Latifah, and, as Aunt Em, Stephanie Mills, who was this show's first Dorothy on Broadway.
Available for 48 hours from June 12 at 7 pm BST.
'Jane Clegg' online offers up a play one is unlikely to encounter again anytime soon
Share this article