Trojan Women / Thrown, Edinburgh International Festival 2023 reviews - passionate all-women productions |

reviews, news & interviews
Trojan Women / Thrown, Edinburgh International Festival 2023 reviews - passionate all-women productions
Trojan Women / Thrown, Edinburgh International Festival 2023 reviews - passionate all-women productions
Overwhelming power in a hybrid of Eastern and Western traditions, though a more modern take on female identity issues struggles to convince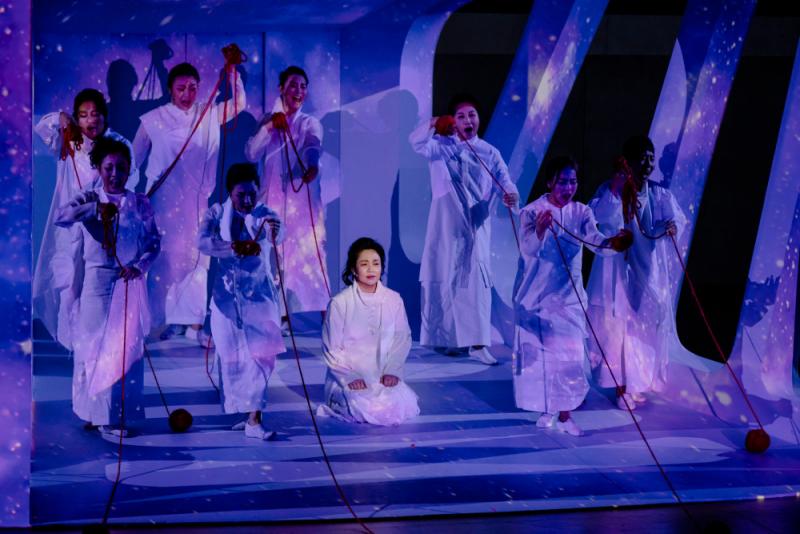 Kim Kum-mi as Hecuba in Ong Keng Sen's powerful Trojan Women
Trojan Women, Festival Theatre ★★★★★
You can feel the white-hot intensity radiating from the stage virtually from start to finish of this remarkable, hypnotic production from the National Changgeuk Company of Korea and Singaporean director Ong Keng Sen. Maybe that shouldn't be a surprise: the show has been around since 2016 and has already toured internationally to enormous acclaim, before stopping off for its three International Festival performances.
But that's not to detract from the sheer overwhelming power of Trojan Women. Ong has collided together the austere, ritualistic Korean genre of changgeuk with Euripides' ancient anti-war play in a new, East/West hybrid in which the impassioned solo 'arias' from the succession of Trojan characters find fearsome focus in the one-voice/one-instrument style of changgeuk.
The Trojan War is over, the Trojan men are dead, and Troy's noble women are left wondering their fate at the hands of the Greek conquerors. Obeying instructions from messenger Talthybios (played with restraint but determination by Lee Kwang-bok), they're dispatched one by one as slaves, concubines or worse.
Okay, Trojan Women's style of delivery might be mightily unfamiliar to Western audiences, and its heightened emotions and at times (literally) screaming intensity might raise a few eyebrows: there was a fair bit of muttering from watchers early on in the opening performance. But it's testament to Ong's conception, and to the performers' unflagging commitment, that that unfamiliarity isn't an obstacle to engagement.
Kim Kum-mi threatens to steal the show as a fierce, outspoken Hecuba, determined to retain her nobility even as she's humiliated. Yi So-yeon is a wild-eyed, volatile Cassandra (though to be fair, those adjectives could be applied to almost anyone here), and Kim Mi-jin is heartbreaking as Andromache, clinging desperately to her baby son Astyanax as the Greeks threaten to murder him in order to end the Trojan bloodline.
Most mesmerising, though, is Kim Jun-soo as Helen, a male performer in a female role, intended by Ong to emphasis the character's otherness as instigator of the whole conflict. It's a conceit that works magnificently in Kim's ethereal, blithely detached performance, and is re-emphasised by his/her schmaltzy, dreamy K-pop piano accompaniment from producer Jung Jae-il.
Cho Myung-hee's monumental set is a thing of power and beauty in itself, but also serves as an evocative backdrop for Austin Switser's elemental video design. But it's Ong's collision of Eastern and Western aesthetics, and his nimble leaping between the two over the course of the production's relentless, two-hour duration, that makes Trojan Women so special. His contemporary resonances – indeed parallels from right across history – are clear, and there's no need to overstate them in a production already brimming over with emotion. It's an astonishing work, certainly challenging in its form and content, but overwhelmingly powerful all the same.
Thrown, Traverse Theatre ★★★
Across at the Traverse Theatre, the International Festival offers another – but very different – all women-show. But there are so many issues jostling for attention in writer Nat McCleary's energetic five-hander on the obscure Scottish sport of backhold wrestling that it's hard to know where to focus. Women's team teacher Pamela is questioning her gender identity. Newcomer Imogen – just arrived from London – is keen for mixed-race Chantelle to embrace her Black identity. But despite having been born north of the border, there are questions about the authenticity of Imogen's own Scottishness. Meanwhile polite retiree Helen is in danger of not being heard – as she often isn't among the loud voices in McCleary's dense, busy script. It's no wonder that the threads that unravel during the course of the play don't get neatly woven back together again by the end – and, truth be told, it's to McCleary's credit that she stops short of offering a pat conclusion.
It's a shame, because performances are vivid and captivating in director Johnny McKnight's swift but fluent production – even if the characters feel a little more like shortcuts to the themes explored rather than living and breathing people we care about. Adiza Shardow and Chloe-Ann Tylor are sparky and sometimes abrasive as long-time friends Jo and Chantelle, though Efé Agwele has less to play with as disruptor Imogen, despite her checklist of woke terminology. Lesley Hart feels like the quiet, focused centre to the bickering and conflict as Pamela, who has conflicts of her own, and Maureen Carr is sweetly touching – though somewhat underwritten – as Helen. Karen Tennent's set of climbing bars and crash mats locates the group's rugged tussles in a nicely appropriate sporting setting – although McCleary might have explored the connections between the wrestling's aggressive physicality and the group's verbal disagreements in a little more depth. Thrown is a bold, ambitious and demanding show, but it struggles to convince.