The View UpStairs, Soho Theatre review - well-intentioned but needs a rewrite |

reviews, news & interviews
The View UpStairs, Soho Theatre review - well-intentioned but needs a rewrite
The View UpStairs, Soho Theatre review - well-intentioned but needs a rewrite
Name-heavy cast powers baggy, repetitive Off Broadway musical
Meeting across time: from left, Tyrone Huntley as Wes, Andy Mientus as Patrick
If good intentions were all, The View UpStairs would be Gypsy.
If good intentions were all, The View UpStairs would be Gypsy. As it is, the European premiere of this 2017 Off Broadway musical set in a New Orleans gay bar firebombed by arson in 1973 serves both as an important reminder of a grievous event in LGBTQ history and as an object lesson in the difficulty of writing a persuasive show. At two interval-less hours, the musical at the Soho Theatre takes a long time to get to its inevitably calamitous ending and depends no end on possibly the most name-heavy ensemble (especially for musicals buffs) ever gathered at this address: the cast's commitment to the material is moving to behold, even if the writing itself only intermittently rewards their support.
Yoking a clunky time travel device with an in memoriam for the victims of an incident that has been largely forgotten, Max Vernon's show comes to rest with an impassioned wake-up call to the multiple indignities of our world right now. This roll call of woe (to which one is tempted to add the realpolitik of BoJo's Britain) arrives on cue as spoken by the show's principal character, a hipster fashion designer, Wes (Tyrone Huntley), who has tumbled backwards into the queer community of yesteryear. The sort of coke-snorting influencer who likes to threaten his detractors with annihilation by Twitter, Wes buys an abandoned New Orleans building, unaware of its history – first vibrant, then sorrowful – within the gay community.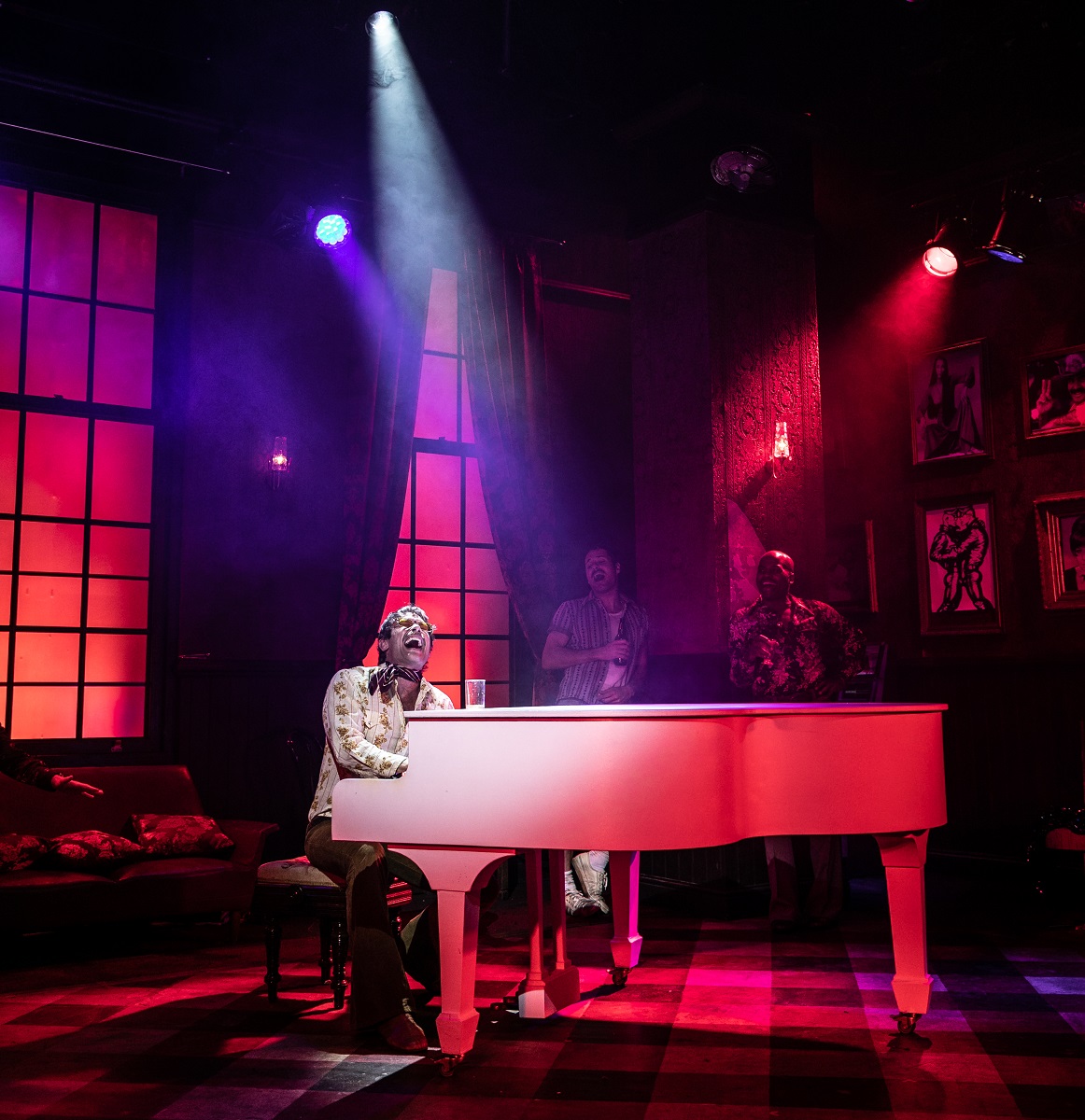 Doing triple duty as author of the book, music, and lyrics, Vernon has fun up to a point with the disjunction between Wes's absorption in the modern-day climes of Project Runway and Grindr set against the Nixon-era habitués of a bar 46 years ago who don't know what he's talking about. Blissfully unaware of the advent of AIDS, Trump, and the further horrors that await, the UpStairs Lounge offers a safe space for a cross-section of ages, genders, and ethnicities who inhabit various points on the spectrum of acceptance and self-affirmation.
Chief among these barflies is a drag queen, Freddy (Garry Lee), whose mother Inez (Victoria Hamilton-Barritt) never expected to have a son who goes by the alter ego Aurora Borealis but loves him all the same. Buddy (John Partridge, pictured above left) gives off an air of being far more at home crooning away at the bar's piano than he is at his actual home, where he maintains a double life. (Partridge's clothes, incidentally, are period-perfect, down to the neck-covering kerchief.) And while the drunk, ranting Dale (Declan Bennett, pictured below right) sings of feeling "invisible" on his own runway towards ruin – he gets a breakdown scene at the mic stand by way of Sally Bowles in Cabaret – the sweet-faced Patrick (Andy Mientus) hustles now and again and catches the eye of Wes: "You're pretty cute for a hallucination" is Wes's come-on of choice. (Main picture: Tyrone Huntley, Andy Mientus)

Virtually any of these performers, including Carly Mercedes Dyer who is presented as if on loan from a revival of Hair, could front a show of his or her own, and it's nice to see reteamed the onetime co-stars of Jesus Christ Superstar in Regent's Park (Bennett and Huntley) and A Chorus Line at the Palladium (Hamilton-Barritt and Partridge). In his guise as composer, Vernon is an equal opportunity provider, parceling out moments in the spotlight to all the characters while reserving the bulk of the heavy lifting for Wes – a role that finds the protean Huntley in superb voice. Not far behind him in the singing sweepstakes is Cedric Neal, late of Motown, who at one point embarks upon a bizarre riff about the Ballets Russes and Danilova (whose name is mispronounced).
After a while, though, one yearns for some respite from Wes's incessant catalogue of the here-and-now zeitgeist: Huntley's charm notwithstanding, the character is a tiresome bore, as you would be, too, if you had to say things like, "I want realities that are worth my time". And while an eclectic, often catchy score at times calls to mind the likes of Dolly Parton and Don McLean (this group would know their "American Pie"), too many of the lyrics simply don't sit on melodic lines that in themselves swoop and shift for no discernible reason beyond, perhaps, lending a show-offy patina to some pretty conventional sentiments. (Mientus's solos, in particular, go every which way before coming to land.) As directed with the broadest of brushstrokes by Jonathan O'Boyle, the show can only end by suggestively recreating the horrific attack itself. "It's all right," the characters are singing minutes before that happens, at which point – and not for the first time – you wish the show containing them were better.