Wise Children, Old Vic review - Emma Rice in fun if not quite top-flight form |

reviews, news & interviews
Wise Children, Old Vic review - Emma Rice in fun if not quite top-flight form
Wise Children, Old Vic review - Emma Rice in fun if not quite top-flight form
Angela Carter adaptation strains to sustain its high spirits
Saturday, 20 October 2018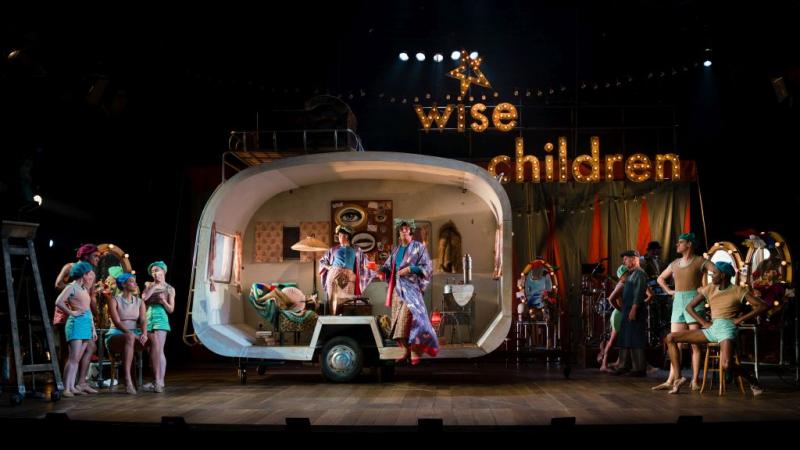 A life in the theatre: the company of 'Wise Children'
"What could possibly go wrong?" The question ends the first act of Wise Children, the debut venture from the new company birthed by a director, Emma Rice, who must have asked herself precisely that query at many points in recent years.
Unceremoniously dumped by
Shakespeare's Globe
, where her
A Midsummer Night's Dream
remains one of the most buoyant in my experience, Rice has picked herself up and moved gallantly on, partnering her fledgling company with no less tony an address than
The Old Vic
. Oh, and guess what: the company is called Wise Children, too.
So it's somewhat disheartening to report that the play bearing her new creative endeavour's name is a decidedly mixed bag: exposition-heavy and tonally scattershot, while also freewheeling and fun and occasionally touching (especially after the interval). It's nice, too, to see that Rice continues to gather around her an informal repertory troupe of actors, amongst whom Katy Owen and Ankur Bahl were alums of that Globe Dream. Might an outside eye have helped fillet, clarify and render more purely dramatic this adaptation of Angela Carter's rangy 1991 novel, published a year before her death? Undoubtedly, and I spent much of the first act craving that old dramaturgical template whereby things are shown rather than told. Chunks of the play feel as if the novel is simply being annotated for our listening pleasure, and surely there are less laborious approaches to the niceties of storytelling than resorting to "We've got to tell them about grandma".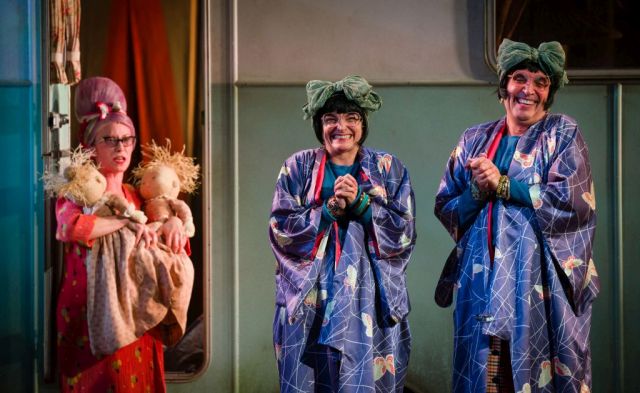 But as the sprawling narrative ramps up a notch, Rice's signature larkiness takes hold. After all, how many nights in the theatre manage to encompass Cyndi Lauper, the song "Electric Avenue", and a Coriolanus joke cribbed directly from Kiss Me, Kate – not to mention some priceless end-of-pier gags delivered by the inimitable Paul Hunter, playing a character called "gorgeous George" who threatens to walk off with the play? (Hunter takes on a further, less rumbustious role in the second half.)
The story, told kaleidoscopically against Vicki Mortimer's characteristically atmospheric set, starts with the Chance twins, Dora and Nora, on their 75th birthday, as they look back on a life in the theatre that allows for jokes about RADA and Chichester, not to mention Globe-style acknowledgments of the audience. (Participation-phobes, fear not: that is not an issue here.) Inhabiting a specific address in SW2, otherwise billed here as "the wrong side of the tracks" (which is to say the same side of the Thames as the Old Vic), the carefree Dora becomes our de facto guide on a freewheeling canter through incest, alcoholism, and death that keeps spirits for the most part high. Or as one especially memorable line has it, "Comedy is tragedy that happens to [other] people."
And you can in a trice guess at Rice's attraction to a story that sometimes feels like a crackpot variation on some of the Bard's messier narratives; the emphasis on twinning – and Wise Children features both nice twins and nasty ones – picks up where Rice's last mainstage assignment at the Globe, Twelfth Night, left off. The casting, too, keeps with the Globe desire to shake things up. To that end, the principal gender-benders on view here include the invaluable Gareth Snook (pictured top right above, with Katy Owen and Etta Murfitt by his side) as the more comically self-aware of the two Chance twins: hand him/her a racy late-night talk show, and soon! And playing the Chances' younger, more agile showgirl selves, Melissa James and Omari Douglas (who is a bloke) look as if they could segue immediately to a co-starring gig in Chicago across town (the pair are pictured above right).
This isn't the first Rice show where one feels as if a tighter rein might make more of a script that rhapsodises about butterflies one minute and trades in mock Wilde-isms the next: Snook gets a killer line about what constitutes a "woman's tragedy". But Rice as ever has gone her own way, impishly so more often than not, and one still wonders when and where her truly-lovely musical Romantics Anonymous might turn up next. For now, kudos to an eclectic cast that includes such dance names as Murfitt and Sam Archer (mainstays of Matthew Bourne's company, both) and to Rice herself for moving on from a crazed period in her life to land us with this theatrical potpourri as an expression of her art: a journey that in its way is wise, yes, and necessary, to boot. One senses that those ever-resilient Chance sisters would approve.