Without You, Menier Chocolate Factory |

reviews, news & interviews
Without You, Menier Chocolate Factory
Without You, Menier Chocolate Factory
Rent star Anthony Rapp powers his way through grief and loss
Thursday, 06 September 2012
From the heart: Anthony Rapp relives the pain and passion of an earlier time
Who says you can't go home again? American actor-singer Anthony Rapp does that, and then some, with his solo show Without You, in which one of the original leads of the Broadway musical Rent relives the passions and pain of an extraordinary time. Quite how the 80-minute piece will register with non-Rentheads (as the show's fans remain known) must be up for grabs.
Its narrative is inextricably linked to a city, New York, where the late Jonathan Larson's rock musical became a sensation that registered well beyond arts pages. On the other hand, if the response of the opening night crowd counts as any gauge, loss is loss the world over: not in some while have I clocked so misty-eyed a crowd exiting a theatre.
The celebratory milestones of Rent are informed by an awareness of its creator's absence
The reason for the group cry will be evident to anyone who has either read Rapp's 2006 memoir or knows the back story to a show that shook up the New York theatre, introducing a vibrant new voice to the composer-lyricist ranks who died the day before the musical's first public performance Off Broadway; Larson was 35. A rewrite of La Bohème updated to the world of HIV/AIDS and set on Manhattan's Lower East Side, Rent won the Tony and Pulitzer Prize. It cast Rapp as the videographer, Mark, Larson's equivalent to Puccini's Marcello, and he played the same role in the disappointing 2005 film adaptation. (Those keen to see the musical live can catch a fringe revival at the Greenwich Playhouse until 16 Sept.)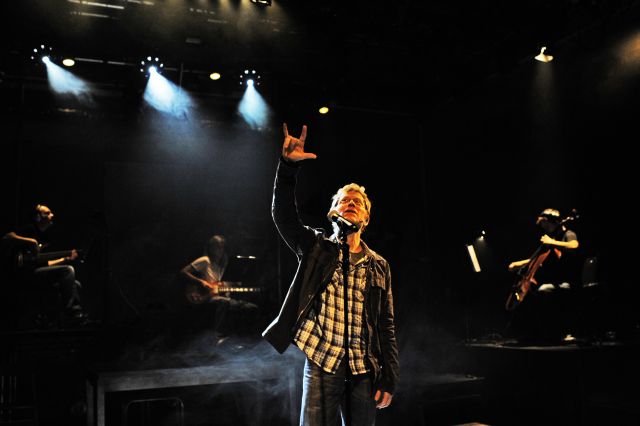 His geeky cool still in evidence, Rapp, 41 next month, offers a potted version of the stratospheric arc of a project that went from a below-the-radar, self-consciously "downtown" venture to a phenomenon, the celebratory milestones of Rent all the while informed by an awareness of its creator's absence. Delivering several of the musical's signature songs in a voice whose heft can turn ragged (in the lower register, particularly), Rapp segues into affectionate impressions of those colleagues and friends who helped define the period. These include co-stars Adam Pascal and Daphne Rubin-Vega, but not Idina Menzel, who went on to appear in Wicked and will be touring the UK next month.
Among Rapp's panoply of voices, none emerges more resonantly than the supportive if understandably shell-shocked figure of Larson's father, Al, who travelled with his wife to New York expecting to share in their son's joy only to be met instead by a wake. Under Steven Maler's direction, Rapp juxtaposes Larson's sudden death with the agonising surrender to cancer of the performer's own mother, who is visited regularly in Illinois by her son only to realise at a certain point that a final goodbye must be made. That Rent contains an appropriate lament (the eponymous "Without You") allows these separate reports from the frontline of mortality to merge, Rapp's show itself functioning dually as both tribute and catharsis.
Some may wonder whether Rapp isn't using theatre as a place for therapy, and a few passages make one wish for a slightly less bald-faced reminiscence - that's to say, more art to match the heart. The discussion of Rapp's sexuality seems oddly cursory: one wonders, for instance, what happened to Todd, the lover cited as a defining presence in Rapp's life who then disappears from the account except as an emblem of the life that the performer wanted his weakening mother to know that he must lead. (Rapp's father is a fleeting presence.)
But with the help of a kick-ass band (drawn from both sides of the Atlantic), the performer powers his deeply felt way through a reckoning that allows for triumph as well as tears. Without You played in Edinburgh on the way to the Menier, a way station en route to the show's natural home. The next audience must surely be those in whom this material is all but embedded; not for the first time, this south London playhouse is paging New York.
Some may wonder whether Rapp isn't using theatre as a place for therapy
rating
Share this article