A Wolf in Snakeskin Shoes, Tricycle Theatre |

reviews, news & interviews
A Wolf in Snakeskin Shoes, Tricycle Theatre
A Wolf in Snakeskin Shoes, Tricycle Theatre
Contemporary Deep South version of Molière sacrifices subversion for slapstick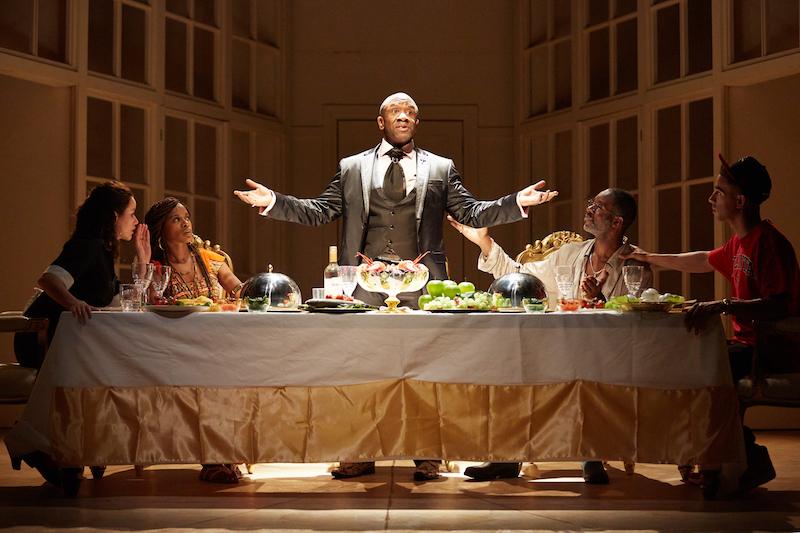 Heavenly hoax: Apostle Toof (Lucian Msamati, centre) cons a wealthy family
Molière's 1664 comedy Tartuffe transplanted to present-day Atlanta, Georgia: it sounds like an inspired idea. The hypocritical religious devotee becomes a charlatan preacher fleecing his flock, offering salvation in exchange for hard cash and a distinctly unpriestly grope. But Marcus Gardley's attempt to put a contemporary spin on a once incendiary play comes with a trying side order of cartoonish caricatures and creaky sex farce.
The tone is set by the opening sequence, in which randy Apostle Toof (Lucian Msamati) lays his healing hands upon a half-dressed ditzy blonde congregant (Michelle Bonnard), then ineptly hides her when his wife (Sharon D Clarke) storms in. It's eerily reminiscent of the terrible farce spoofed so superbly in Noises Off. Toof has just a week to raise enough funds to save his church and redeem himself, but wouldn't you know it – wealthy tycoon Organdy (Wil Johnson) is at death's door, and in need of a miracle.
The worst stereotyping is reserved for Organdy's family. There's the "light in the loafers" gay son (Karl Queensborough), fond of pink shirts and actual loafers; the prodigal daughter (Ayesha Antoine) calling herself Africa after a pretentious journey to discover her "roots"; the gold-digging, ex-stripper fiancée (Adjoa Andoh) poured into skin-tight leopard print and sparkly stilettos; and the one-note Mexican maid (Bonnard). Toof's battle with the clan for control of Organdy – and his fortune – is played out in exaggerated eavesdropping, telegraphed plotting and endless shouting matches.
Ah, the shouting. Indhu Rubasingham's production should prove popular among the hard of hearing, though the volume doesn't disguise a mixed bag of accents. The relentlessly broad playing style is frustrating, as Gardley's piece – though certainly inviting slapstick – features rich, rolling, melodious verse with punchy internal rhymes, slick quips and some potent critiques. Toof uses the Bible selectively to downgrade the women's status, tries to "cure" Gumper's homosexuality, and – despite the play suggesting he may actually possess healing powers – furiously denounces religion as a sham in a cold, broken world. It's a fascinating, though radically underdeveloped, perspective from a playwright who's a real-life son of a preacher man.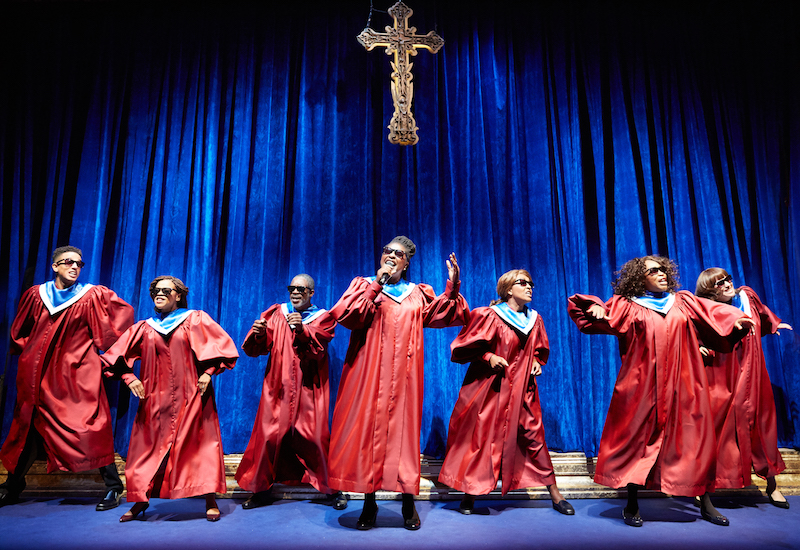 Yet the characterisation is too thin to attach any emotional import to the frantic story developments, and Gardley's targets too soft. The most satisfying moments operate as detached, heightened sketches, notably the mighty Clarke facing off against Andoh's animalistic Peaches: two badass women revelling in their different types of empowerment. Clarke also leads the toe-tapping gospel interludes (pictured above), which have a much better hit rate than the comedy. Msamati is a persuasively devious Toof, switching between thundering testifying and sly manipulation, and Angela Wynter is suitably intimidating as Organdy's intolerant mother.
Tom Piper provides a lofty mansion with handy French windows, and Holly White magnificently over-the-top costumes. But this isn't so much Molière as a lost episode of Empire. The indulgence in pantomimic excess obscures the original's subversive – and still pertinent – attack not just on religion, but on blind faith.
The toe-tapping gospel interludes have a much better hit rate than the comedy
rating
Share this article