On Your Feet!, London Coliseum review - Gloria Estefan bio-musical hits familiar notes |

reviews, news & interviews
On Your Feet!, London Coliseum review - Gloria Estefan bio-musical hits familiar notes
On Your Feet!, London Coliseum review - Gloria Estefan bio-musical hits familiar notes
The rhythm is gonna get you – even if the drama doesn't
Turn the beat around: Gloria Estefan (Christie Prades, centre) finds her voice
This well-meaning biographical jukebox musical about icons Gloria and Emilio Estefan, which did two years on Broadway and a US tour, is good summer scheduling, what with its Latin-pop bangers, infectious dance routines and "Dreams come true" messaging.
Yet its awkward housing at the austere
Coliseum
exacerbates this 2015 work's major flaw: reaching for profundity in a skin-deep, conflict-lite tale, instead of enjoying the party.
Gloria (Christie Prades, reprising the role from the US tour) is a talented but shy songwriter. Her grandmother (Karen Mann) eagerly pushes her into the band – and arms – of aspiring artist Emilio Estefan (George Ioannides), to the disapproval of her mother, Gloria Fajardo (Madalena Alberto), who relies on her at home, and whose own dreams of stardom were thwarted by her father back in Cuba. But the Estefans (pictured below) of course go on to worldwide success, revolutionising the music industry along the way.

The rags-to-riches beats of a million jukebox shows are dutifully replayed in a surprisingly clunky book from Alexander Dinelaris (Oscar winner for Birdman). Naturally, there are short-sighted record execs who fail to recognise the genius of Miami Sound Machine's genre crossover, until a guerrilla campaign by the band and subsequent public demand forces their hand – very much The Man versus The People. Rather than a descent into drugs or relationship drama, the big Act II obstacle is a near-fatal bus crash and Gloria's slow, painful recovery.
That crash, along with the difficult relationship between Gloria and her mother, does actually provide some dramatic heft, but with the usual bio-musical issue of packing in a whole life and thus skimming over details, there just isn't sufficient time. Instead, we get tantalising glimpses of interesting conflict drowned in syrupy ballads – deflating Jerry Mitchell's otherwise amiable production.
Neither is there space to address fascinating early details, like her father contracting MS following his service in Vietnam, or the family's flight from Cuba during the Revolution. That's a shame, as it's the Estefans' specific experience as immigrant Cuban-Americans that sets this story apart from other jukebox shows, and makes it particularly resonant in the current political climate. We do get one firm round of applause for Emilio telling a racist record producer "This is what an American looks like!" – but it's rather undercut by the numerous jokes about Emilio's fractured, incomprehensible English.
The development of this new cultural fusion sound is also dealt with cursorily, but the evidence we get of it is thrilling. Every time the cast launches into a big upbeat number, with Kenneth Posner's colourful lighting evoking a concert arena and Sergio Trujillo's choreography kicking into high gear, the show becomes irresistible. The hits come thick and fast – "Dr Beat", "1-2-3", "Get On Your Feet", "Oye Mi Canto" – though a half-hearted attempt to get the stalls audience up and dancing for Act I closer "Conga" shows the unsuitability of the Coliseum for such activity.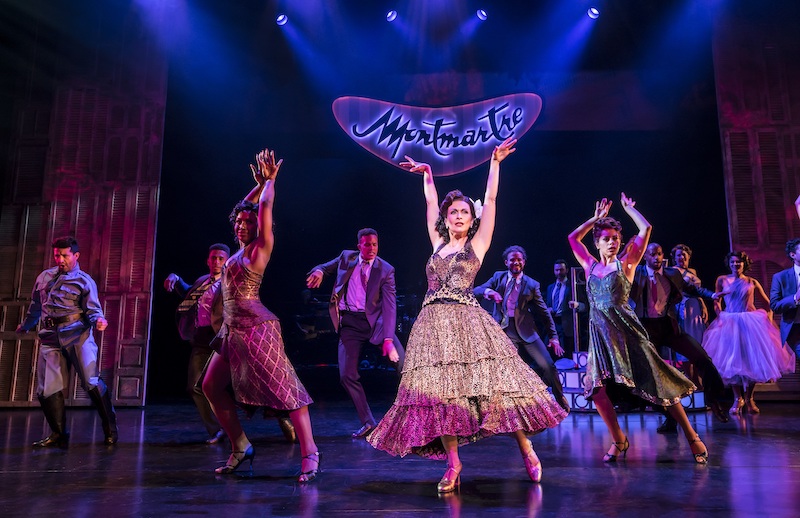 Prades is a winning presence as Gloria, with bright vocals and energetic moves; Ioannides provides the requisite swagger and underlying sweetness for Emilio; and Mann is a scene-stealing pleasure as Gloria's mischievous granny. The sensational Madalena Alberto feels somewhat wasted as the uptight, embittered mother – though she delivers the role with conviction, she's so phenomenal in her flashback number (pictured above) that you long for more excuses for Gloria Fajardo to take centre stage.
David Rockwell's sliding flats look rather cheap, with unimaginative projections providing information like tour locations. Trujillo's hip-swivelling choreography fares better; if untidy in the sync work, the salsa partnering is still great fun, and there's clever reflection of each number's context – from the use of billowing sheets as the young Gloria prepares to do laundry, through to "Conga" building in popularity via the band playing bar mitzvahs, weddings and Vegas, demonstrating the song's universal reach as participants from each join forces.
Also impressive are the onstage musicians, directed by the Estefans' bandleader Clay Ostwald, creating a dynamic live version of their distinctive sound. Perhaps the best moment of the evening is the encore medley of hits, when the show throws off the shackles of traditional narrative and instead lets the whole ensemble cut loose, interact with the band, and invite the audience to join in. That's when the invitation to get on our feet finally feels earned.
Every time the cast launches into a big upbeat number, with Sergio Trujillo's choreography kicking into high gear, the show becomes irresistible
rating
Explore topics
Share this article