Anatomy of a Scandal, Netflix review - sex, sexism and the abuse of power |

reviews, news & interviews
Anatomy of a Scandal, Netflix review - sex, sexism and the abuse of power
Anatomy of a Scandal, Netflix review - sex, sexism and the abuse of power
Sarah Vaughan's novel gets a binge-watching makeover from David E Kelley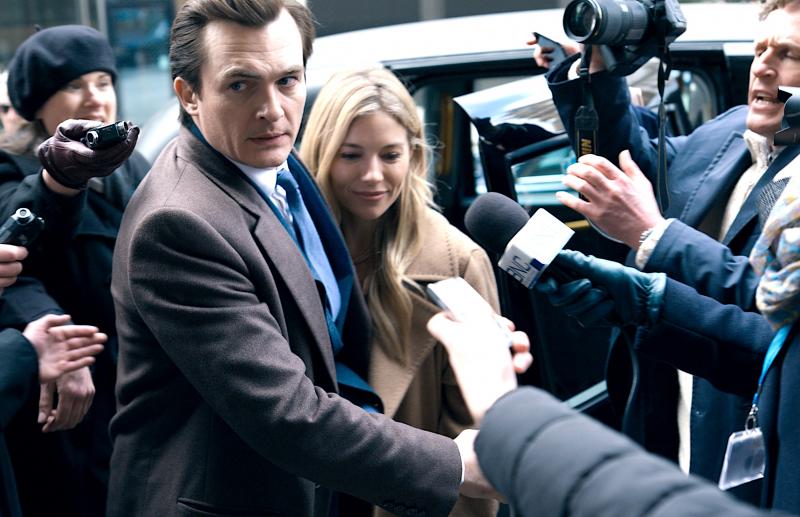 James and Sophie Whitehouse (Rupert Friend and Sienna Miller) run the media gauntlet
British political life in the Boris Johnson era routinely seems stranger than fiction, and this adaptation of Sarah Vaughan's novel about a Flashman-style Tory MP should delight all those who view Westminster as a sewer of privilege, corruption and back-slapping old-boy networks.
Refreshingly, it doesn't dabble in actual politics at all, but the action speeds along with an easy fluency which comfortably carries the viewer over its multiple absurdities.
Rupert Friend plays James Whitehouse, a Conservative minister under the Prime Ministership of Tom Southern (Geoffrey Streatfeild). A smooth and rather supercilious high-flyer, Whitehouse is married to the poised and glamorous Sophie (Sienna Miller), with whom he has two children, and is currently piloting a new immigration bill through Parliament. Nothing can possibly go wrong as he strides up the career ladder, until the Mail publishes the story of James's affair with one of his aides, Olivia Lytton (Naomi Scott).
He duly goes through the motions of apologising sorrowfully to Sophie ("she doesn't mean anything to me … it was just sex") and facing the assembled media ("I made a mistake"), and for a while it appears that he might be able to sail through this little imbroglio suffering only minor cosmetic damage. But then Lytton accuses him of rape.
Adapted for Netflix by David E Kelly (whose raft of major TV credits includes Chicago Hope, Ally McBeal and Big Little Lies) and Melissa James Gibson (House of Cards), Anatomy of a Scandal is a sleek commercial product which presses a number of contemporary hot buttons, including male privilege, sexism and abusive power relationships, while never allowing the pace of the drama to slacken. It must also be said that it doesn't baulk at the most glaring of cliches, and there's a late identity-reveal which is a crime against credibility, but Kelley has an unerring knack for hitting an audience's pleasure centres.
It was inevitable that Whitehouse and the Prime Minister would both happen to be alumni of an Oxford University group which called itself the Libertines, which is merely a flag of convenience for the Bullingdon Club. We're treated to scenes of disgustingly privileged young men making beasts of themselves with drugs, booze and girls – though it's disorientating that the young actors look nothing like their later adult selves – and it transpires that Tom Southern's determination to stand by Whitehouse as he runs the gauntlet of media notoriety dates back to a horrific episode from their Libertines days. There's some knockabout jokey stuff with Downing Street's media manager Chris Clarke (Joshua McGuire), a bellowing foul-mouthed yob ("the road is paved with MeToo landmines!") who might possibly be a distant relative of Alastair Campbell.
Meanwhile nothing succeeds on screen like a momentous court case, and Anatomy… gives us one in spades. Michelle Dockery (pictured above) plays prosecuting QC Kate Woodcroft, a diligent workaholic with an inherent loathing of men like James Whitehouse. It's disappointing, though, that the role finds Dockery reverting to her monotonous "Lady Mary" droning voice. Much more entertaining is her legal rival Angela Regan (Josette Simon), who always comes out swinging until the judge tells her to back off.
Anatomy… is a crafty mixture of classiness and crowd-pleasing pot-boilerishness, referencing major issues and slickly filleting them into commercial catnip. Friend and Miller both pitch their performances just right, even if we could have done with a little more delving into Sophie's past. We get hints that she isn't the paragon of rectitude she appears to be, which might have thrown a different light on her relationship with James. But if it's binge-watching you crave, this will do nicely.