Daisy Jones & The 6, Amazon Prime review - hit rock'n'roll novel doesn't make great TV |

reviews, news & interviews
Daisy Jones & The 6, Amazon Prime review - hit rock'n'roll novel doesn't make great TV
Daisy Jones & The 6, Amazon Prime review - hit rock'n'roll novel doesn't make great TV
Fictional band can't match the legend of Fleetwood Mac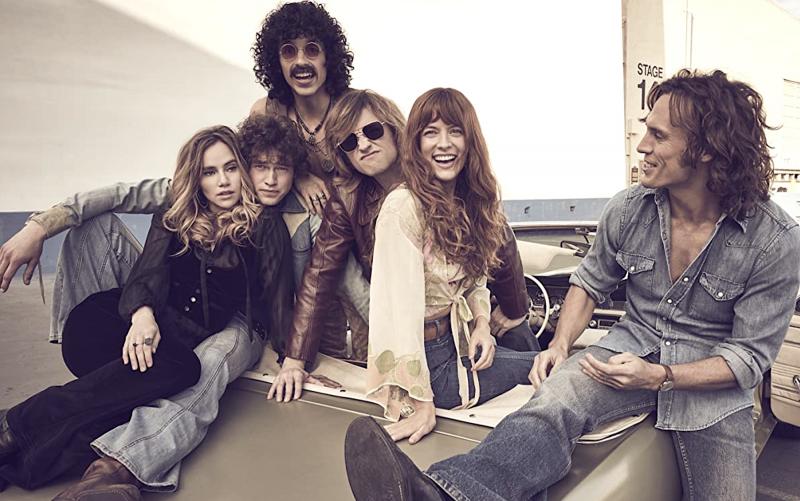 Band on the run: Suki Waterhouse, Will Harrison, Josh Whitehouse, Sebastian Chacon, Riley Keough and Sam Claflin
Based on the bestselling novel by Taylor Jenkins Reid, Daisy Jones & The Six is the rags-to-riches-to-wreckage story of the titular Seventies rock band, supposedly somewhat based on Fleetwood Mac.
Their journey from their fashion-defying hometown of Pittsburgh to Los Angeles and thence the world follows a well-worn trail carved by countless aspiring rockers, and doesn't do it quite interestingly enough to justify its 10-episode length.
Much of the gossip about the show has centred on Riley Keough's performance as Daisy Jones, whom we first encounter as a rather dithery apprentice singer-songwriter haunting the clubs on the Sunset Strip. She seems a bit more Joni Mitchell than Stevie Nicks when we first meet her, singing wistfully flowery lyrics to an accompaniment of gauzy acoustic guitar chords, but as the series progresses we learn that she is in fact determined, obstinate and single-minded. She's not at all averse to taking a song by band frontman Billy Dunne (Sam Claflin) and blithely rewriting his lyrics. He only discovers she's done this when they're standing at the microphone trying to record it.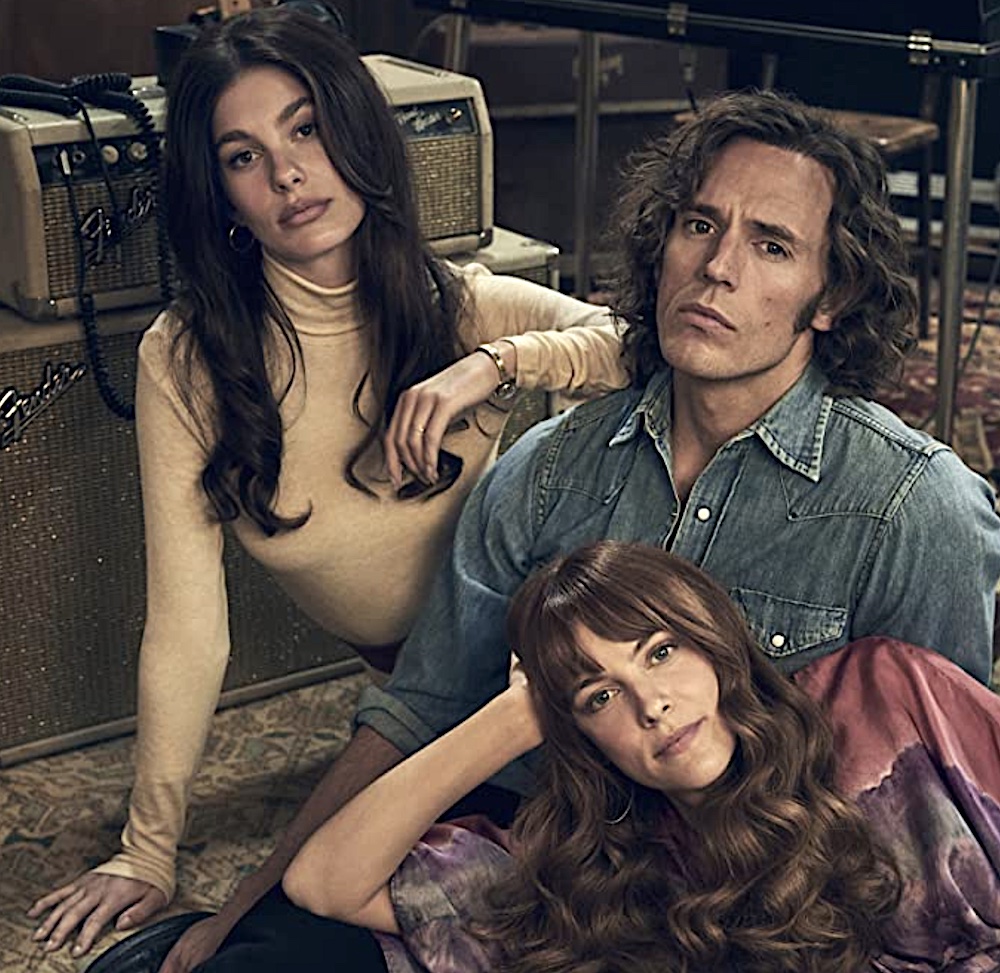 Keough is the daughter of Lisa Marie Presley and thus the granddaughter of The King himself. You can tell there's a little glimmer of stardust in her chromasomes by the way the camera seems to jerk to attention when she steps to the microphone and gives it both barrels on "Honeycomb" (the song she's just rewritten), suddenly creating a miracle male-female vocal blend with Billy.
Obviously superstardom beckons… but not quite yet, because the exasperatingly sluggish pace of the storytelling keeps everything dragging on a little, or often a lot, too long. Framing the show as a "rockumentary" in which the band-members reminisce about their career 20 years later doesn't help in this regard. Everything is spelled out in rather pedantic steps, from the band's snore-tastic origins as The Dunne Brothers – featuring not only Billy but also his younger brother Graham (Will Harrison) on lead guitar – to their months spent honing their craft at Filthy McNasty's club on Sunset Strip while living in a boho bungalow in Laurel Canyon to finally managing to persuade renowned record producer Teddy Price (a nicely laconic turn by Tom Wright, pictured below) to give them an audition.
An early tilt at stardom briefly looks promising until the band go on tour and Billy instantly descends into addictions to both drugs and groupies, to the disgust and horror of his Botticelli-esque wife Camila (Camila Morrone, pictured above with Keough and Claflin). "Same old rock'n'roll tale," mumbles Billy, "the drinking, the drugs the loneliness," as though he's writing picture captions to his own hackneyed life story. But having fallen into a yawning canyon of rock'n'roll cliché, the only way must be up, right?
The problem with doing a fictionalised story of a supposedly legendary band is that it's impossible to recreate the mystique and shared history that goes into building a real band, while Sam Claflin is never going to convince anybody he's the greatest Jim Morrison or Steven Tyler so far unfilmed. Though he does seem to have borrowed Roger Daltrey's hair.
Most of all, though some of the songs here feature the likes of Marcus Mumford, Jackson Browne and Taylor Goldsmith in the writing credits, none of them resembles a real West Coast classic like "Go Your Own Way" or "Take It Easy" or "American Girl". Including tracks from the likes of The Byrds, Patti Smith and Dusty Springfield on the soundtrack merely emphasises what the fictional group's songs lack. Meanwhile, film director Rob Reiner has announced that he's working on a sequel to his imperishable rock'n'roll satire This Is Spinal Tap. This may be exactly what we need.
The exasperatingly sluggish pace of the storytelling keeps everything dragging on interminably
rating
Explore topics
Share this article