Five Guys a Week, Channel 4 review - lemming-like contestants make spectacles of themselves |

reviews, news & interviews
Five Guys a Week, Channel 4 review - lemming-like contestants make spectacles of themselves
Five Guys a Week, Channel 4 review - lemming-like contestants make spectacles of themselves
Cattle market dating show is classic Channel 4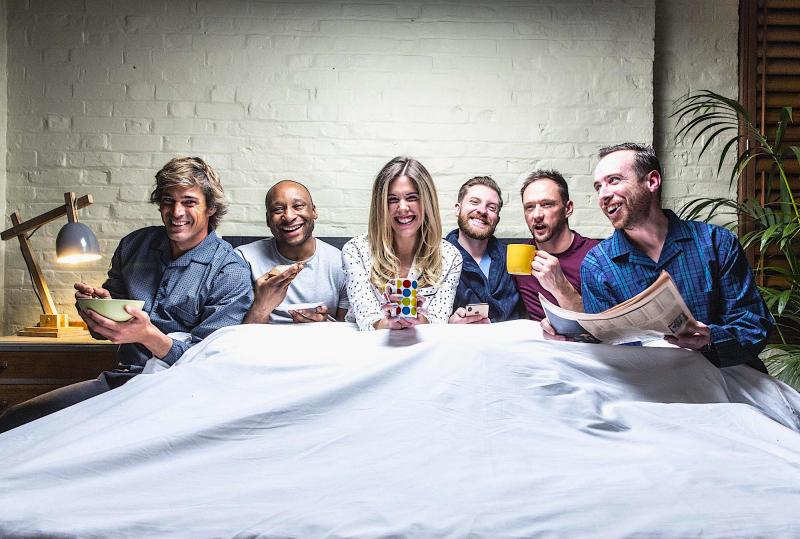 Six is a crowd: Amy and her guys
Channel 4 loves to walk the line between the compulsive and the repulsive, and this new dating show, complete with fake-salacious title, is a peerless specimen.
The set-up is simple – one woman asks five guys who are "looking for love" to move in with her for a week, during which she chucks them out one by one and ends up with a winner.
What's amazing is how there's never a shortage of volunteers desperate to make physical and emotional spectacles of themselves as they strip naked (only metaphorically, but that could change) and parade their insecurities. The hostess for this inaugural episode was Amy, a 30-something single mum living in St Albans. Glamorous, witty and impressively poised, Amy looked like the last woman on earth who needed to play the reality-tv lottery to find a partner. She was enjoying herself, though. She was making the decisions, "and I love it!"
At least they shoot Love Island in the sun-drenched Mediterranean, but being filmed taking part in a getting-off-with-somebody contest in their suburban living room provokes a particular kind of horror. There's nowhere to hide. Not much chance of an intimate dinner for two when there's six of you, and a group booking for Military Wives at the local Vue has obvious limitations.
At least whoever selected the contestants seemed to have a deadpan sense of humour. There was Glen (38), a local government consultant and father of four. It wasn't long before he was cheerfully confessing that his ex-wife had had an affair with a 19-year-old, and that "I've not dated since before Justin Bieber was born."
Trystan, a tanned and blow-dried surfer, resembled a plastic replica of a young Dolph Lundgren, and was looking for a girlfriend who would climb a volcano with him and gaze at the stars. Stuntman Michael had played a starship trooper in Star Wars, not that anyone would have noticed obviously, while Scott, formerly an assistant bank manager, was now a country & western singer.
That left the alpha-male slot open for Christian, correctly identified by Amy as "a bit of a geezer" and a man given to decisive action. At 37, he'd already amassed a private cash mountain through his job as an international banking troubleshooter, and was looking for a suitable mate to spend it on. It was Chris who seized the moment by marching boldly into Amy's bedroom and giving her not so much a chat-up as a declaration of intent ("no-one's looking in the store cupboard are they, you've got to put yourself in the shop window," he reasoned). However, Chris's face was a picture when they all went out to Amy's favourite nightclub and she and Scott started snogging.
Just when matters were seeming a trifle predictable, the producers played their joker – it was Amy's mum, Jackie (pictured above). She invited the suitors round for Sunday lunch, and caused apoplexy by asking them if they were good in bed and revealing that "my husband used to like spanking me." No-one could think of an answer.
This is an absurd programme, and every scene has been blatantly manipulated in the edit suite, but they managed to eke out the tension until the end. Valuable things we learned were that taking over the kitchen and burning the bacon isn't the swiftest route to a lady's heart, and a country song called "It Ain't California Without You" sounds ridiculous in Hertfordshire.
A country song called 'It Ain't California Without You' sounds ridiculous in Hertfordshire
rating
Explore topics
Share this article