Frasier, Paramount+ review - he's back! But should he be? |

reviews, news & interviews
Frasier, Paramount+ review - he's back! But should he be?
Frasier, Paramount+ review - he's back! But should he be?
Can Kelsey Grammer and a new cast make lightning strike again?
Kelsey Grammer as Frasier Crane, Jess Salgueiro as Eve and Jack Cutmore-Scott as Freddy Crane
F. Scott Fitzgerald said there were no second acts in American lives, but here's Frasier Crane coming back for his third. Frasier first appeared on TV in the third series of Cheers in 1984. After Cheers bit the dust in 1993, Frasier was transported from Boston to Seattle and reborn in his own show, which ran until 2004 and stands as one of the most revered comedies in TV history (alongside, it must be said, Cheers).
Twenty years on, you might think the odds were stacked against this re-revival of the pompous, pontificating
shrink
. We now find him transplanted back to
Boston
having created his own hit TV show,
Dr Crane
, in Chicago – "back in Beantown, what is a boy to do?" as Kelsey Grammer's Frasier sings, in the renovated "Tossed Salads and Scrambled Eggs" theme tune. But a long list of critical ingredients has gone missing, including his lover Charlotte (Laura Linney).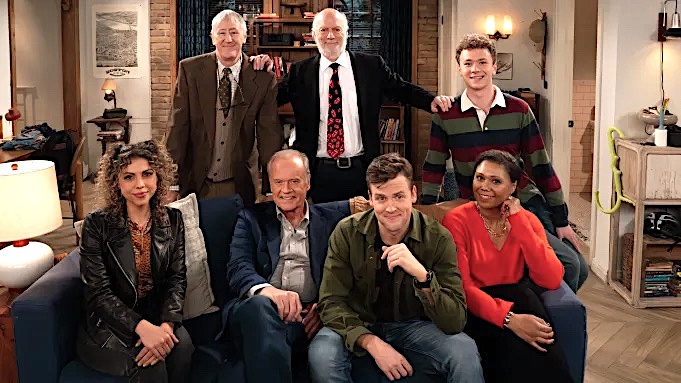 Most disturbingly, we no longer have Frasier's perfect foil, his younger brother Niles, who was played with telepathic expertise by David Hyde Pierce. Pierce apparently felt that the Frasier ship had sailed. Gone, too, is Jane Leeves's Daphne and Peri Gilpin's Roz, while the death of actor John Mahoney spelled the end of Frasier's dad Martin. Eddie the dog? Nope, no sign of him either. Still, it's not all bad – nobody's going to miss Daphne's freak-show family.
So it's a big ask for the new crew surrounding Frasier, as he takes up a new career in his rediscovered town. But historical links have been carefully forged to give the new series some connection to its forebear. Back in Boston, the spirit of Martin Crane lives on at Mahoneys bar, while Frasier wants to reconnect with his son Freddy (Jack Cutmore-Scott). To his horror, Freddy has dropped out of Harvard and become a fireman (a not-too-subtle echo of Martin's career as a cop). Freddy has told his workmates that his father died during his childhood, impaled by a falling radio antenna, so his surprise arrival on the doorstep is somewhat embarrassing. Freddy is also smarting from Frasier's patronising dismissal of his chosen profession, and does his best to send his dad packing, but Frasier responds by buying the entire apartment block in which he's living and letting Freddy and his housemate Eve (Jess Salgueiro) live in it for free.
Also tagging along is Frasier's nephew David, the son of Niles and Daphne. Anders Keith plays him as an absent-minded, bumbling dork, and he's so blitheringly hapless that Freddy's fire-fighter pals treat him like an unfortunate simpleton and turn him into a kind of fire-station mascot.
All of which may not sound all that promising, but as you get two or three episodes in, glimpses of the old Frasier magic begin to manifest themselves. Chiefly, this is because of the introduction of Nicholas Lyndhurst as Alan Cornwall, an old friend of Frasier's from Oxford University who's now a tenured professor at Harvard, and his department head Olivia Finch (Toks Olagundoye). It's Olivia who wants to lure Frasier to take up a lecturing job at Harvard, but while Frasier typically assumes that this is because of his academic brilliance, what she really loves him for is his box-office appeal as a star of televised pop-psychology. The glimpse we get of Frasier's Dr Crane show looks like Jerry Springer meets Jeremy Kyle, and when he brings a bit of that into the lecture hall the students are mad for it.
Lyndhurst, too, is a pleasant surprise. Recruited after he shared the stage with Grammer in ENO's production of Man of La Mancha, Del Boy's younger brother plays the Cornwall role with an air of fatally cynical ennui, preoccupied with vintage malt whisky and shuddering at the thought of having anything to do with teaching students. As he likes reminding everyone, he has tenure and is therefore unsackable. His dry mockery of Frasier's pretensions looks likely to become a running theme.
Whether the adventures of a pretentious senior gentleman whose interests include opera, fine art, snobbery and haute cuisine (he insists on cooking cassoulet at Freddy's fire station) will make any sense at all after a 20 year gap remains to be seen. It's a lot better than it might have been, though.
Frasier is available on Paramount+ from 13 October