Grantchester, Christmas Special, ITV |

reviews, news & interviews
Grantchester, Christmas Special, ITV
Grantchester, Christmas Special, ITV
Seasonal cheer undermined by murder and emotional turmoil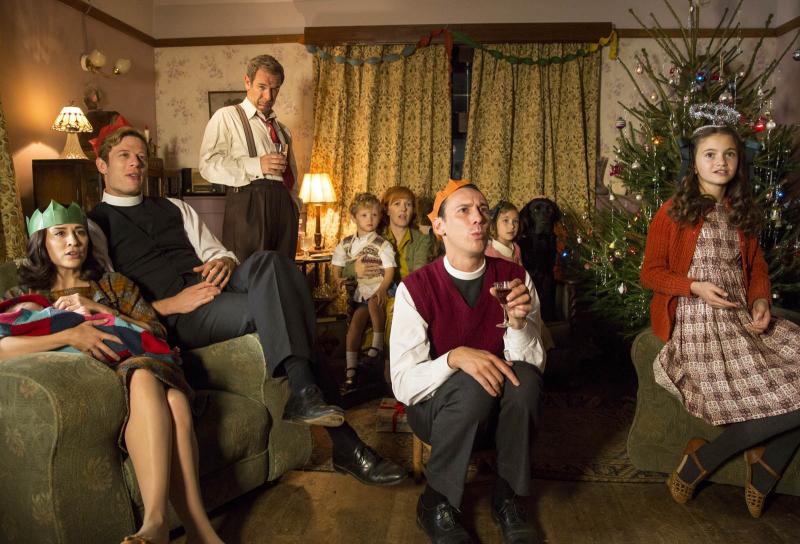 Christmas at the vicarage, 1954 style
Cambridge 1954, and Christmas was coming, which meant carol singing, mince pies and an unnecessarily conceptual nativity play. But murder was also on the menu, and once again handsome, jazz-loving vicar Sidney Chambers (James Norton) was about to prove himself a more imaginative crime-fighter than his buddy Inspector Geordie Keating (Robson Green).
Our victim on this occasion was a banker, Bill Davis, a widower about to marry his platinum blonde girlfriend Linda (Maimie McCoy) and then leave gloomy Fifties Britain for a romantic honeymoon cruise under sunnier skies. In doing so, he was defying the angry opposition of his son Felix, who made it plain that he considered nightclub dancer Linda little more than a scheming gold-digger. But Linda was left waiting at the altar, as indeed was Sidney, who was about to conduct the service. Bill hadn't been able to make it because he'd been battered and strangled to death at his ransacked office the night before, with the macabre detail of a couple of wedding rings shoved into his mouth.
All this murder-mystery stuff isn't the real point of 'Grantchester'
Suspicion promptly fell on elderly shopkeeper Albert Tannen (Julian Glover), who'd been the police's favourite suspect for the remarkably similar earlier murder of his daughter's fiance, a certain Charlie Parsons. The cops hadn't been able to make it stick then, but some convenient circumstantial evidence this time around made it look as if Albert might be due for the long drop.
But all this murder-mystery stuff isn't the real point of Grantchester, even though it's handy for giving a shape to an episode. It's really an off-kilter buddy story, where Keating's blunt, pragmatic attitude to his work (he can't see what's wrong with a spot of brute force or massaged evidence) is complemented by Chambers's more cerebral, empathetic approach. Mind (or spirit) versus matter, if you will.
The so-called "long arc" story in Grantchester is Sidney's seemingly impossible love for Amanda (Morven Christie), who has not only been pregnant with another man's child, but has to contend with the tight-lipped hostility of her martinet father Edward, who's all set to disown his daughter. Pip Torrens played Edward with the same deep-frozen ruthlessness he brought to his portrayal of royal aide Tommy Lascelles in Netflix's The Crown, and it was truly intimidating to behold. Even Anna Chancellor's resourceful Aunt Cece is having trouble working out a way to outflank him (Mamie McCoy and James Norton, pictured below).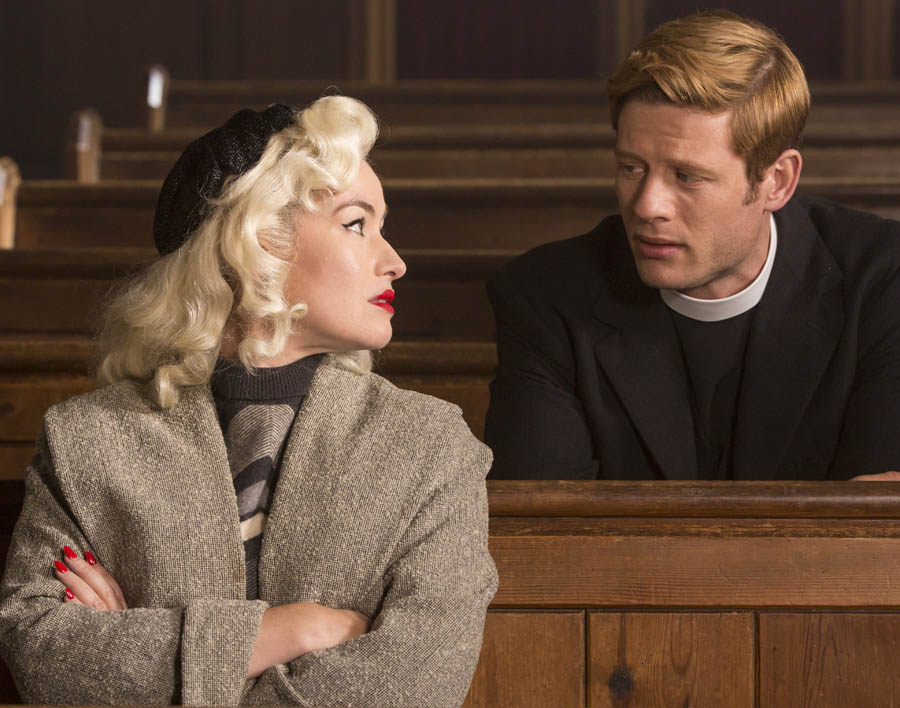 Norton and Green might have looked like a far-fetched pairing at first glance, but they strike a nice balance. Sidney's emotional plight has been driving him to smoke more cigarettes and drink more whisky than one might expect of a demure clergyman, and there was a beautifully-played scene where Geordie, waving a bottle, joined him in the snow outside the vicarage while Amanda was giving birth indoors. Geordie's sympathetic support and off-the-cuff relationship counselling to the crestfallen cleric explained a lot about how their relationship works.
Threading through the narrative was comic relief from vicarage housekeeper Mrs Maguire (Tessa Peake-Jones), while gay vicar Leonard (Al Weaver) confounded the local congregation by berserkly turning the kids' nativity play into a Brechtian political tract. As for the murder puzzle, they solved it of course, thanks to a sudden intuitive leap from Sidney (the clue was in the killer's hair). But it was a doddle compared to sorting out his love life.