Jacqueline du Pré: A Gift Beyond Words, BBC Four review - ode to joyful cellist |

reviews, news & interviews
Jacqueline du Pré: A Gift Beyond Words, BBC Four review - ode to joyful cellist
Jacqueline du Pré: A Gift Beyond Words, BBC Four review - ode to joyful cellist
More gush than grit in a greatest-hits compilation from the filmmaker who knew her best
They were the best of times: Jacqueline du Pré with two convivial partners, Pinchas Zukerman (violin) and Daniel Barenboim (piano)
Hyperbole be damned. The most iconic English classical recording was made on 19 August 1965 in Kingsway Hall, London. Like Maria Callas singing Tosca, Jacqueline du Pré simply was the Elgar Cello Concerto once the LP hit the shops in time for Christmas.
Proud, diffident, exuberant, reserved – all those words the English once used of themselves became freely associated with both performer and work, the two almost indistinguishable from one another in popular imagination.
Again like Callas, she was a heaven-sent gift for EMI, and not a moment too soon. By 1965 Callas was on the slide – she had ended her stage career the month before the mikes were hung in Kingsway Hall – and would soon be reduced to croaking out back-numbers in recital concerts even her most avid fans wince to recall. Here was another striking rather than beautiful musician in supreme command of her instrument, easy to photograph, possessed of unnerving artistic confidence. That Elgar recording has never left the catalogue since (young genius in the making, pictured below).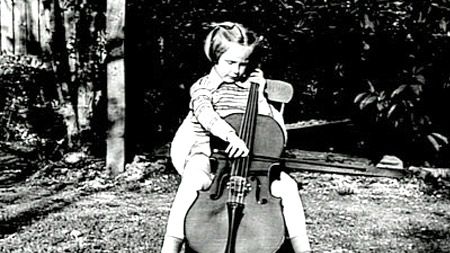 Thirty years have passed since her death from multiple sclerosis, aged just 42. Time for a fresh perspective? Perhaps, but this isn't it. Ten years older than her, the film-maker Christopher Nupen first met du Pré in the spring of 1961. Having trained a camera on her throughout her career and into its twilight, he is more responsible than anyone for du Pré iconography (that 100-watt smile etched on the memory), her most devout chronicler and keeper of the flame.
At least five separate Nupen documentaries have been boiled down to less than an hour. Would you know, if you didn't know? The title certainly offers a hostage to fortune. The director's own narrative never gets off its knees. Cut in close sequence, one distinguished friend and colleague (the Venn diagram overlapped almost too perfectly) after another queues up to prove that, yes indeed, the cellist's gift was beyond words.
A rare musical insight is imparted by du Pré herself. Her teacher William Pleeth "formed the spine of my cello playing," she says in her funny butter-wouldn't-melt English cut with a Guernsey-native accent. Duets with him – two cellos together make a glorious, bantering sound, like old pals after a good Sunday lunch – are among the highlights of the hour. Pleeth himself gets down to brass tacks. No wonder "anything was possible" with a pupil who, aged 13, would learn, memorise and master a finger-twisting Piatti study and almost half the Elgar concerto within the space of 48 hours.
The spine of A Gift Beyond Words is formed by Nupen's 2001 documentary, Remembering Jacqueline du Pré. A few years earlier the music establishment had closed ranks when the cellist's sister and her husband had the temerity to go public with a lurid tale of affairs, tantrums and breakdowns – everyday stuff, it has to be said, behind the scenes of a world populated by (sorry) highly strung individuals, but the resulting Hilary and Jackie film of 1998 scored a success while upsetting, it seemed, almost everyone who knew her (du Pré and Barenboim, pictured below) .
Nupen claims never to have seen the film, but most of his talking heads surely did. At least, that's one explanation for the brittle insistence from all concerned upon du Pré's honesty, kindness, generosity. She was not vain, petty or envious. And I'll sue anyone who says she was (Daniel Barenboim doesn't say that, but Hilary and Jackie still can't be shown in France under legal menaces).
Zubin Mehta singles out Nupen's film of The Trout Quintet as his favourite memory of du Pré – as well he might, having learnt the double-bass for the sole purpose of playing the piece with her. The violinist Itzhak Perlman confesses that she ruined it for him – never could the spirit of those sessions be recaptured with anyone else. If only as an extended invitation to watch and marvel at five young musicians of superabundant gifts, in love with Schubert, with Sixties life and (in some cases) with each other, this tribute has its place.
Anything was possible with a pupil who, aged 13, could learn half the Elgar concerto within 48 hours
rating
Share this article