Killing Eve, BBC One review - the dying game |

reviews, news & interviews
Killing Eve, BBC One review - the dying game
Killing Eve, BBC One review - the dying game
Sisters are doing it for themselves in semi-comic spy caper
Sunday, 16 September 2018
Deadlier than the male: Jodie Comer as the murderous Villanelle
It may be a sign of the times that the two lead performances in Killing Eve are female, with Jodie Comer fizzing hyperactively as shape-shifting assassin Villanelle and Sandra Oh (from Grey's Anatomy) as British intelligence officer Eve Polastri (pictured below). Yet simultaneously, the show has a comic campness and air of fantasy that feels Sixties-like, reminiscent of such timewarp delights as The Avengers or Modesty Blaise.
Amazingly, they had female leads back then too.
My crystal ball (alias BBC Previews) tells me that the cracks start to show as Killing Eve works its way through its eight-part run (the freewheeling wackiness eventually starts to make your teeth grate, and six episodes would probably have been enough), but it was sound strategy to make sure that this opener was possibly the best episode. With a screenplay by Phoebe Waller-Bridge, from Luke Jennings's novel, it catapulted us into an exotic and sometimes incredible world of spies, lies, fabulous frocks and murder most exotic.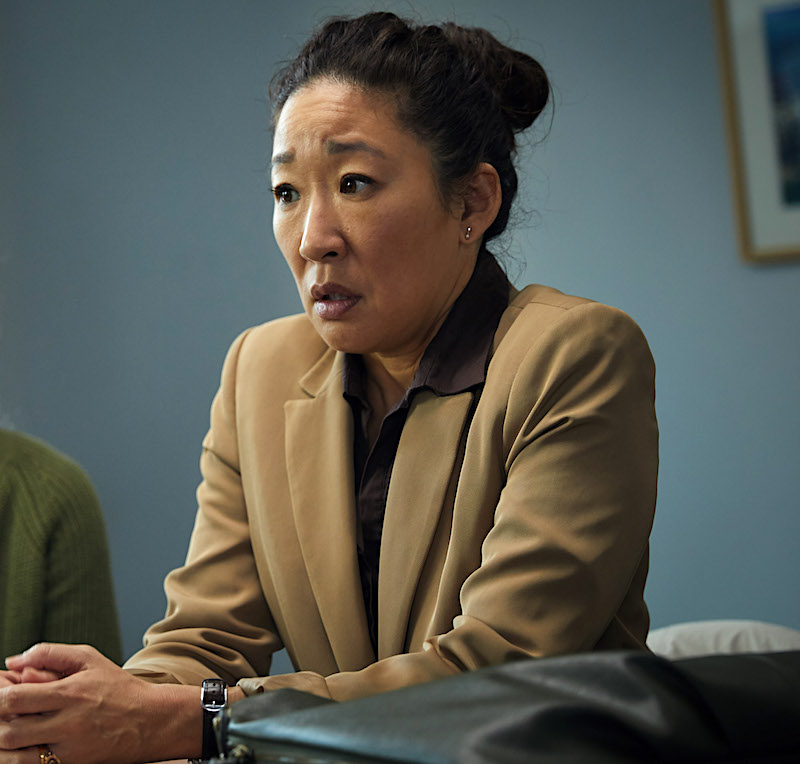 Villanelle is described by one of her victims as "a small-breasted psycho", and in Comer's portrayal she radiates a carefree childlike cruelty, as if she'd spent her early years tormenting insects and small animals and graduated naturally to killing people. An early hint was the scene in a Viennese cafe, where Villanelle, having been smiling benignly at a young girl on a nearby table, casually flipped the child's ice cream off the table and down her dress as she walked past towards the door.
The plot whirred into action after a Russian politician involved in sex-trafficking was found murdered in that same Vienna, and MI5 took a particular interest when the dead man's girlfriend Kasia fled to London for safety. Polastri is a fairly junior officer, but she's much cleverer than her supposed elders and betters. Her immediate boss Bill Pargrave (David Haig) is a decent chap but basically a bit thick, while Darren Boyd seems uniquely suited to the role of the pompous and uptight Frank Haleton. Eve experiences an intuitive flash that the killer must have been a woman, since the victim, a renowned misogynist, evidently hadn't regarded her as a threat. She's right of course, but why was somebody trying to conceal the fact? And why did they claim there was CCTV evidence when there wasn't? Does the enemy have a mole in the MI5 camp?
Girl-power is going to have to save the day, and Eve's latent skills are recognised by Carolyn Martens, head of the Russian Desk (played with beady-eyed shrewdness by Fiona Shaw, pictured left with Boyd). Meanwhile Villanelle's international killing spree continues with a flamboyant murder at a villa in Tuscany, where she deploys a long hairpin loaded with poison, before she brings it back home to MI5's turf and poses as a nurse to dispatch Kasia (plus innocent bystanders), the loose end from the Vienna job. The eminence grise is Villanelle's handler Konstantin Vasiliev (Kim Bodnia, familiar as Detective Martin Rohde from The Bridge), a wily veteran of Russian intelligence who, as viewers will learn, has numerous fingers in a multitude of clandestine pies.
At its best, Killing Eve is Murder Most Fun. Get in early before the rot sets in.
The complete series of Killing Eve is available at bbc.co.uk/bbcthree and iPlayer