The Last Kingdom, Season 4, Netflix review - blood, guts and dirty politics |

reviews, news & interviews
The Last Kingdom, Season 4, Netflix review - blood, guts and dirty politics
The Last Kingdom, Season 4, Netflix review - blood, guts and dirty politics
There's no rest for Uhtred in post-King Alfred England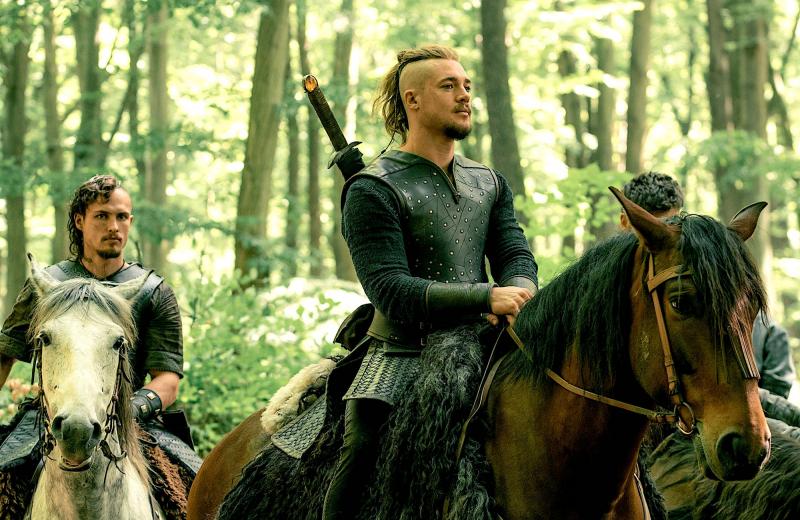 Alexander Dreymon as Uhtred, with Arnas Fedaravicius as Sihtric
Meanwhile back in the Dark Ages, Uhtred (son of Uhtred) is still seeking to reclaim his ancestral seat of Bebbanburg and manoeuvre through the treacherous currents of Saxon politics.
The big question was, how would this fourth season manage in the aftermath of the death of
King
Alfred?
The king's death has not only deprived us of David Dawson's superb performance, but removes the yin and yang of the Alfred-Uhtred struggle which was one of the main drivers for the first three seasons. The exasperatingly pious and unforgiving Alfred was very difficult to like, and he could hardly stand up straight for the size of the chip on his shoulder about Uhtred (Alexander Dreymon), but the tension between them mirrored the central theme of Uhtred's struggle to unify the Saxon and Viking aspects of his character. Besides, the more Alfred behaved like an ungrateful sonofabitch, the more it goaded Uhtred to ever greater feats of heroism.
The good news is that The Last Kingdom (Netflix) continues to fascinate and intrigue, even if it has lost a degree of emotional intensity. Skulls continue to be split open and bodies hacked and trampled in the mud, though it would be nice if they could find more variety in the Hungarian locations – often it looks as though you're seeing the same bit of scenery again, just with a different caption.
Part of Alfred's legacy to Uhtred was to persuade him to stick around to support his son Edward (Timothy Innes), Wessex's naive new king, and this has proved problematic. Though we see some signs that Edward may have the seeds of leadership within him – his shrewd refusal to be drawn into battle on the Danes' terms, for instance, or his thinking-outside-the-box idea of installing Uhtred as Mercia's acting supremo – he can also be woefully petulant and indecisive. At the climax of this new season, as the Saxons struggle with the Danes for control of Wessex's capital, Winchester, Edward's blind panic can only be rectified by another superhuman performance from Uhtred, the Ben Stokes of the Saxon squad.
And yet, we also see evidence that Uhtred isn't infallible. His difficulties with his son and daughter are understandable, since they've been victims of the great Saxon-Dane divide too and must make their own accommodations with it. For his part, Uhtred has to accept that they've inherited his own adamantine stubbornness. More disturbingly, his obsession with regaining Bebbanburg leads him into a hare-brained scheme to recapture it with just his boisterous right-hand man Finan (Mark Rowley) and his handful of buddies. Their bafflingly inept raid does have the virtuous side effect of erasing his odious uncle Aelfric (Joseph Millson) from the chessboard, but resolution of the Bebbanburg succession will have to wait until series five (at the earliest).
Behind it all, the dynastic wheels keep grinding as characters scheme and jostle for advantage. Mercia's reprehensible ruler Aethelred (Toby Regbo) suffers the consequences of being duped into taking his army to East Anglia when the Danes nip round the back and invade Mercia, but Alfred's daughter Aethelflaed (Millie Brady) steps up to seize the family leadership baton, even if she's more reminiscent of a health and beauty editor at Conde Nast rather than a Ninth Century warrior queen. The writers seem to be making an effort to rehabilitate Alfred's uptight widow Aelswith (Eliza Butterworth), dialling down her murderous spite against Uhtred and installing some more recognisably human traits (pictured above, Aelswith with King Edward and Aethelhelm). Meanwhile Edward's entirely justified decision to sack his crepuscular adviser Aethelhelm (Adrian Schiller) is coming back to bite him. But that's just one of the storylines left to dangle frustratingly. Destiny is all.