Life After Life, BBC Two review - déjà vu all over again |

reviews, news & interviews
Life After Life, BBC Two review - déjà vu all over again
Life After Life, BBC Two review - déjà vu all over again
Fine adaptation of Kate Atkinson's novel is touching and profound
Ursula (Thomasin McKenzie) and her brother Teddy (Sean Delaney)
If we could keep living our life over and over again, would we get better at it? This is the premise underpinning Life After Life, the BBC's four-part adaptation of Kate Atkinson's novel.
The story centres around Ursula Todd, as she grows up with parents Hugh and Sylvie (James McArdle and Sian Clifford) and assorted siblings in their home, Fox Corner. It's an Edwardian rural idyll of lush gardens, the murmur of bees and teas on the lawn.
But Ursula's progress through the 20th century and through multiple versions of her life will not be plain sailing. Indeed, her first attempt at being born finds her choked to death by her umbilical cord, though she's saved on the second try by the brisk intervention of the local doctor with a pair of scissors. Her hectic childhood is further scarred by being drowned in the sea and falling fatally out of a window. Later, she dies in the 1918 Spanish flu epidemic, but is soon back to have another go (the Todd family, pictured below).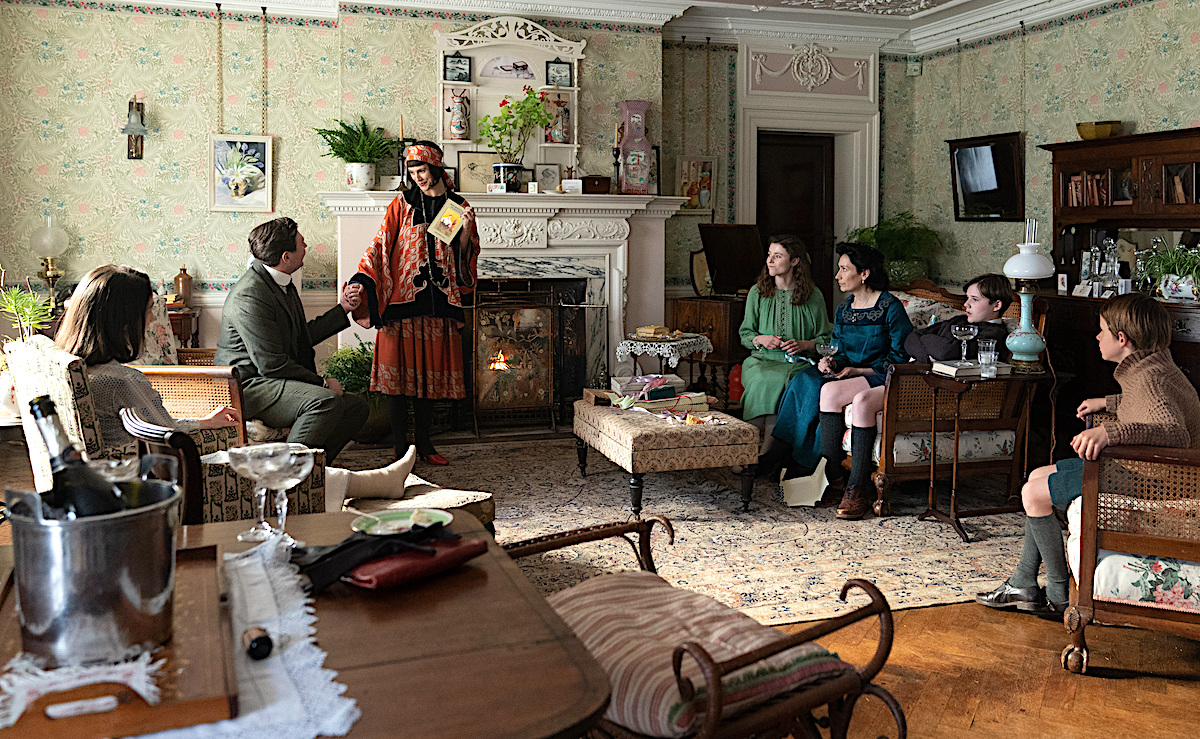 All of this leaves Ursula with a recurring sense of déjà vu, as if she can sense what's happening to her but can never fully grasp it. Her mother, concerned about her fretful mental state after Ursula pushes the family's Irish maid Bridget down the stairs – it was Bridget who brought the flu into the house to terminate Ursula's previous innings, so there is instinctive method in her mania – sends her to see a psychiatrist, Dr Kellet (John Hodgkinson). He provides a kind of framework for Ursula's strange destiny, refusing to give dogmatic answers to her questions – maybe she really did live previous lives, he reasons, or perhaps her déjà vu episodes are just a quirk of the process of memory, but we'll never know. It is he, too, who gets Ursula to think about the Hindu concept of reincarnation and going through enough cycles of rebirth to achieve enlightenment. Bill Murray did it in Groundhog Day.
With a screenplay by Atkinson and Bathsheba Doran, and directed with painterly skill and a silky touch by John Crowley, Life After Life achieves its seemingly unreachable goals by anchoring its philosophical ambitions (and potentially preposterous string of deaths and resurrections) with some wonderful performances and absorbing narrative themes. Several performers play the different ages of Ursula, all of them excellent but with Thomasin McKenzie sticking most mesmerisingly in the mind as she embodies the young-adult Ursula, battling through a string of punishingly painful experiences. In one life-strand, she's raped by an American called Howie, a friend from Oxford University of her older brother Maurice. The event and a subsequent abortion arranged by her dazzling Aunt Izzie (a champagne-fizzing performance from Jessica Brown Findlay) pitch her into a calamitous spiral of hard drinking and a terrible marriage to a psychotic con-man called Derek (pictured below, Brown Findlay and Isla Johnston as young Ursula).
However, on her next circuit she's able to fend off Howie with a slap in the face, and is launched on a new life-cycle which takes her to Bavaria. Here she experiences two versions of a love affair with a German boy, Jurgen (Louis Hofman), one in which he's pro-Nazi and another in which he's anti-Hitler. But Good Jurgen dies in an air raid, as does Ursula's much-loved brother Teddy (Sean Delaney), shot down in his RAF bomber over Berlin.
What does it all mean? Are our lives governed by an inscrutable, unknowable fate or some divine being, or is it all just chance and happenstance? Ursula's older sister Pamela (Patsy Ferran) is in the latter camp – "a thing leads to a thing leads to a thing…" Her father Hugh, somehow serenely unscathed by his nightmarish experiences in the Great War, doesn't say much, but he has found his own answer. "Take care of each other – that's all I ask." This is a drama that will haunt you, like a recurring dream.
Ursula's progress through the 20th century and through multiple versions of her life will not be plain sailing
rating
Share this article