Loving Miss Hatto, BBC One/ Homeland, Series 2 Finale, Channel 4 |

reviews, news & interviews
Loving Miss Hatto, BBC One/ Homeland, Series 2 Finale, Channel 4
Loving Miss Hatto, BBC One/ Homeland, Series 2 Finale, Channel 4
Amazing tale of classical music fraud given heart and soul by Victoria Wood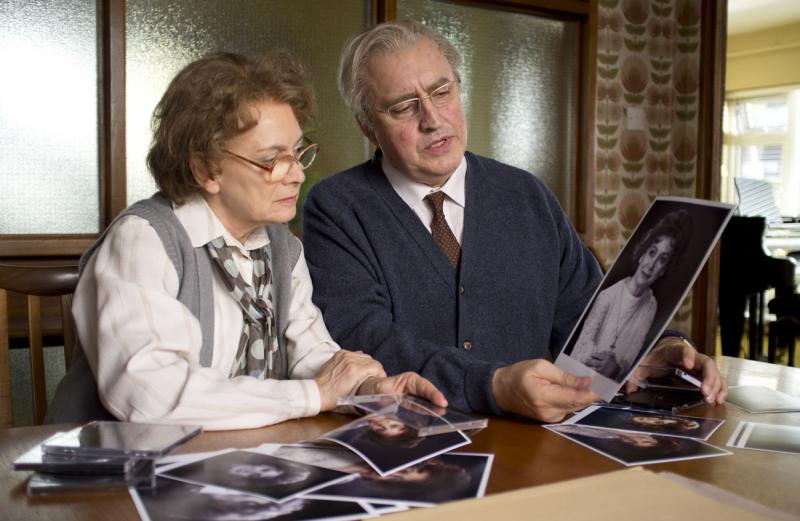 Francesca Annis as Joyce Hatto with Alfred Molina as her husband, Barrie
Joyce Hatto achieved a rare kind of immortality for being the pianist at the centre of an audacious classical music fraud, in which her husband faked "Joyce Hatto" CDs from the work of other artists and, for a time, enjoyed considerable success with them. The Hatto goose was cooked when the Gracenote music database used by iTunes detected that one of her albums was not her work at all.
A couple of novels based on Hatto-like events have already appeared, but for this TV treatment, writer Victoria Wood stuck to the couple's real-life story, though she had clearly allowed herself plenty of creative width in the process. Joyce Hatto died in 2006, and while her husband William Barrington-Coupe (or Barrie as he was known) is still alive, he has never been terribly forthcoming with the actualité.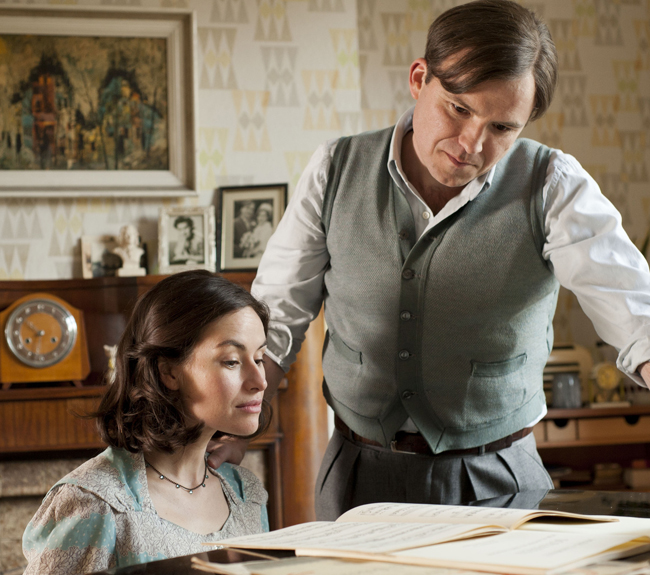 As presented here, Barrie was always a wide boy and a con man, though only in the nicest possible way. However nice that is. Wood's story was a classical game of two halves, the first part, set in the 1950s, telling the story of a talented but shy young musician who barely dared to dream of achieving any kind of success, and the classical musician's agent who vowed to make her an international star. All she had to do was play the piano, and he'd take care of all the rest.
Wood's deft writing was splendidly served by the cast. Rory Kinnear played the young Barrie with a perfect balance of cheeky charm, ambition and dodginess, while Maimie McCoy's fledgling Hatto was almost heartbreakingly naive, sincere and trusting (Kinnear and McCoy, pictured above). Her first meeting with Barrie, when he was bowled over by her as she was working as a rehearsal pianist for an orchestra, established her self-effacing character - "I'm just a rehearsal pianist, not needed on voyage," she muttered bashfully.
The fact that she was also unfeasibly glamorous wasn't lost on Barrie, though her obliviousness to such earthy concerns was drolly illustrated in their wedding night scene. While Barrie was eagerly waiting for her to slip into something more see-through ("let the dog see the rabbit," as he put it, to her bafflement), Joyce's attention wandered to the nearby piano, and she'd soon forgotten about her new husband altogether. "Oh lord!" she exclaimed, as he came back to find her. "Negligée... wedding night... I'm sorry!"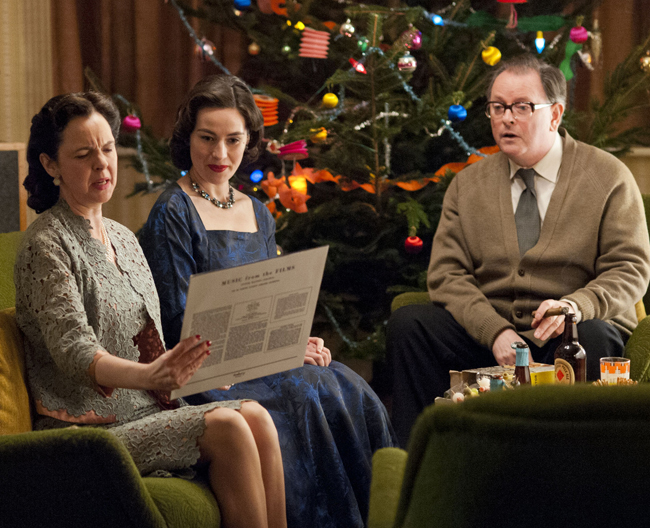 The 1950s milieu was evoked with painful authenticity, from the drab church halls where Joyce played to local music societies to the humdrum home life of the Hatto family, perhaps with Andy Stewart celebrating Hogmanay on the primitive TV (pictured left). Joyce's mother was played with shrewish impatience by Phoebe Nicholls, and her daughter was too eager to escape to heed her all-too-accurate warnings about Barrie's questionable credentials. But, try as Barrie might to launch his wife as a new classical sensation, eventually they had to face the fact that she somehow lacked the right stuff.
Then Wood fast-forwarded us to Royston, Hertfordshire in 2002, where Joyce had morphed into Francesca Annis and Alfred Molina was playing the older Barrie. Decades of disillusion had taken their toll - "living with a disappointed person is hard, it drains the flipping life out of you," as Barrie put it - and Joyce had grown cranky and resentful. Since she was also suffering from cancer, it was difficult to blame her, though the drastic change from her sweet and ingenuous younger self was poignant to behold.
Under the circumstances, Barrie's scheme to invent a fictitious Hatto who had suddenly become a reclusive recording phenomenon in her late years, although unscrupulous and illegal, was quite inspired. Wood evidently also enjoyed the idea that this odd little couple could pull the wool over the eyes of august classical critics from the Gramophone and Radio 3, who hailed the brilliant artistry of the long-lost Hatto (the critic who hailed a Hatto performance but slagged off the same recording by its true performer was, perhaps mercifully, omitted). Eventually, it was largely through the efforts of Gramophone editor James Inverne that the fakery scam was exposed.
Barrington-Coupe has always maintained that his wife was innocent of the fraud, and here it was left ambiguous, with Hatto seeming slightly detached from reality and not really grasping what was going on. Whatever the reality, it made a strangely touching slice of drama.
Homeland reviewed overleaf