Ozark, Series 4 Part 1, Netflix review - the Macbeths of the southern lakes in even deeper waters |

reviews, news & interviews
Ozark, Series 4 Part 1, Netflix review - the Macbeths of the southern lakes in even deeper waters
Ozark, Series 4 Part 1, Netflix review - the Macbeths of the southern lakes in even deeper waters
Marty and Wendy Byrde continue to thicken the swamp
Saturday, 29 January 2022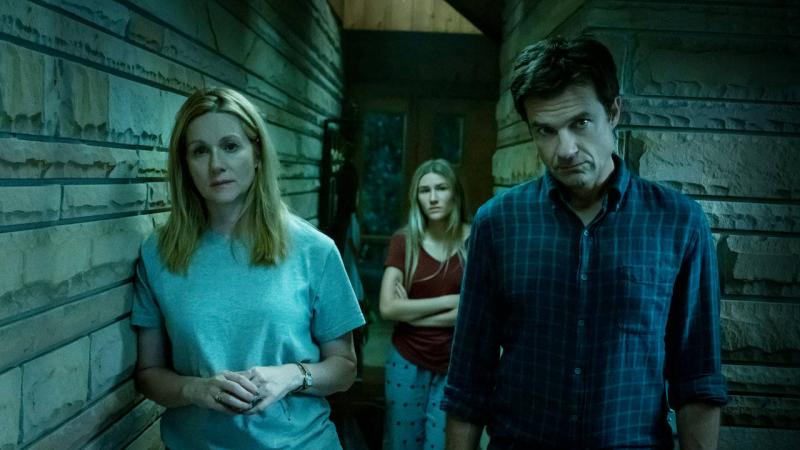 Laura Linney and Jason Bateman as Wendy and Marty Byrde, with daughter Charlotte (Sofia Hublitz)
They're back, the Lord and Lady Macbeth of the Ozark District, otherwise sleek-seeming middle class Chicagoans Marty and Wendy Byrde. And thanks to the super-subtle performances of Jason Bateman and Laura Linney, we hate them more than ever – except when they're up against worse.
It's clear where our sympathies should really lie, however complicated: with the young people caught up in the network of money-laundering, murder and general amorality. Ozark shares the concerns of Dickens over betrayed and abused children and adolescents. The Byrdes believe in family values, but are fucking up their children big time: computer whizz son Jonah (Skylar Gaertner) is coming into dangerous conflict with his mother by working for a rival set-up, while delightful Wendy is quite happy to screw the chances of daughter Charlotte (Sofia Hublitz) for a college education because she needs the girl's smartness to work for her. Marty seems to have a remnant of moral compass in this sphere, if nowhere else.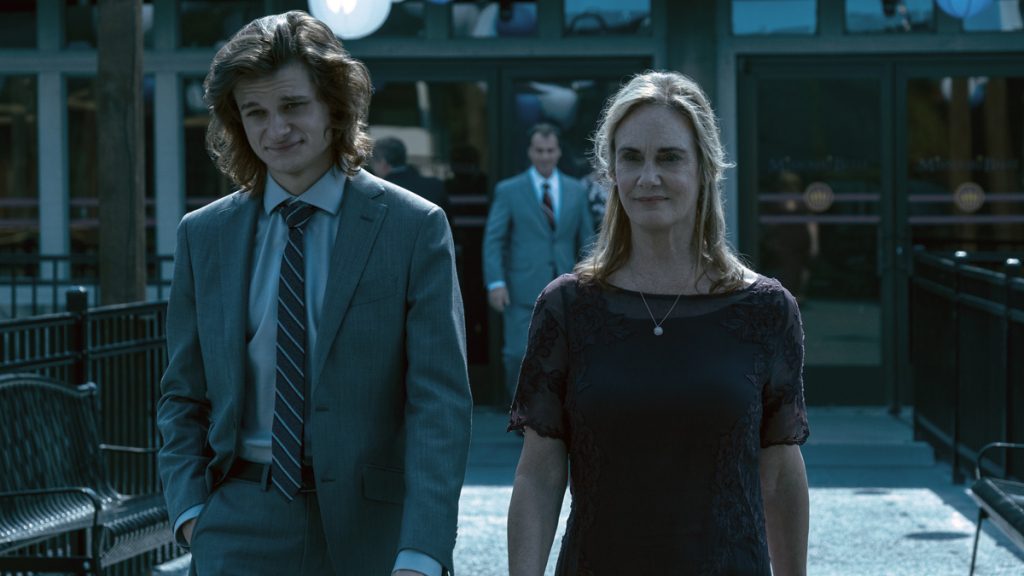 Then there are Julia Garner and Charlie Tahan as the more seriously abused cousins, she the daughter of a criminal low-lifer who's now out of the picture. Wyatt Langmore (Tahan) is now trapped in a relationship with a dangerous older woman, psychopath heroin-farmer Darlene Snell (Lisa Emery, riveting in every scene where she appears, pictured above with Tahan). Perhaps we root most of all for his cousin Ruth, a startlingly nuanced performance from Garner (pictured below with Gaertner). Nothing strikes home more poignantly than the scene she shares with Marty at the end of Episode Four, when she shows us how well she knows herself: "God's a motherfucker, isn't he? Made me smart enough to know how fucked up my life is, but not quite smart enough to haul my ass out of it."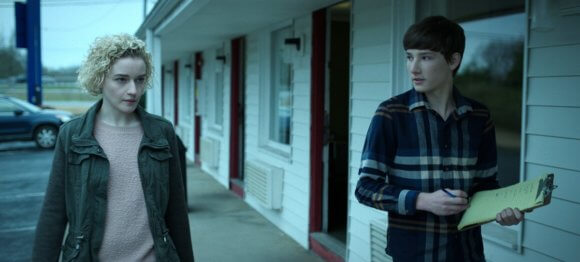 To reveal any more would be to seriously spoil viewing pleasure, especially for those who may not have seen previous series. Suffice it to say that in trying to get out from under the crushing machinery of the Mexican drug cartel for whom they work, the Byrdes are working with FBI officer Maya Miller (Jessica Frances Dukes); drug baron Omar Navarro (Felix Solis) seems ready to co-operate because it looks as if he might meet a sticky end at the hands of his suavely crazy nephew Javi (the seductive Alfonso Herrera). We're being given seven episodes of the season for now, presumably ending in another gobsmacking cliffhanger (I'm up to Episode Five), and the rest later this year.
So far, every episode has had that hallmark sense of constant unease punctuated by sudden shocks – so far provided by Darlene – compounded by an understated use of mood music and tracks on car radios. The acting throughout makes the sometimes ludicrous believable, and we're getting little shafts of insight into contemporary American problems (Big Pharma and the opioid crisis, Republican vote-rigging). The tension and the fascination don't ever let up. Succession lost my interest by the end of Season 1; this could go on and on as far as I'm concerned, though we're into the final stages. Utterly compelling.