The Queen's Green Planet, ITV review - right royal arboreals |

reviews, news & interviews
The Queen's Green Planet, ITV review - right royal arboreals
The Queen's Green Planet, ITV review - right royal arboreals
Gentle cliché met gentle cliché, but this film was charming, and the concept is fabulous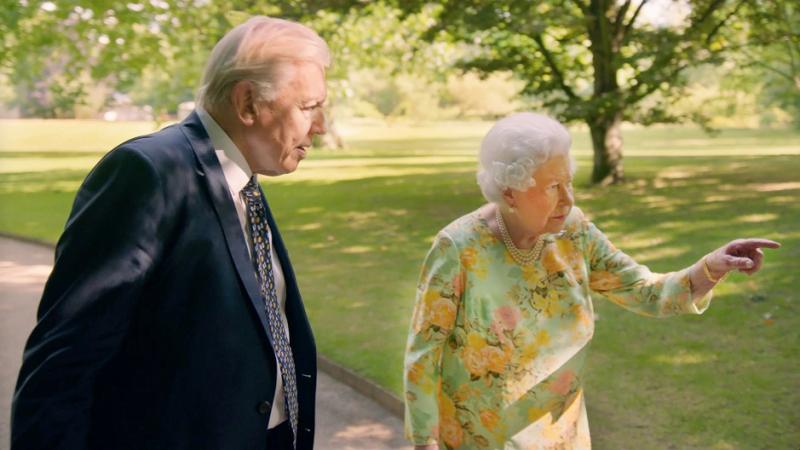 We are amused: Sir David Attenborough joins Her Majesty the Queen in the gardens of Buckingham Palace
QCC isn't the name of a new football club, nor some higher qualification for those toiling at the Bar, but stands for "Queen's Commonwealth Canopy". Had you heard of it? On the eve of the Commonwealth conference, along came Jane Treays's gently hilarious, and finally rather tender film to fill in the gaps.
Its central focus was on the nation's favourite nonagenarians, the Queen herself and Sir David Attenborough, pottering about and chatting in a garden – that quintessential English idyll – and not just any old garden, but that of Buckingham Palace. Quietly, they talk about saving the world. If you were thinking that sounded the tiniest bit, well, monotonous, fear not: Angelina Jolie and Boris Johnson cropped up, too.
Then, for some reason, Boris turned up. Saying he often communes in bosky glades. Come again, Boris?
HRH has always loved trees, and has planted thousands of them all over the world: cue clips of the young Elizabeth planting away wherever she went. There is even an accepted choreography, it seems: one, two, three ceremonial spadefuls, then people clap. On a more personal note, early film showed Lilibet and Margaret Rose, not to mention corgis, playing happily among them (pictured below).
But now HRH wants to initiate a green canopy all over the world, starting with the Commonwealth. (Actually, in its beginning, this was the inspired idea of that political and creative maverick MP, Frank Field. He couldn't get a government of any persuasion interested though, so he nabbed the Head of State instead.) Hard at her royal work, we witnessed audience after audience with Commonwealth leaders. At which point Angelina popped up to tell us that the Queen is a really lovely lady who cares about the future.
But first, back in the palace garden, we strolled under a huge avenue of plane trees planted by her great-great grandparents Victoria and Albert (the stately Victorian planes, bottom picture). Sir David and HRH united in their joint admiration of the London plane tree. A contemporary note came from the fact that we had to listen to their conversation over the enormous thrum of London traffic, punctuated by noisy aircraft.
James I planted mulberries for silkworms in the early 17th century, but he planted the wrong sort, so no feasting for the silkworms. Gazing at her mulberry trees, HRH speculated that that must have been a major disappointment. There are commemorative trees all over this garden, including one for each of her children, and many planted by her ancestors: oak, beech, chestnut, and that glorious London plane, of course. There were strong hints that HRH thinks trees are a way to help prevent the deleterious effects of climate change.
The Queen does not undertake official trips abroad now, so she has enlisted her grandchildren as QCC ambassadors. On their recent Canadian trip, the Duke and Duchess of Cambridge, complete with family, arrived for a kind of laying-on of hands. Five thousand miles away, across some 15 million acres of the Great Bear project in British Columbia, there is a huge rainforest which is now part of the QCC. They arrived in a deluge that engulfed the small town of Bella Bella (charmingly, the shower is called "Bella Bella sunshine"). The Great Bear is one of the first dedications to the QCC project, with more trees than the entire British Isles. The native Hansa people turned up in full regalia to approve and say their ancestors would be pleased.
Back at home base, a reception in the staterooms for the Commonwealth: those countries that have signed up, starting with Antigua and Australia and all after that in neat alphabetical order, got a certificate accompanied by royal congratulations and a handshake. (Rapped knuckles for the rest, you might imagine.) Each High Commissioner brought an environmentally correct gift for the monarch to commemorate the occasion. Then, for some reason, Boris turned up. Saying he often communes in bosky glades. Come again, Boris?
HRH is an expert on soft power and her family is in training. Prince Harry was in the Caribbean, visiting islands that have come on board: St Kitts and Nevis have committed their central forest reserve as a present for the Queen's 90th birthday. Harry has planted about 50 trees, but thinks HRH has planted thousands. She and Sir David have already remarked by now that – not least because she is rather hard to give presents to – plants and forests are being gifted worldwide.
Where was Angelina all this while? In Namibia, of course. Namibia is three times the size of the UK, but with only 2.5 million people it is the most sparsely populated country in the Commonwealth. It is now part of a huge replanting project, and, wow, there she was – Angelina, not the Queen – in a small plane (was she piloting?), observing trees replanted in the Namibian desert. She has set up Angelina's Nursery with the local San people, and here was her rainbow coalition of children helping. She told us once again that HRH is a lovely lady.
Back to colder climes, and Epping Forest – 55,000 trees there, some thousands of years old, the richest such terrestrial habitat in Europe. It was dedicated as a permanent open space by Queen Victoria and is now part of the QCC, too. Cut to next stop, winter in Windsor, and Christmas presents for the loyal, royal staff. They were lined up on the staircase, queuing for their royal handshakes and festive greetings, each receiving a framed certificate for trees planted in their names.
We ended with the Queen telling Sir David that well over half – 30 out of 52, so far – of the countries of the Commonwealth have signed up. Which, our wonderful oldies agreed, definitely helps the planet, its flora and fauna, and all of us, its inhabitants. A living royal legacy, for all the Commonwealth and presumably, after that, the whole world. For those concerned about what to give HRH for her next birthday, you now have the answer...