Rabbit Hole, Paramount+ review - sabotage, subterfuge and corporate skulduggery |

reviews, news & interviews
Rabbit Hole, Paramount+ review - sabotage, subterfuge and corporate skulduggery
Rabbit Hole, Paramount+ review - sabotage, subterfuge and corporate skulduggery
Can Kiefer Sutherland save the world from a megalomaniac mastermind?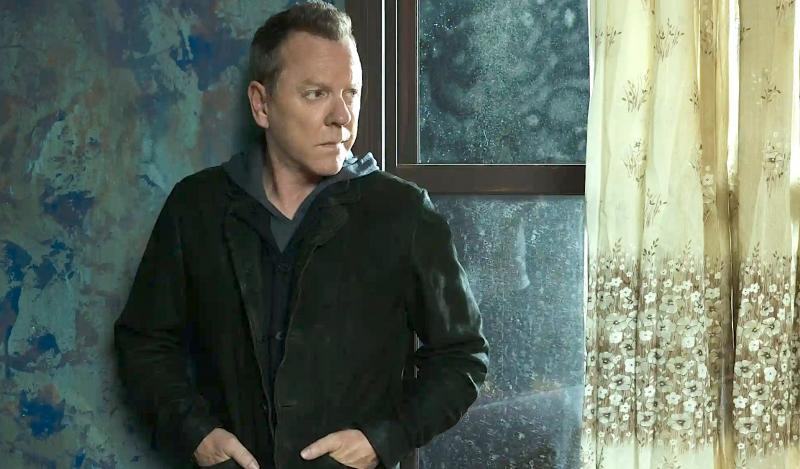 Paranoid, moi? Kiefer Sutherland as John Weir
Kiefer Sutherland has proved to be a hardy perennial over the decades, from movies like Young Guns and Flatliners to TV shows including Designated Survivor and especially the much-lauded 24. And he seems to have picked another winner with Rabbit Hole.
This time, Sutherland stars as John Weir. He works for a New York company called DBA Advisors and calls himself a financial consultant, but that barely tells a fragment of the story. Agent Jo Madi (Enid Graham) from the FBI's Financial Crimes Unit suspects him of corporate espionage and manipulating the markets on behalf of his clients, though she hasn't managed to prove it yet. A sting event where Weir's accomplices plant an incriminating envelope on their designated target doesn't exactly bring the word "ethical" to mind.
Writers/directors Glenn Ficarra and John Requa have enjoyed themselves hugely in making Rabbit Hole as twisty and tangly as possible, and the narrative is peppered with booby traps. We know Weir is going to be up to his neck in chaos and crisis because the opening scene of the first episode was a flashforward to him in a confessional, sounding desperate as he asked the priest to listen to his story. It's not long before we get to understand why.
Central to Rabbit Hole's vortex of paranoia and conspiracy is the abuse of technology to manipulate data and create illusions and parallel "truths". Why, for instance, would Weir slip the bartender in a swanky Manhattan watering hole an enormous tip to change the TV channel? Could it be something to do with enabling a fake item of financial news to be broadcast which shreds the share price of a company making a viagra-like product, allowing a predator to step in and grab a bargain?
And when Weir finds himself the object of desire (albeit for one night only) of the glamorous Hailey Winton (Meta Golding, pictured above with Sutherland), how come their hotel-room tryst has been covertly recorded? He blames the FBI, but he might be wrong.
Nonetheless, meeting Hailey is having beneficial consequences for the show, because their relationship develops into a fast and very sparky double act. Weir certainly needs all the help he can get as his world disintegrates around him. Imagine his horror when his face is flashed up on giant electronic hoardings identifying him as the prime suspect in the murder of a Treasury official. Picture his pain as his office building explodes spectacularly in front of him, killing most of his team. Share his anguish as his childhood buddy Miles Valence, CEO of Arda Analytics, takes a backward dive out of a high window as he watches helplessly.
With episode 3, subtitled The Algorithms of Control, we begin to get a sense of the scale of the show's ambitions. We'd already seen glimpses of John's troubled childhood and the suicide by shotgun of his father Ben, but suddenly Ben isn't dead after all. He's back, and he's being played by Charles Dance. We hear more about John's close friendship with Miles and how they started a company together, and it was Miles who conceived the idea of processing data and selling it to the highest bidder.
But it's Ben who alerts us to the sinister figure of Crowley, a megalomaniac mastermind planning to create a new world order. His plan is modest – he aims merely to destabilise governments worldwide and then install new candidates whom he controls. Rabbit Hole has many onion-like layers to be unpeeled, but already it's an addictive ride.