The Reckoning, BBC One review - Savile saga that doesn't tell the whole story |

reviews, news & interviews
The Reckoning, BBC One review - Savile saga that doesn't tell the whole story
The Reckoning, BBC One review - Savile saga that doesn't tell the whole story
The BBC's finely acted docudrama is too little, too late
Wednesday, 11 October 2023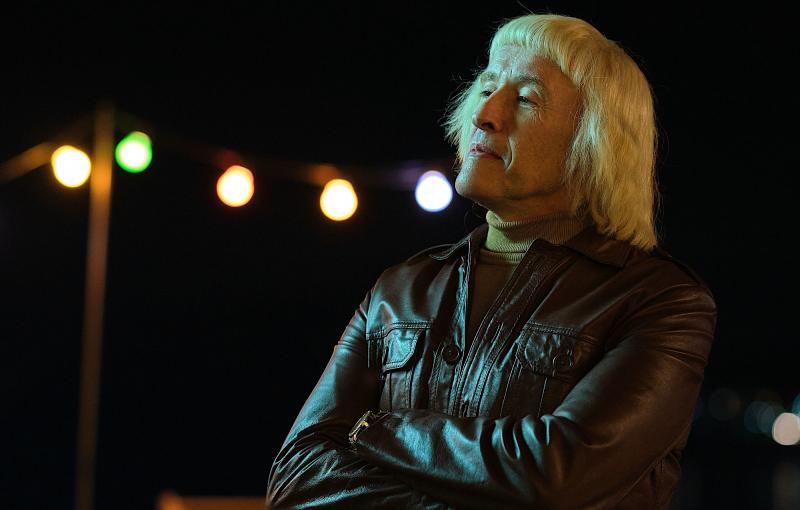 'King of Clubland': Steve Coogan in 'The Reckoning'
The problem with star casting is that the viewer can't escape what it is: a very well known face pretending to be another very well known face.
So Steve Coogan's portrayal of Jimmy Savile in The Reckoning is both a fine impersonation of the abusive DJ turned TV presenter and a distraction. He has been given a prosthetic chin and nose, a series of peroxide-blond wigs and (I'm guessing here) orthotics in his footwear that help him pull off that bandy swagger of Savile's. His costumes are note-perfect, a hideous collection of jazzy sportswear and lurid suits, and the script conveys the mad grandiloquence of Savile's speech-patterns – the hifalutin' diction peppered with biblical citations.
What he can't convey is the craziness in Savile's eyes, the jet-black pupils blanking out any nuance as they roll creepily in the whites. As the misery of his treatment of young teens and children unfolds, you try to imagine how demonic the real Savile must have looked in these sinister moments.
The producers of the drama, who include Jeff Pope, purveyor of other docudramas about shameful British criminality, most of them excellent, have gone out of their way to make this tasteless subject as tasteful as possible. We know when Savile's aggressive hands have reached their target solely by the wounded reactions on the victims' faces – but that's upsetting enough. All praise to the young actors who signed up for this project and turned in such moving performances. You can only hope they aren't left with lasting scars.
The real-life victims, four of whom contribute to-camera interviews for the opening and closing stretches of the four one-hour episodes, weren't so lucky. The taint of their abuse by Savile has never really left them. Their pain makes you want to understand more about how he evolved the way he did. He clearly had an unhealthy relationship with his mother, "the Duchess", whose dead body in an open coffin he sat with for five happy days, but we learn little more.
The script is more interested in trying to show us how Savile got away with his abuse for so long, while being lionised along the way for his charity work, given an OBE and eventually knighted in 1990. Surely somebody at the hospitals, the detention centre, the BBC noticed what was happening inside his camper van and the back seat of his Roller? (Pictured above, Savile with BBC executives: Michael Jibson as Bill Cotton and Julian Rhind-Tutt as Johnnie Stewart)
The drama is based on an investigative account of just that concern by Dan Davies, In Plain Sight, which appeared in 2014, three years after Savile's death. We see Davies (Mark Stanley) repeatedly turning up at Savile's beachside penthouse in Scarborough with his tape recorder and being tied up in "evasions and riddles" by Savile, whose vanity won't quite let him step out of the limelight.
The action goes back only as far as 1962, when the 36-year-old Savile is an ambitious club DJ in Manchester, working with a fellow paedophile he claims to have adopted, and luring in unsuspecting young girls with his patter. His lust takes him to Leeds General Infirmary, where a sweet-natured head porter, Charles Hullighan (Mark Lewis Jones), somewhat reluctantly gives him access to the wards, to cheer up the kiddies. One costume you won't easily forget from this section is his jester's outfit, as eerie as any horror film monster's.
Already, women are pushing back, especially Beryl, the future Mrs Hullighan (Siobhan Finneran, pictured below with Mark Lewis Jones and Steve Coogan), who, having herself rebuffed Savile's advances, tries to raise the subject of his abuse with her fiancé; similarly, at the BBC, music head Anna Instone (Barbara Wilshere) warns her male bosses not to hire him for their new show, Top of the Pops. But, as the script slowly establishes, celebrity breeds security. The higher Savile's profile rises and the more exalted the company he keeps – from Margaret Thatcher and members of the royal family to the Pope – the less his victims are willing to report him, fearing they won't be believed. And when matters do end up with the police, they aren't. Savile bamboozles everybody with his gongs and his celebrity.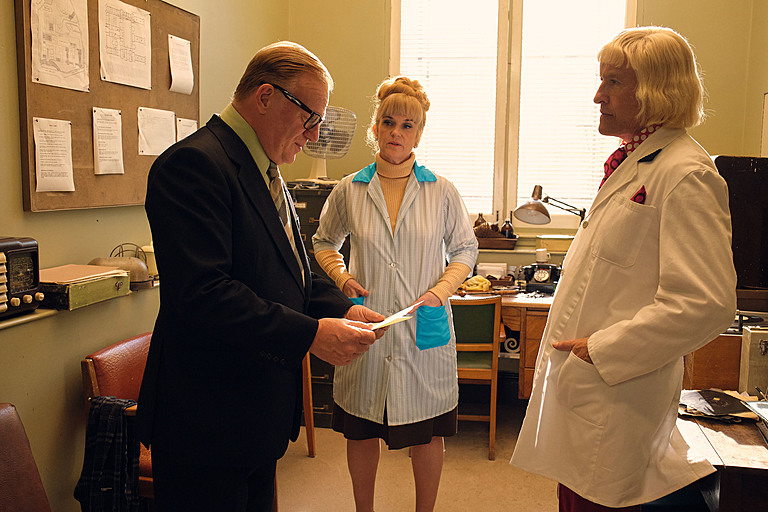 Along the way to his eventual death in 2011, there are predictably sensitive performances – from Gemma Jones as "the Duchess", who has qualms of her own about her son, but lets his cars and TV appearances push them to the back of her brain; Fenella Woolgar reprising her pitch-perfect Maggie Thatcher, which she honed in several runs of the play Handbagged: Lewis Jones and Finneran, who capture the dazed incoherence of decent people when they grasp the enormity of what Savile has done.
Other dramatis personae (Prince Charles, the Pope, David Frost et al) are spliced in in documentary footage that jolts as you see how close to real power this mountebank came. Also revelatory, though too repetitive, are Davies's attempts to interview Savile, which are a simple way to fill in details of his past from the man himself, while showing him for the vainglorious liar and manipulator he was to the last. Even to the priest giving him the last rites.
But by the end credits, core issues remain: how did Savile become an abuser, and why was his heinous behaviour not revealed by the BBC, his main employer? When Davies asks him about his childhood, he simply replies, "Didn't have one. Next question." Davies's book, though, does cover his early days, as well as the BBC's attempts to tamp down the fire it had lit, neither of which make it into Neil McKay's script. The drama discreetly stops before a Newsnight exposé of his crimes has been pulled at the last minute; this is simply referred to in an end-caption,12 years later. Maybe it will take James Graham to do that part of the story justice.
The BBC has said its reaction to Savile's crimes is "another story to be told". Let's hope somebody there has the guts to tell it.